By
Paul Johnson
on May 15, 2019 in
Accommodation
,
Attractions
,
Europe
,
Featured
,
Food and Drink
,
Going Out
,
Hotels
,
Regions
,
Restaurants
,
Travel Miscellany
,
United Kingdom
,
Western Europe
The four star St. Ermin's Hotel is a horseshoe-shaped Grade II Listed mansion that can be found in a tranquil Westminster location, befitting of its reputation as a hotel that is shrouded by mystery and secrecy. St. Ermin's has a long history of involvement with the British Secret Service and the top two floors served as a spy headquarters during World War II.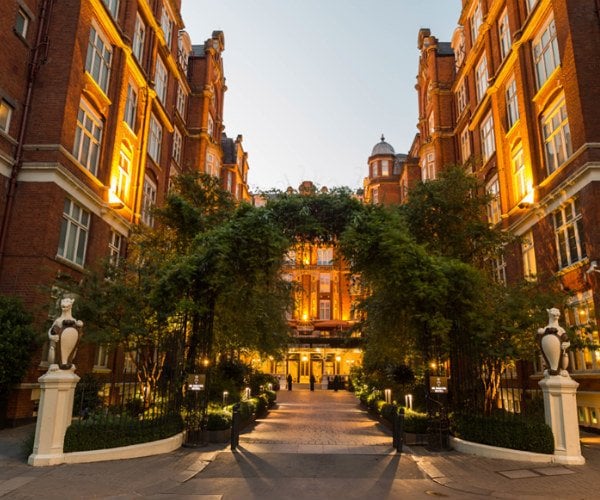 Built on the site of a 15th century chapel back in 1889, today the hotel has 331 guest rooms and suites and belongs to Marriott's Autograph Collection, having enjoyed a £30 million makeover; it is approached via an enclosed tree-lined courtyard away from the hustle and bustle of nearby St. James Park tube station (accessed by the District and Circle lines).
The welcome
You enter the hotel via a lobby that is bustling with activity – in a nice way: lively and full of atmosphere, not hectic and hurried. To your left, is a smart reception desk with a series of large iPad displays to assist with an efficient electronic check-in process. But before you get there you are immediately struck by the strikingly white Art Nouveau lobby, complete with ornate, theatre-style balconies and original plasterwork from the famous Victorian theatre designer J.P. Briggs.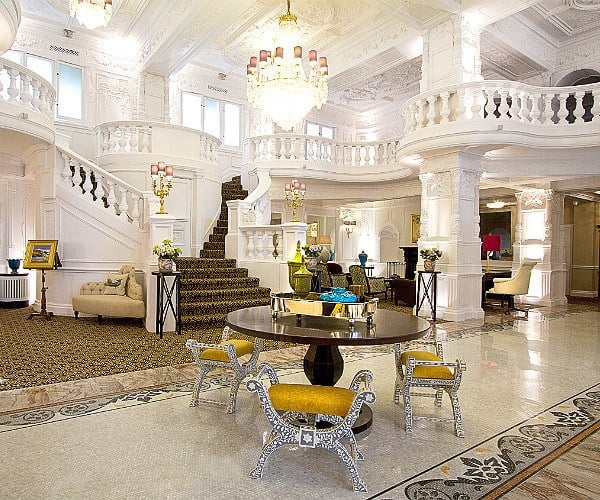 Keep your eyes peeled also for the division bell (which has had its fair share of use in recent months with the ongoing Brexit debacle), restored to the hotel in 2011 by Nicholas Soames MP, Winston Churchill's great grandson. The bell is used in the immediate vicinity of the Palace of Westminster to signal that a division is occurring and that members of the House of Commons or of the House of Lords have eight minutes to get to their chosen division lobby to vote for or against the resolution.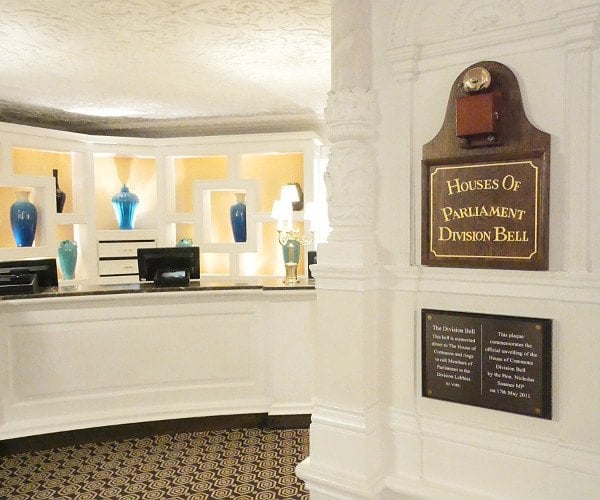 The room
Room at St. Ermin's are beautifully modern whilst still retaining their historical significance. I was fortunate enough to stay in a ground floor suite with a king size bed.  It was both elegant and contemporary, retaining occasional period features that remind you of the hotel's 19th Century architecture, adorned with art deco furniture and boldly patterned soft furnishings.
On entering, I was greeted by a spacious lounge area; the suites vary in size from 50 to 60 square metres – a very generous size, particularly by London standards.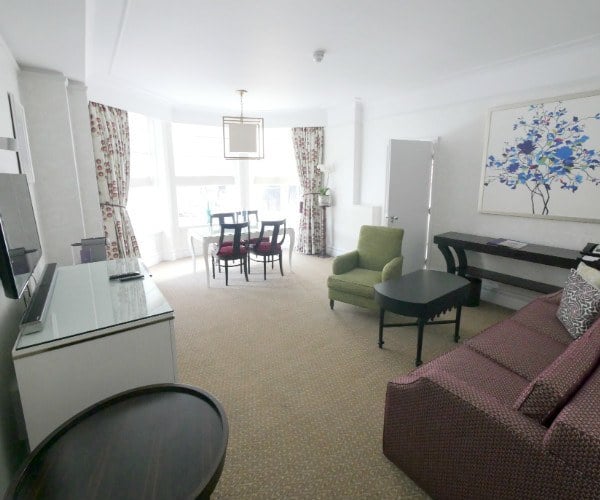 There was plenty of up-to-date technology – flatscreen TVs, an iPod dock, Nespresso machine and more. Multi-functional power sockets, with both European and US outlets, were also a nice touch that is all too often overlooked, particularly given that the hotel enjoys a significant proportion of American guests.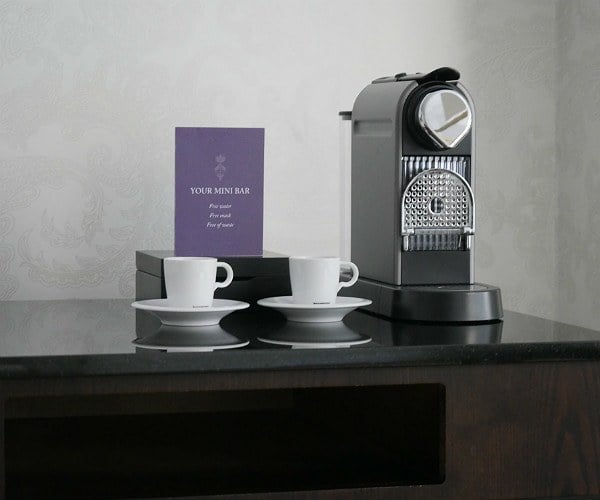 Beyond the lounge was an equally spacious 2-poster king size bedroom with crisp bed linen and luxurious soft furnishings.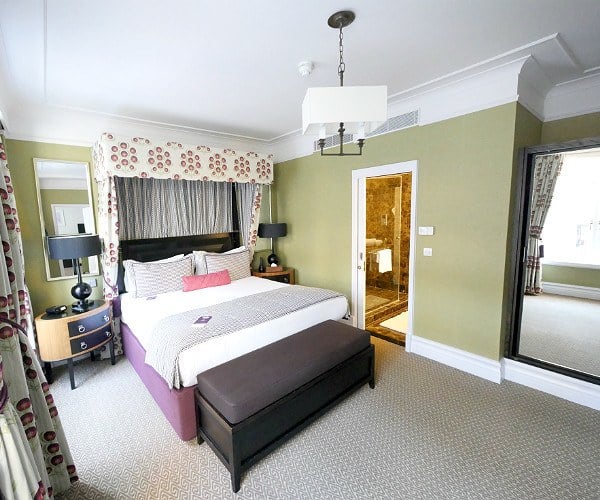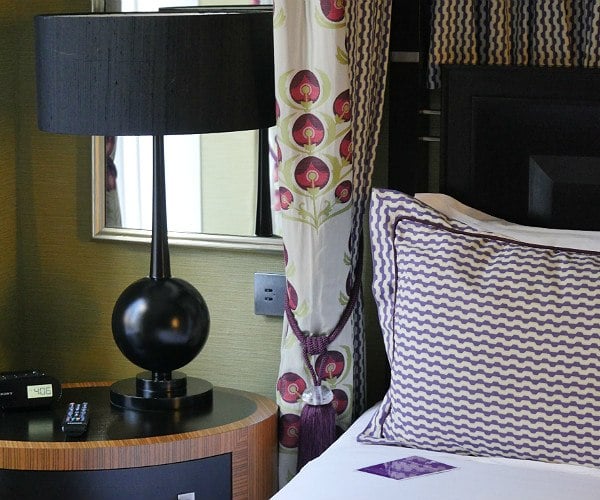 The bathroom
An inviting, beautifully-marbled bathroom could be found just beyond – modern and bright, and with indulgent toiletries from The White Company.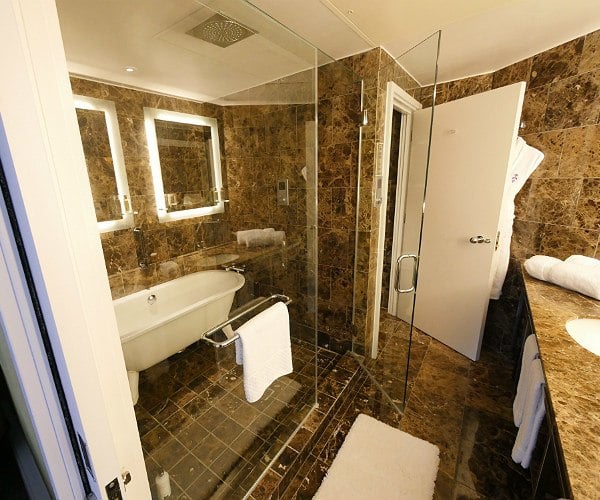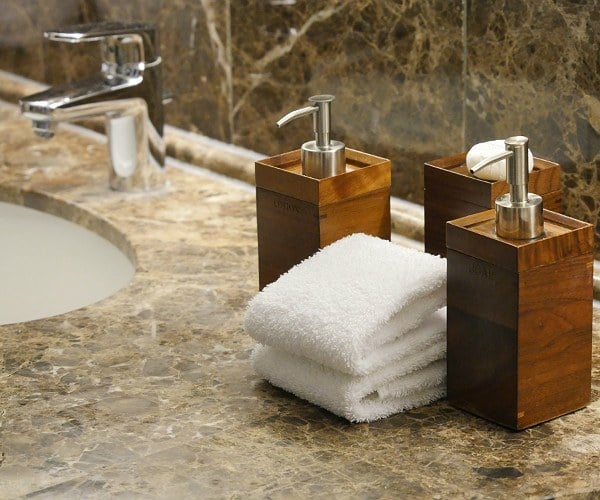 The facilities
The hotel's Caxton Bar is open to both guests and passers-by and has tremendous historical significance for it was there that Kim Philby, a high-ranking member of British intelligence who worked as a double agent before defecting to the Soviet Union, is said to have handed over secrets to his Russian handler, Guy Burgess.
Today the bar offers a large range of alcoholic and non-alcoholic drinks, including signature 'flights'. Caxton Bar's flights are three complementary glasses of either wine or whisky designed to give guests the chance to compare, contrast and discover new flavours or enjoy old favourites.
Throughout the public areas of the hotel are comfortable lounges and other spaces such as the Tea Lounge and the Caxton Terrace, a massanine balcony that overlooks the courtyard entrance. In any of these locations you can enjoy an afternoon tea presented on tiered serving plates – including sandwiches, cakes and scones – from midday until 6pm.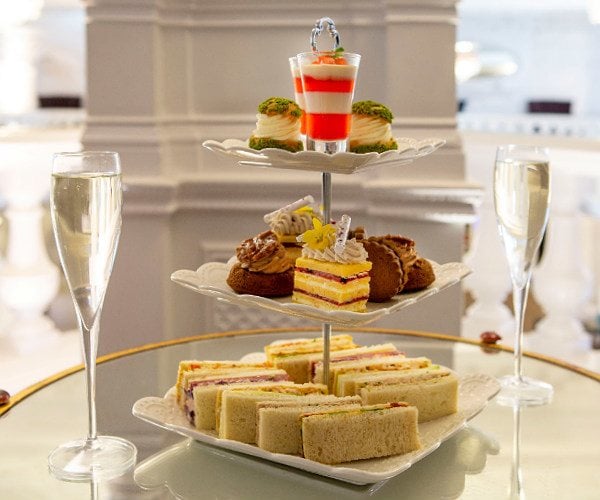 The Caxton Grill, the hotel's signature restaurant, is due a re-brand in the near future so we'll hopefully report back on that at a later date. In the meantime, because I was on a business trip and had work to juggle, I opted for room service. There's an all-day room service menu but, if you're ordering whilst the restaurant is open, you can order from the restaurant menu also which is what I did on this occasion.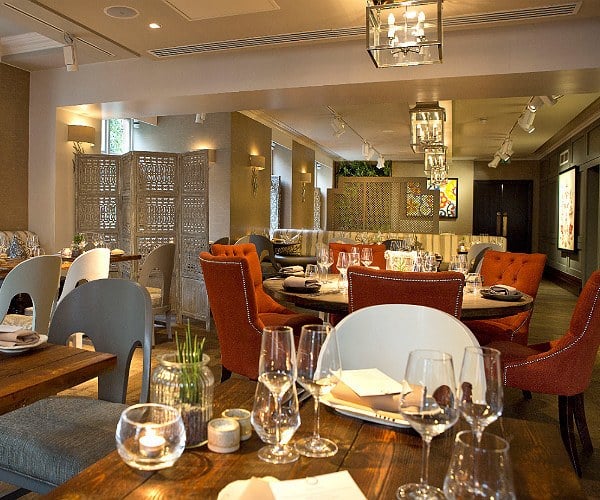 I had a starter of sautéed scallop and wild mushroom fricassee with baby leeks and crispy shallots – sweet and tender scallops complemented by plenty of rich, earthy flavours. Other dishes that caught my eye were the sea bream carpaccio with dill oil, chilli and citrus, and the burrata, blood orange and fennel salad.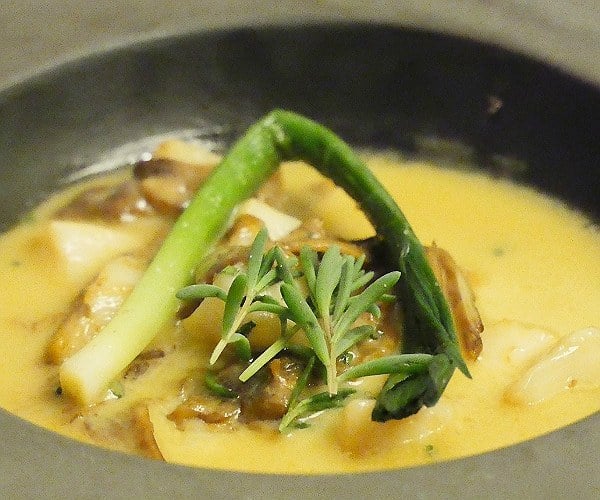 For my main, it was between the slow-cooked sea bass with a lobster broth, sea herbs and crispy Jerusalem artichoke, or the halibut with an almond crust, spiced pork and potato purée and purple sprouting broccoli. I opted for the latter and wasn't disappointed… delicious!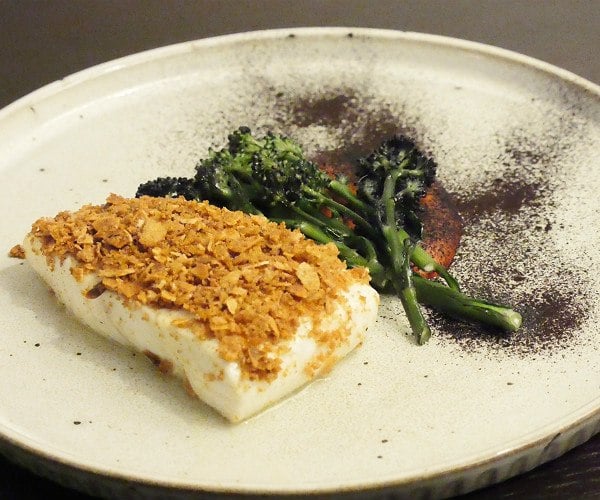 Finally, on the recommendation of the lady I spoke to on the phone when ordering, I went for the chocolate crémeux dessert with caramel which I hadn't seen on the menu and was a little over-indulgent of me!
The Caxton Grill is also where a buffet breakfast is served each morning – a buffet with all the usuals, as well as a nice array of cheeses, smoked salmon and more.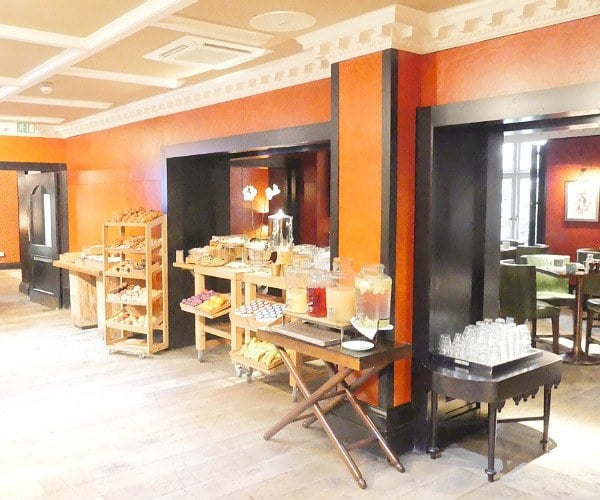 Alternatively a 'wake and take' breakfast on the go, consisting of a freshly-brewered coffee and an artisan muffin is available as a takeaway from the lobby for those in more of a hurry.
The location
The hotel is literally a 2-minute walk from St. James Park Underground station so enjoys a very convenient location. For tourist visitors, this makes all of central London easily accessible, but within immediate easy walking distance are Big Ben, the Palace of Westminster. Westminster Abbey and the London Eye to the east, and Buckingham Palace to the west, with all being within a 15-20 minute walk.
I was in the area for business, attending and speaking at Travmedia's sit-UP event for travel brands and influencers, held at the Queen Elizabeth II Centre immediately opposite Westminster Abbey. This is just 5 minutes walk from hotel.
Other nice touches
In a city that's enjoyed so many benefits from embracing multi-culturalism, it's still a pleasure to see the hotel retain its English charm, and I would imagine this is partly why it has such an appeal to the American market as well as other overseas guests. The hotel is very typically English – doormen in bowler hats, the division bell in the lobby, not to mention its history as the preferred meeting place for the British secret service.
Something else that's really special at the hotel is its 'bee hotel' – a bee colony on third floor terrace, and home to over 350,000 Buckfast honey bees. The hotel even uses its own honey in the restaurant and offers bee workshops courtesy of resident beekeeper Camilla Goddard.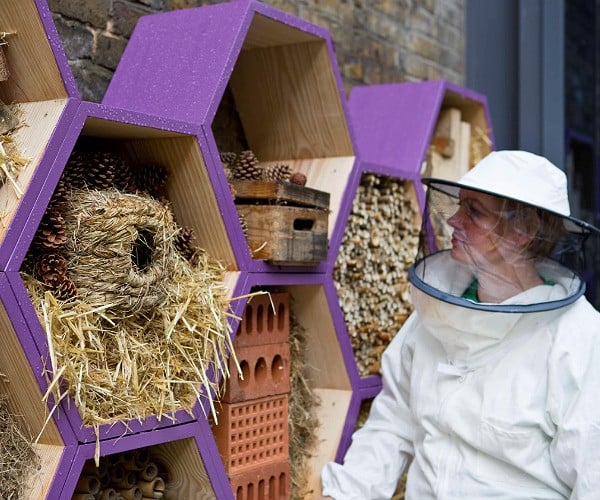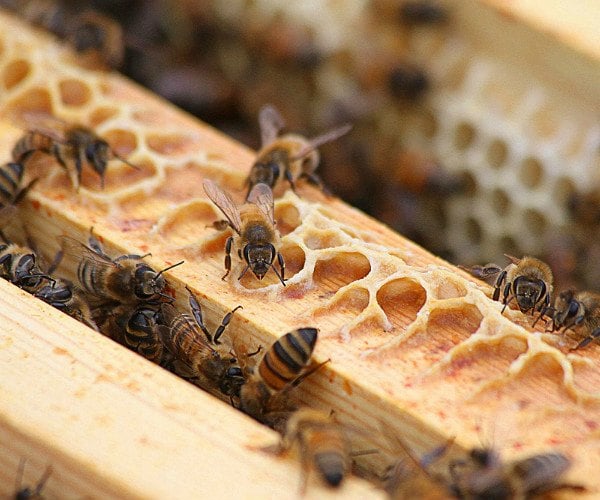 And finally, another special treat is drinks in the lobby every Monday to Thursday evening. This is open to all and is a regular, very welcoming and social event.
Cost
Standard rates start from £322 per night. Suites start from £579 per night.
The best bit
What sets this hotel apart from many others across the capital is its incredible history and fascinating connections with secrecy and espionage. There's a book on the subject and children staying at the hotel are even given a 'top secret' document, complete with a 'mission' briefing. It's possibly not quite fair to say this is the 'best bit' since there are many other ways to commend this hotel, but it is something that makes the hotel truly unique. It's even rumoured that there's a tunnel running from beneath the grand staircase in the lobby all the way to the houses of Westminster. Perhaps a fairer choice for the 'best bit' would be the staff who are well-trained and, no matter what position they hold, are trusted with their responsibilities and nurtured in a culture where they feel truly valued… and this really shows.
The final verdict
Although St. Ermin's is officially a four star hotel, it has all the attributes of a five star with exceptional staff and an attention to detail that is every bit on a par.  It is certainly one of London's most interesting and intriguing hotels and, for this reason alone, you won't find another quite like it.
Disclosure: Our stay was courtesy of St. Ermin's Hotel.