The City of Wine is understandably one of France's top destinations. This glorious UNESCO World Heritage city of art, architecture, food and wine has French charm and elegance, as well as a genuinely welcoming ambiance. Here are our top tips for eating and drinking well in the city.
La Cité du Vin museum
Bordeaux is much more than old world wine, wealth, and bourgeoisie architecture. It has a contemporary buzz about it. The bold new 'La Cité du Vin' museum and cultural centre, by architects Anouk Legendre and Nicolas Desmazières, is a good place to get immersed in the wine culture of Bordeaux – in an accessible and entertaining way. The building itself is remarkable – the architecture evokes the movement of poured wine, as it swirls around the glass. Others see twisted vines, or the movement of the Garonne river.
Marche des Quais, Sunday market
The city's markets are the place to get a real flavour of Bordeaux and the region. On Sunday head to the on-trend Marche des Quais area on the banks of the Garonne. Browse, shop and eat. How about the famous local oysters for breakfast? If not, then a few rum or vanilla flavoured 'canelés' cakes, so evocative of the area.
Le Quatrième Mur
Sight-seeing in Bordeaux will inevitably take you to the Grand Théâtre de Bordeaux opera building. Here you'll find Le Quatrième Mur (The Fourth Wall), a chic restaurant by local chef Philippe Etchebest. This upscale brasserie is the ideal spot for a leisurely lunch – the seasonal menu changes every week. They offer an iPad instead of a printed wine list – a trendy juxtaposition to the grandeur of the restaurant's historic surroundings.
La Vie en Rose café bistro
For something more informal, the trendy Chartrons district is home to cafés, bistros and brasseries – like the La Vie en Rose; a good choice for Brunch.
La Boca Food Court
This contemporary food court is part of Bordeaux's new, informal culture towards food and drink. Part of a riverside shopping centre, here you'll find indie food shops and bars selling local bites, which you can enjoy seated at communal tables inside and out.
Le Saint James Restaurant
For dinner, the Michelin star restaurant at Le Saint James is the place for exquisite Aquitaine flavours, by Chef Nicolas Magie. The unique and rich terroir of France's south west are his inspiration – and guests enjoy his dishes in the Jean Nouvel architect-designed dining room which maximises views out across the gardens and vineyards to the city skyline beyond. In fact, the restaurant lights are turned off at one point in the evening so you can relish the sparkling lights of that city view!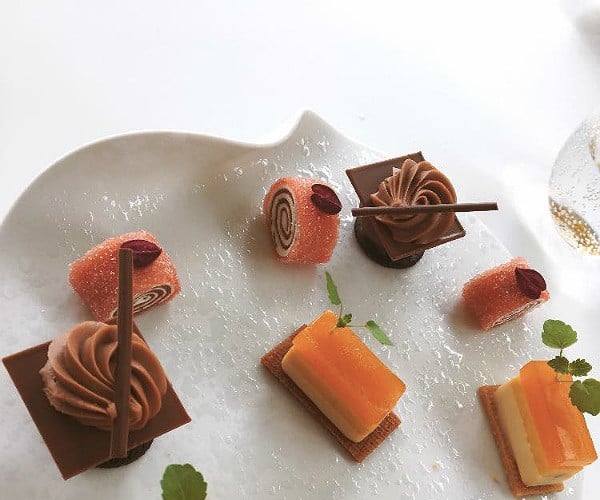 Paola Fiocchi Van den Brande is Director of Passepartout Homes Ltd. Passepartout Homes Ltd. offers an exclusive portfolio of luxury villa rentals in Italy, France, Greece, Croatia, Thailand and worldwide.
If you would like to be a guest blogger on A Luxury Travel Blog in order to raise your profile, please contact us.