At last count, 24.1 million people called Shanghai, China, home. This makes it the most populous city in the world. This photo, taken from Jin Mao Tower, gives just a hint of what living in Shanghai might be like. Crowded, to be sure. But also breathtaking in its expanse, both outwards and upwards. There is much to be awestruck by in a city of this magnitude. Especially when seen from high above the madding crowds.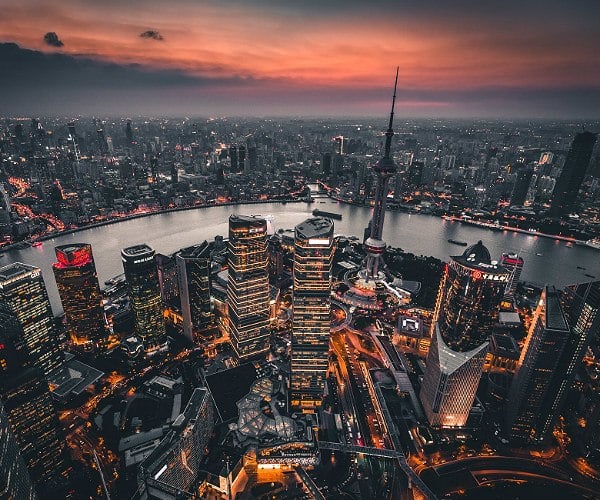 Not without reason was Shanghai once called the 'world's most happening city' by Time magazine. Once a humble fishing village, Shanghai is now a global financial hub, and home to the world's busiest container port. Sometimes referred to as "the Oriental Paris", Shanghai is also famous, and popular with tourists, for its blended culture of East and West; its historical landmarks; and its modern, ever-expanding skylines. Speaking of which, the Chinese characters in the city's name – "Shang" and "Hai" – literally translate to "above the sea". Appropriately enough, given this birds' eye view so very high above the Yangtze River Delta near the South China Sea.
Want to see this view for yourself? Head to Jin Mao Tower and venture out onto the Skywalk. If you dare. Jin Mao Tower offers visitors what they call a "wander in the cloud". You are invited to walk along a 60-metre-long (66 yards), 1.2-metre-wide (1.3 yards) glass skywalk. Without rails. Located on the 88th sightseeing floor, this affords sweeping views of the city and all the activity along the banks of the Huangpu River below. Walks happen every 30 minutes from 9am to 9.30pm, with 15 visitors allowed per walk. Visitors wishing to experience the skywalk are also asked to arrive at the 88th sightseeing floor 45 minutes in advance for a security check.
If you dare not brave the Skywalk, the 88th Sightseeing Floor is also open to visitors from 8.30am to 9.30pm. The observatory floor towers above the city at 340.1 meters (1,116 ft), with the tower itself being 420.5 metres high.
At the time of its completion in 1999, Jin Mao Tower was China's tallest building, but today it sits in fourth place, behind Shanghai Tower, Shanghai World Financial Center, and Oriental Pearl Tower. This doesn't make it any less iconic, however. Its metal and glass wall design mimics historic pagoda forms and allow visitors views of the city reflected in its facade. So whether you're at the top of Jin Mao Tower looking over the city, or at the bottom looking up at the city in its reflection, you will see Shanghai at its most spectacular.
If you have a really special photograph you would like to share with A Luxury Travel Blog's readers, please contact us.