In a rapidly evolving Japanese ski town with 10 resorts to choose from it can be hard to know where to start when it comes to selecting the right mountain for you. While there is information readily available it can be time consuming trying to get an unbiased idea of Hakuba's mountains and what type of visitors they can offer the most for. In no particular order, here are our picks for Hakuba's top 7 resorts.
1. Hakuba47
A solid all-rounder, Hakuba47 has good terrain for every ability level. Its north facing slopes give it the longest season in the valley for top to bottom skiing, making it a particularly good choice for those visiting early or later in the season. Its beginner area is conveniently located halfway up the mountain so even first time skiers can enjoy the view over the Hakuba townsite and ski themselves down a gentle cat track to the bottom. Its other strength is its underrated Tree Riding Zone. Popular with seasoned local riders given to its close proximity to the village, steep and technically interesting terrain, light, dry powder and is typically much less busy than other tree riding areas within the valley.
2. Goryu & Iimori
Connected to Hakuba47 at the top, Goryu has many draws of its own. The gentle slopes at the base make it well suited for beginners, and the free snow play and sledding areas make it ideal for those with small kids. Higher up skiers can choose from shallow greens to steep moguls, while its base building Escal Plaza is a true 'one stop shop' with good food selection, all necessary facilities and a great quirky indoor play area for kids of almost any age. Iimori – a separate area that connects via chairlift – is a beginner's dream with quiet, wide open slopes and a gentle progression as skills develop. Again, all facilities are close at hand including making it extremely easy to feel right at home.
3. Sanosaka
Arguably Hakuba's most underrated resort, this has not yet fallen victim to the same human traffic that others mountains have succumbed to during the busy periods. Its peaceful slopes combined with its position over Lake Aokiko makes it unlike anywhere else in the valley. Its slopes vary from wide open novice slopes, through to intermediate and also moguls. The base area has had a chic new renovation and provides a range of eating options, making this the perfect choice for those seeking to get off the beaten track and experience something a little less commercial. The views themselves are truly impressive and given to a recent surge in fresh innovation – Sanosaka is evolving in new and exciting directions.
4. Happo One
The most well known within Hakuba by both the Japanese and Westerners, Happo is indeed the largest in the valley in terms of slopes available. Home of the 1998 Olympic Downhill, Super G & Combined Slalom events, most of its slopes are best suited to intermediate to advanced skiers as it has no shortage of red runs, black runs and moguls. That being said, Sakka is a good beginner area located at the base of the mountain with all necessary facilities close at hand, as well as snow play and sledding areas. From the top of the Grat Quad (at the very top) Mount Fuji can be glimpsed on clear days, while `Pilar` is a fabulous fine dining French restaurant at the top of the Alpen Quad. The food quality and views from Pilar make it a stand out in the valley for on hill dining. Happo is a great choice for intermediate to strong skiers looking for lots of milage and long runs.
5. Iwatake
Iwatake – another one for the underrated list – is set slightly forward from the other resorts in the valley, giving it 360 degree views that are arguably the best in all of Hakuba. Its position provides a literal overview of the valley, its resorts and layout, making it a great choice for those wanting to become more familiar with Hakuba. Though it is at a lower elevation than others, it has no shortage of wide and often uncrowded novice and intermediate slopes. On weekdays it is not uncommon to find yourself skiing runs on the backside to yourself, soaking up the most stunning views of Hakuba's 3 peaks and Happo's dramatic north faces. Even for non skiers and sightseers the addition of the new Hakuba Mountain Harbour with its freshly baked goods and great coffee makes every moment at the top of Iwatake on a sunny day worth it. Its other strength is its gentle and easy to access tree and powder areas making it the perfect choice for those wanting to try – or work on – their off piste skills.
6. Tsugaike
Home to the most beginner terrain in all of Japan – Tsugaike is the best place for beginners and novices. Its lower slopes are wide, open and suitably shallow with a natural progression to slightly steeper terrain as skills develop. Higher up there is plenty to attract advanced skiers and snowboarders with its Double Black Diamond area. A vast expanse of tree skiing all within the resort bounds, it will offer up new lines all day long as it typically attracts less traffic than the more well know Cortina. There is no shortage of facilities on the mountain with a good scattering of slope side food options at the base and cafeterias higher up. Tsugaike is also a popular access point for vast backcountry terrain – though as always you would want to hire a guide if unfamiliar or lacking in avalanche knowledge.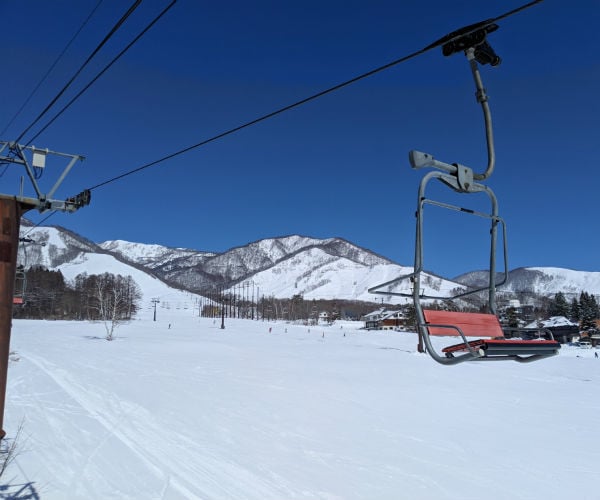 7. Cortina
As the furthest north and the closest to the Sea of Japan, Cortina receives the most snow in the valley and is world famous for its deep powder and tree skiing. Its reputation is well earnt with its perfect spacing between trees, steep slope pitch and the frequency and accumulation at which it snows. Aside from tree skiing, it has a handful of advanced and largely un-groomed slopes before flattening out into a green run with a kids play area at the very base. Green Plaza – its quirky yet impressive base area building – is a hotel with many food options, shops, rentals and even a great Onsen overlooking the slopes. It is a great choice for die hard off piste skiers or those wanting to keep accompanying non skiers entertained. On winter roads it is 30 minutes outside of the main village, so it is also a good opportunity to see a new part of the valley.
Nadine Robb is Owner and Instructor at Hakuba Ski Concierge. Hakuba Ski Concierge is a boutique ski school in Hakuba, Japan.
If you would like to be a guest blogger on A Luxury Travel Blog in order to raise your profile, please contact us.