Top 5 best first class experiences in the sky
While most of us love to travel far away, we also dread the thought about sitting in a long metal tube (no, not the one that is riding underground in London) next to a bunch of screaming kids who make you feel like the plane ticket was a total rip off. Lucky enough some airline companies got your back offering us first class. No, not business class cause that's for people who actually do business. We're talking about the full blown, out of the ordinary, sometimes insanely luxurious first class! Let's take a look at the best to see if there's any difference with the last time you took a flight.
Emirates
The airline that is known to have the biggest fleet of Airbus 380's has also one of the biggest arrays of fancy features on board their planes. To begin with, they introduced full sized bathrooms for first class, including a shower which is cleaned after every passenger left the bathroom (yes, there is a dedicated crew member on board for this job). They also were one of the first to put a bar between first and business class in order for the lucky few to stretch their legs while not running dry on champagne and cognac. The seats are covered in bling, but hey, what do you expect from a country where everything that glitters is gold!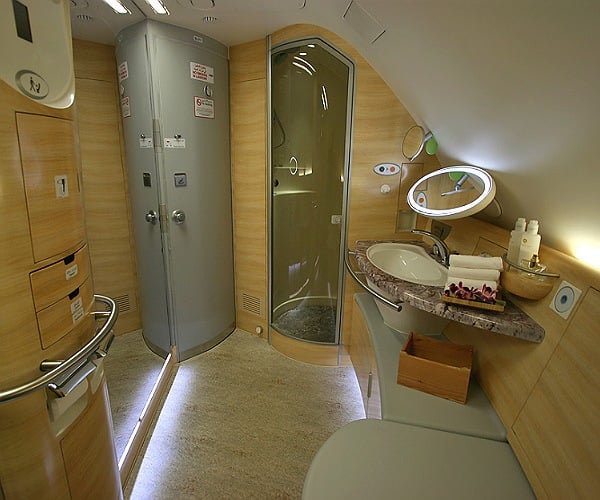 Air France
The French know exactly how to bring some style into a metal tube, transforming its first class section into both an area of relaxation as a showpiece for everything French. Expect fine dining menus, wonderful wines from the best French vineyards, … Even the bedding which is provided when transforming your chair into a bed is French, as Sofitel works together with Air France to make you feel like you are sleeping in a suite near the ocean instead of 30.000 feet up in the sky. The food is a feast of French cuisine making sure you'll remember the flight weeks after when you ask yourself where you possible could have picked up that extra weight.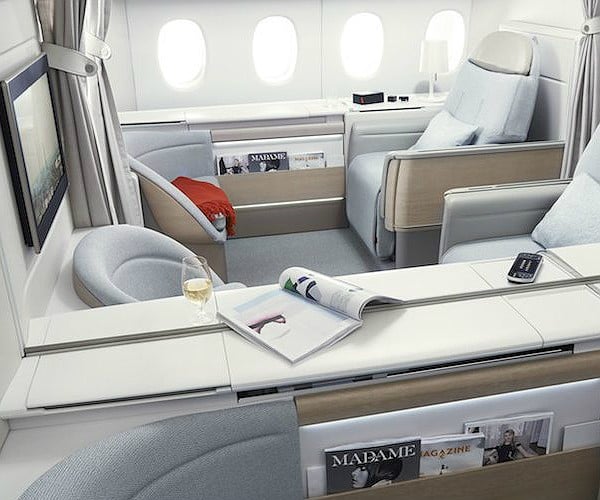 Singapore Airlines
This airline has always been known for their outstanding service. But when they introduced a double bed in their first class people's jaw dropped to the floor as it was never seen before. How much more luxurious can it get? Imagine lying on this huge bed with your partner while eating the most delicious meals and drinking some of the world's best wines and spirits. You can even do a luxury champagne tasting with their signature champagnes Krug and Dom Perignon which they serve in First class. Pure bliss.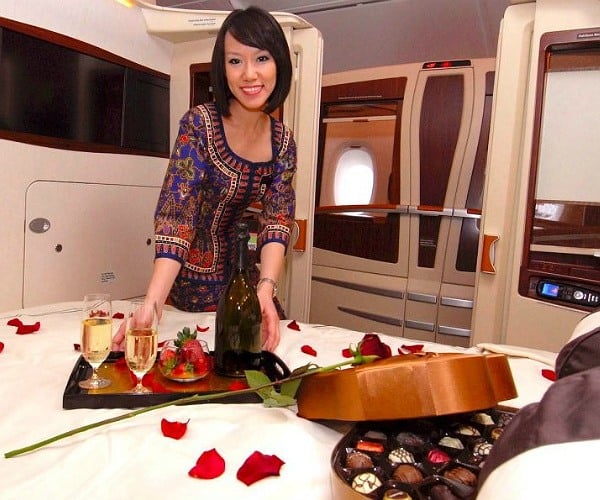 Lufthansa
Known for a very long time, this airline not only makes sure you are having a great time while up in the air, but also on the ground. They have even build a complete terminal to host their First Class passengers in their main hubs being Frankfurt and Munich, cause let's be honest, first class lounges are offered by all the other airline companies. Want to enjoy a relaxing bath before your flight, or try one of the great cigars in the cigar lounge, or rather try one of over 50 whiskeys at the bar? Not a problem at all. And when you think the fun is over, they'll drive you from the terminal to your plane in a Mercedes or a Porsche, making sure you get the full German experience.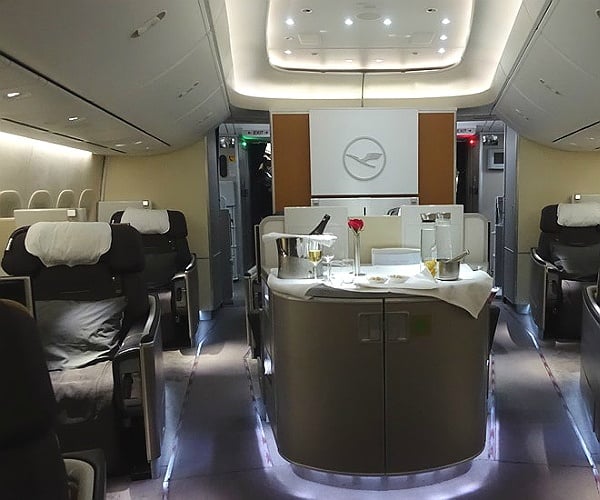 Etihad Airways
This big player in Middle Eastern aviation has introduced a whole new dimension to the first class product. They changed the regular (though very wide and luxurious) seat into a little apartment with your own bench, bed, seat and vanity mirror. They even introduced the Residence, which is even more elusive that first class, as it has not only everything the apartment has, but also a private bathroom with shower, and a whole bedroom with a double bed. The dedicated butler who will accompany you from your arrival at the airport all the way till your destination is just the cherry on the cake.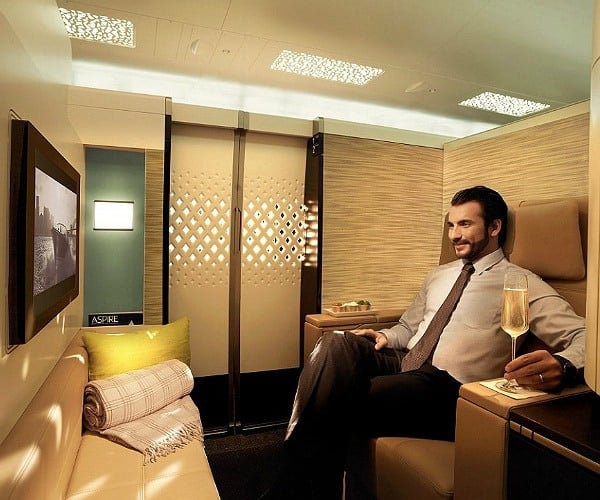 Have you flown First Class? And if so, was it as good as the above? Let us know.
Did you enjoy this article?
Receive similar content direct to your inbox.