Unlike any other European region, the beauty of Provence is that she generously provides a wide array of opportunities for leisure, which never fail to disappoint. From inhaling the sensual lavender lingering aroma to quaffing sweet Rosé under the stars, times here are as delectable as the warmth of the sun that drenches this archetypical French region.
With so much to see and do in Provence it's always tempting to write a full itinerary for visitors with a day-by-day timetable of things to do and places to go. However, because we all want to see and do different things, and are in Provence for varying lengths of time, it seemed much more helpful to list five activities that you can pick and choose from to help make your holiday in Provence perfect!
A day on the beach
Bandol is a harbour town on the Cote d'Azur, popular due to the bountiful beaches which are encased by the neighbouring hills.
On the West of Bandol is Plage de Renecros. The 400m sandy stretch in a bay guarantees calm waters, hence provides a safe option for seniors and toddlers alike. Most of the beach is free to use, although there are several private concessions providing loungers and parasols. East of Bandol is Plage du grand Vallat – again with sunbed rental and plenty of shade. Plage Centrale in the heart of the town, with easy parking and access to shops.  Plage du Capélan offers a more secluded and rocky beach experience with two restaurants serving simple yet tasty dishes.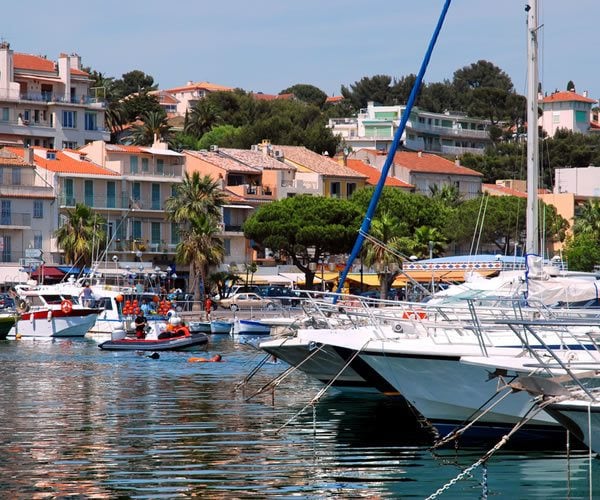 The enormous Marina in the centre of Bandol floats some serious envy inducing yachts. Board one of the tour boats to explore the Bandol coastline at Pirat Croisieres.
Alternatively float across the short distance to the tiny island of Ile de Bendor. Although only 6 hectares, amongst beaches the island offers hotels, restaurants, museums and exhibitions. From crashing waves one side to calm waters the other, refreshing options are available for both daring swimmers and sunbathers. End your beach day at one of the handful of eateries with the perfect tapas plate accompanied by a chilled glass of dry rose with an ocean backdrop.
A day wine tasting on wheels
A holiday in France wouldn't be complete without the obligatory vineyard tour and wine tasting. But imagine doing this on electric bikes. Moulin de la Roque, near Bandol was a pioneer in the field of wine tourism and sustainable development. They offer a one-day wine tasting course whereby you will be taken on a journey to the heart of nature around their vineyards. A gentle whirl around with an expert guide will allow you to discover all the nuances of this particular terroir.
You will learn all about the history of this vineyard, the making of wine, the different stages in wine tasting, and of course, taste a selection of wines. Learn the skills of professional sommeliers and gain aroma detection training. And to soak up the grape juice, a vintner lunch is included too.
English is spoken but there are plenty of opportunities to experiment with your French dialect too.
Alternatively, enjoy a wine tasting at the superb Maisons des Vins de Bandol. These tastings will guide you through a range of head-turning vintage regional wines. Afterwards enjoy exploring their extensive selection of wines using your new-found knowledge to decide which you'll be taking home.
A day in Aix-en-Provence
Why not take time to wander off into the wilds? Head to Aix-en-Provence – a beautiful historic town that embodies the flavour of Provence.
The sheer beauty of the region is enhanced by the quality of light, which provides a mecca for artists looking to capture the essence. A painting or drawing course offers an ideal opportunity for all ages to enjoy Provence.
Catherine Moulle is an Aix based artist described as knowledgeable, encouraging and fun. She offers a range of drawing, sketching, painting and travel journal classes on either a private or group booking basis. She is known for teaching to draw what you see, and not what your brain tells you things should look like. A firm favourite for both professionals and amateurs is the one-day sketchbook drawing workshop. Guests illustrate what they see during their stroll around the town. This is a wonderful day out whatever your age, with the added bonus of leaving with some memorable sketches as a reminder.
A day of cooking
France is synonymous with its culinary delights and the Provencal diet provides an edible abundance of fresh fish, juicy fruits and herb encrusted meats, all found in local markets. Bouillabaisse with a fresh baguette washed down with wine and pastis wouldn't taste the same elsewhere. Instead of just consuming Provence's wonderful ingredients, why not learn their cooking skills as well?
A favourite cookery class is held in the heart of Provence at Hostellerie Berard, home to father and son team Berard. Both Master Cooks of France, their courses will allow you to discover the gastronomy and the secrets of Provencal flavours. Their themed courses are held in the Bastide des Saveurs, overlooking the stunning kitchen garden brimming with cicadas and birds.
The day starts with a tour of the kitchen gardens during which you select fresh produce to harvest that will be used in your dishes. The best bit is enjoying tasting your creations together at the end of the class, naturally paired with regional wines. English can be spoken, or you can partake in French – as you wish.
A day in the Carmargue
The Camargue is a natural park and one of Europe's major wetlands, an hour west of Marseilles. There is a huge range of outdoor activities including bird watching, horse riding, hiking, cycling and riverboat trips.
The Camargue Natural Park includes a large UNESCO designated biosphere reserve. Every Spring and Autumn hundreds of thousands of migrating birds head to the wetlands. But visitors also come to admire other wildlife, particularly the pink flamingos. These can be admired in the Camargue ornithological park, a bird park just north of Saintes Marie de la Mer. This is also home to white egrets and herons, and a bird hospital.
Although, this area is more historically famous for its white horses who have lived here for thousands of years, and are one of the oldest breeds in the world. While some still live semi-wild, most are now used either by the Camargue cowboys for herding the black bulls, or for pony trekking.
There are many riding stables, particularly around Les Saintes Marie de la Mer. Most of these are for tourists to trek across fields or the salt marshes. The Camargue offers great hiking and cycling opportunities on its flat terrain across the Rhone delta. To the east of Saintes Marie, there are miles of largely deserted sandy beaches, only accessible on foot, horseback or bike.
Camargue bullfights (courses camarguaises) are not like Spanish bullfights as there are no matadors and bulls aren't killed. Camargue bullfights are a competition of agility between men dressed in white, and black bulls; the aim is for the bullfighters to steal the trophies, such as ribbons and rosettes that are placed between the bull's horns. However Spanish-style bullfighting is also popular around the Camargue area, with major classic bullfighting events in the Arenas at Nimes and Arles.
The Camargue is also famous for its salt and 'red' rice.  Rice has been produced in the Camargue since the Middle Ages, and today there are some 200 rice producers in over 20,000 hectares of rice paddies.
On the western edge of the Camargue area lies the remarkable walled city of Aigues Mortes where you can walk around. In medieval times, this was the Mediterranean port from which the Crusaders set out. Originally on the coast, the Rhone delta has since silted up, and Aigues Mortes is five miles inland.
Have you got any suggestions for a perfect day in Provence? Let me know in the comments below. I'd love to hear them!
Su Stephens is Owner of Olives & Vines. Olives & Vines is a luxury holiday company based in the South of France offering stays at their beautifully designed holiday house and boutique hotel in Le Castellet.
If you would like to be a guest blogger on A Luxury Travel Blog in order to raise your profile, please contact us.