A new, exclusive villa concept has launched in the western Algarve. LUX MARE is a luxury holiday rental collection with two of the most stunning contemporary properties on the Portuguese shoreline.
It all began when a Norwegian couple decided to build on their years of holidaying in the Algarve. Their unrivaled passion for the region saw them collaborate with internationally acclaimed local designers to create something truly unique. The LUX MARE project is a triumphant marriage between Scandinavian heritage and local Portuguese charm.
Local design, Nordic flair
The pair looked to Lagos born architect Mario Martins and his world renowned Mario Martins Atelier to fulfill this delicate design brief. The studio was tasked with constructing two exclusive villas which would at once stand proud with their Nordic design influences, all the while embracing the colours, textures and vibrant soul of its Portuguese environs.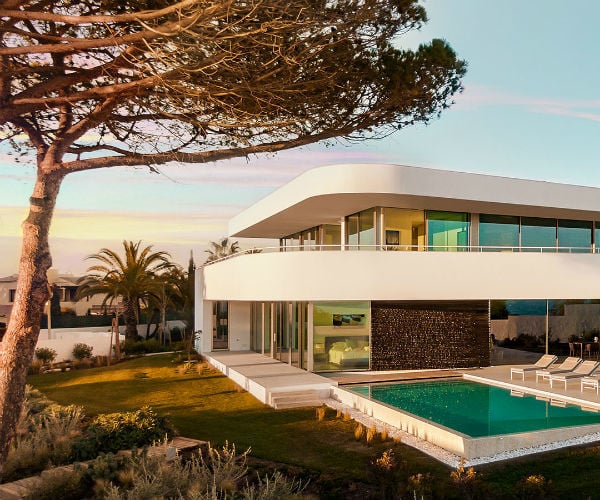 Light of the sea
LUX MARE translates from the Latin as 'light of the sea', and forms the basis of this new luxury villa concept.
Villas I and II sit like two pieces of a puzzle, complementing each other and their coastal surroundings. The gentle warmth of the Algarve sun casts a shadow on striking architectural lines. Sleek floor to ceiling glass reflects the majestic energy of the sea green coast. The building's cool undulating silhouettes nod to the gentle slopes of the local hills. Elegant contemporary artwork and rich local handicrafts adorn crisp white walls.
Five-star facilities
Villas I and II both feature six bedrooms, private gardens, an infinity pool and stunning panoramas of the Algarve coast. Villa I also offers a TV room with computer games as well as a barbecue area, while Villa II boasts a roof garden, as well as a cinema and exercise/games room with Technogym equipment and a pool table.
Hotel service, villa privacy
For holiday makers looking to get away from it all without negotiating on service, LUX MARE offers luxury hotel style service paired with the privacy of the villa model.
A luxury welcome pack of gourmet food and drink items welcomes guests. Discreet daily housekeeping, high-end bathroom amenities and state-of-the-art audiovisual systems heighten the sensation of luxury. Smart home technology means all heating, lights, blinds, and entrance gates can be controlled with a few clicks from tablets strategically positioned around the villas.
Discovering the authentic Algarve
A deep connection with the Algarve, with its people, nature and spirit lies at the foundation of the LUX MARE villa concept. Its founding couple were adamant that their guests should be able to explore the real Algarve and all the treats it has to offer on a tailor made basis.
In-villa services include a personal concierge team available seven days per week. Local professionals who truly understand the region are on call for villa residents looking to discover the authentic Algarve. Vintage wine tastings, cookery masterclasses with expert chefs, horse rides on the beach by sunset are just some of the delights guests might choose to partake in.
This exclusive service is led by Destination Algarve, a luxury rental company in the western Algarve with over 15 years experience in the region.
Disclosure: This post is sponsored by LUX MARE.