Photograph of the week: Portland Head Lighthouse, Cape Elizabeth, Casco Bay, Maine, USA
"The rocky ledge runs far into the sea,
And on its outer point, some miles away,
The Lighthouse lifts its massive masonry,
A pillar of fire by night, of cloud by day…"
In 1849, poet Henry Wadsworth Longfellow began his poem "The Lighthouse" with this stanza in what was widely believed to be an ode to Portland Head Light, a historic lighthouse in Cape Elizabeth, Maine. Longfellow was, after all, a frequent visitor at Portland Head, whiling away long hours talking and drinking with Joshua Strout, keeper at the time.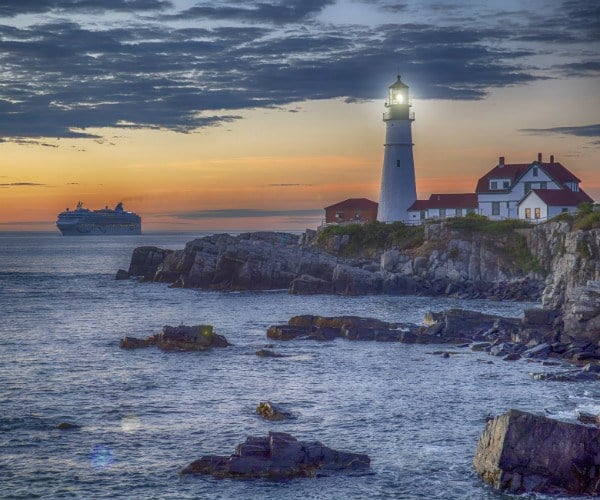 "Steadfast, serene, immovable, the same,
Year after year, through all the silent night
Burns on forevermore that quenchless flame,
Shines on that inextinguishable light!"
The most visited, painted, and photographed lighthouse in New
England
, Portland Head has inspired more than its fair share of artistic excellence with its "quenchless flame" and "inextinguishable light", as Longfellow so eloquently put it. Edward Hopper painted the lighthouse in 1927; that watercolour can be viewed today at Boston's Museum of Fine Arts. More recently, a snow-bedecked Portland Head was featured in the 1999 movie
Snow Falling on Cedars
(filmed, incidentally, during the North American Ice Storm of 1998), and the lighthouse also featured in the fifth season of
Marvel's Agents of S.H.I.E.L.D.
More importantly, though, Portland Head continues to safely guide ships into harbour, as it always has done. The light station sits on a treacherously rocky head of land at the entrance of the primary shipping channel into Portland Harbor, which is within Casco Bay in the Gulf of Maine. Completed in 1791, and lit for the very first time on January 10, 1791, Portland Head burned bright until June 1942 when it was extinguished through June 1945 to avoid aiding German submarines during World War II. Other than that, this oldest light in the state of Maine, and the first lighthouse completed by the United States government, has always been operational and remains so to this day. Originally commissioned by George Washington in 1787, the station was built with cost-cutting economies in mind. Reminding masons Jonathan Bryant and John Nichols to be frugal, Washington instructed the light builders to use materials that could be taken from the "fields and shores", and that could "be handled nicely when hauled by oxen on a drag". In spite of, or perhaps because of, these measures, Portland Head has changed very little except for the rebuilding of the whistle house in 1975 after being badly damaged in a storm. Speaking of storms, Portland Head has been beaten by more than its fair share. Thayer Sterling, the last keeper at Portland Head before US Coast Guard personnel took over in 1946, once told a story of his wife Martha's lucky escape from a particularly rogue tempest. The story goes that of an evening you would find Martha knitting in a chair next to a window. But one blustery night the Sterling's dog, Chang, spent the entire evening growling at her feet. Eventually, annoyed, Martha left her customary spot and went to knit elsewhere. No sooner had she moved, with a finally-quiet Chang following her, than a giant wave crashed into the keeper's house, spraying freezing water, and shards of glass from the now-broken window, over her regular chair. Today, Portland Head Light continues to serve and protect, standing 80 feet (24 m) above ground and 101 feet (31 m) above water. Its airport style aerobeacon is visible for 24 nautical miles (44 km; 28 mi), and the 400 watt metal halide lamp is rated for 20,000 hours and produces 36,000 lumens of light at 200,000 candlepower. The light station is automated, with the tower, beacon, and foghorn maintained by the United States Coast Guard as a continuing aid to marine navigation. The former lighthouse keepers' house is owned by the town of Cape Elizabeth and is now a maritime museum within Fort Williams Park. Found at 1000 Shore Road, Cape Elizabeth, admission to the park is free, and it is open year round from sunrise to sunset.
If you have a really special photograph you would like to share with A Luxury Travel Blog's readers, please contact us.
Did you enjoy this article?
Receive similar content direct to your inbox.