Some say fairies created this dramatic, and unusual, landscape. They even say the fairies still live here, hiding in the crevices…
The Isle of Skye is certainly rich in faerie lore. And the miniature landscape of grassy, cone-shaped hills and whimsical rock spirals at Fairy Glen, Isle of Skye, is certainly magical-looking – you can easily picture the fairy-folk feeling right at home here. In this particular instance, however, there is no documented folklore linking the land here to the realm of myth and magic. There have been no actual sightings of fairies. Yet.
In a far more practical explanation of the rock formations found at Fairy Glen, these unique geological formations are actually the result of a landslip, triggered by volcanic activity on northern Skye about 60 million years ago. Authorities estimate that at one time the lava that covered northern Skye was more than 1,200m thick. The end result of all this flow of geological material? This otherworldly landscape, quite unlike any other.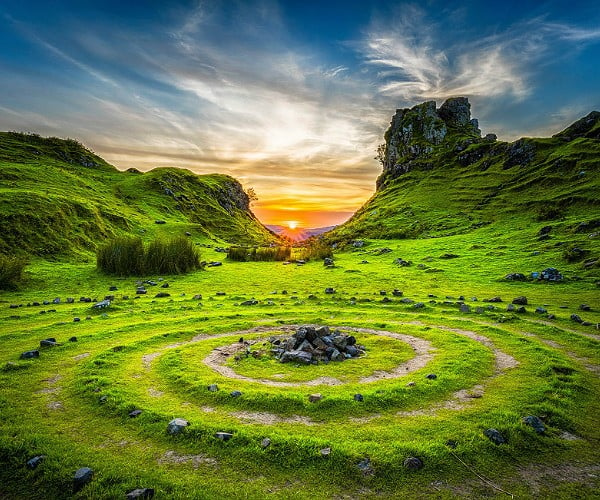 The best vantage point to view Fairy Glen and its many magical rock spirals, or look for fairies if you feel so inclined, is from the top of Castle Ewan, a natural rock formation with a basalt topping that resembles an ancient ruin. A steep, narrow trail, which involves a wee bit of scrambling, leads directly to the top. Take in the views, then head back down to wander in and out of the knobby hills, bumps, ridges and rocky fairy-homes which make up this fantastical wonderland.
Whatever you do, though, don't fall prey to the recent tourist tendency of moving the rocks around to create their own rock spirals. (Some bus tour guides are even said to be encouraging non-fairy-approved rituals that involve creating your own spirals then leaving a coin or token in the centre as a good luck offering to the fairies.) Not only do the locals disapprove – we're told they spend the winters removing any man-made stone spirals in order to keep the Glen in its natural state, we can all but guarantee the fairies like it even less.
Located on the Trotternish Peninsula, near the tiny coastal town of Uig, there are no signs to direct you to Fairy Glen, but getting there is easy enough if you know where to go. From Portree, take the A87 north towards Uig. Just before the Uig Hotel, turn right onto the small single track road – there will be a road sign here to Sheader and Balnaknock. Follow this (pot-holed) road for about 5 minutes, roughly 2.5km. The Fairy Glen will be visible from the road. Another option is to walk from Uig – it's a lovely gentle 30-minute stroll that is well worth the effort. Or you can book a local shuttle bus in town. However you get there, remember to leave Fairy Glen as you found it: the fairies are watching you.
If you have a really special photograph you would like to share with A Luxury Travel Blog's readers, please contact us.