5 reasons to choose Skiathos for your next Greek adventure
With over 200 islands to choose from, planning a holiday in Greece can seem like a daunting task – each island offers something different and certainly exploring several within one trip is a good way of experiencing this variety. But if you're short on time, Skiathos offers a compelling range of activities to suit a diverse range of people. Located in the northwest of the Aegean Sea in Greece, Skiathos is part of the Sporades archipelago and is often referred to as the party island of northern Greece. It is almost 50 kilometres squared and has over sixty beaches, with island activities ranging from water sports, historical tours, partying and shopping. There is something for everyone and we have highlighted our top five reasons to visit below:
1. Fabulous beaches
Skiathos has an abundance of wonderful beaches and a real mixture of off the beaten track quiet coves (accessible only by boat), to more lively options with bustling tavernas often accompanied by loud music and waters sports.
Skiathos has a reputation as a party island and there is certainly enough to keep the most avid music lover happy with nightclubs in Skiathos Town and beach parties a regular occurrence in the high season. Little Banana Beach on the south west of the island hosts a Sunday evening 'Beach Party' with a DJ, plenty of cocktails, nibbles and lots of fun to be had. Be warned it is a nudist beach by day and there will likely still be some keen sunbathers there in the early evening.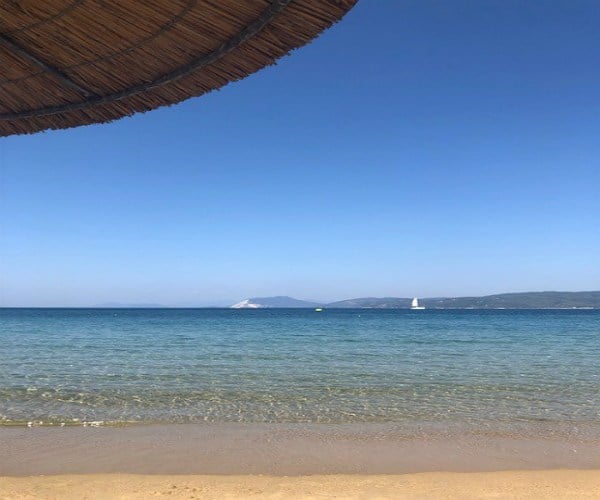 Perhaps the best known of Skiathos' beaches is Koukounaries which has wonderful soft, golden sand and an abundance of facilities on offer including water sports, several beach bars and restaurants and a regular fifteen-minute water taxi to Skiathos Town which is by far the nicest way to travel. There is music and a fun, party vibe so if you prefer something calmer and less hectic one of the quieter beaches like Agia Eleni might be for you.
2. Easy to get to
Skiathos benefits from being easily accessible! It is well connected within Greece itself via an air and ferry network but also from the
UK
(Bristol, Manchester and Gatwick airports) and direct flights from over twenty European cities in the summer, making it perfect for a fly and flop holiday or a more adventurous tour of the Greek islands and mainland.
Thomas Cook offer direct flights and offer a decent in-flight meal service and civilised flight times, on arrival into Skiathos it is unlikely to be more than a 25-minute taxi ride to where you are staying as the island is small. The arrival into Skiathos airport is something of a sight with one of the worlds more dramatic landings, in fact avid plane spotters often gather to watch the planes land dramatically close to the sea onto its short runway. It is possible to arrive by ferry from the Greek mainland which takes approximately two hours and provides daily sailings. It is also easy to island hop around the Sporades islands which include Alonnisos, Skopelos, Skyros and of course, Skiathos.
3. Travel by sea
Skiathos and indeed the Greek islands in general provide a wonderful opportunity to explore by sea rather than land. Whilst in peak season there may be array of lavish
superyachts
hovering just offshore it is the simple little motorboats that offer adventure and freedom without breaking the bank.
Vromolimnos Water sports are an excellent, friendly outfit and have various boats for hire (some of which may require a boat licence). If you prefer to relax (and make sure you get to explore the secrets the locals know about) then there is also the option of guided boat tours for up to eight people on one of their beautiful sailing boats. Pods of dolphins are sometimes seen in the bay around Skiathos Town! The crystal-clear waters surrounding Skiathos are perfect for diving off the boat and exploring the underwater world or swimming ashore to a secluded beach you are likely to have all to yourself (many are only accessible by boat)! If you want something more adventurous there are various water sports outfits that offer banana boating, water skiing, paddle boarding and
scuba diving
to name a few. In calm weather the underwater visibility remains clear down to 30m below the surface making for ideal scuba conditions.
4. Charming tavernas
If you want to enjoy Greek food at its best, then a simple Greek Taverna is the way forward. Some are only accessible by boat which adds to their charm and Diamandi Taverna is one such gem, it is in fact accessible by land but involves a steep climb down and arrival by boat is a better option. Booking is advised and there are also parasols and sun loungers if you'd like to sleep off your lunch before heading home.
Another wonderful option is family run, Arkos Taverna which is located on the tiny, uninhabited island of Arkos just off the eastern end of Skiathos and only accessible by boat. It provides a small but fabulous menu with some amazing seafood in a tranquil and beautiful environment. A snorkel before lunch is a must in the crystal-clear waters.
There are also many more accessible tavernas dotted around the coastline which can be accessed via car, so a boat is not essential but certainly adds variety (and a lot of fun!).
5. Skiathos town and port
  If you want some buzz then head into Skiathos Town and Port, most recently famed for its starring role in the Mama Mia film. There are huge selection of restaurants and bars, including Lo&La which has an enviable position perched up high about the port where you can enjoy far reaching views across to Bourtzi and the Old Harbour. Lo&La offers an Italian menu and it has a well-deserved reputation for serving fresh and delicious flavours in a happy, welcoming environment with great people watching in the port below. There are numerous tourist shops selling the usual tourist gifts of varying quality but nestled amongst these are some wonderful boutique shops selling anything from beautiful art work and olive wood gifts (Olive Tree Skiathos is worth a look) to stylish clothes, try Kalokairi on the old port for Greek, French and Italian fashion. If you are a Mama Mia fan, then a boat trip to neighbouring Skopelos Island from Skiathos Town might appeal. It is possible to visit Agios Ioannis which is the little church on the hill where Sophie gets married in the first Mama Mia film. There is a steep uphill walk of around fifteen minutes to reach the top. Skopelos itself was one of the main shooting locations for the film.
Did you enjoy this article?
Receive similar content direct to your inbox.