Brazil is the largest country in Latin America, home to some of the greatest natural wonders in the world and simply overflowing with culture. It's long been on travellers lists while exploring South America and draws people from all over the world looking to party the night away at the famous Rio Carnival, witness the breathtaking Iguazu Falls or delve into the heart of nature in the Amazon Jungle.
While Rio de Janeiro remains popular with adventure travellers after a vibrant culture and stunning beaches, the rest of the country should definitely not be forgotten. Along the coast of Northern Brazil, ranging from the states of Maranhao to Ceara, are an abundance of unique and off the beaten track locations that offer travellers something a little unexpected. Below are our top five places to visit in Northern Brazil.
Lençóis Maranhenses National Park
Sweeping dunes for as far as the eye can see, emerald green lagoons nestled in unusual shapes and some of the most fascinating landscape you will ever see, Lencois Maranhenses National Park is one of the most interesting natural phenomena in Brazil. The park encompaases over 150,000 hectares and 70km of coastline, with large and unusually shaped sand dunes blanketing the landscape.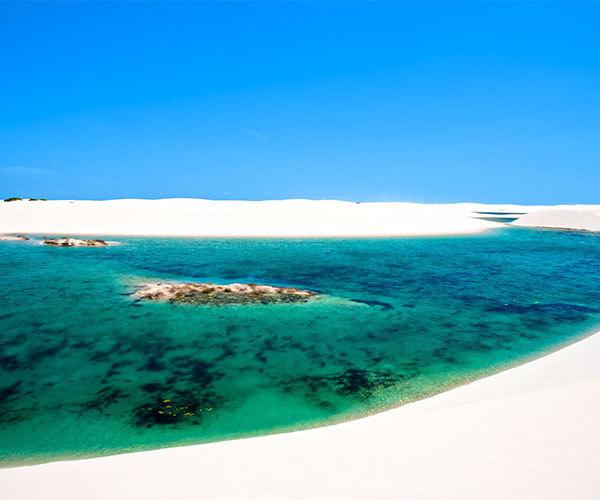 During the rainy season, the spaces between each dune fill with water creating small lagoons of hues of blues, greens and turquoise due to the minerals and bacteria found here. The best way to access the park is by flying to Sao Luis and then arranging a transfer which will take up to four hours. There are a few small towns around the park with a great range of accommodation options, such as Santo Amaro do Maranhão, Barreirinhas or Atins.
Jericoacoara
If you are looking for a true beach getaway with a rustic essense and plenty to keep you entertained, then look no further than the remote beach town of Jericoacoara. Sitting on the coast of northeast Brazil, Jericoacoara is encompassed by a beautiful national park and the Atlantic Ocean, providing some of the most stunning views in the region.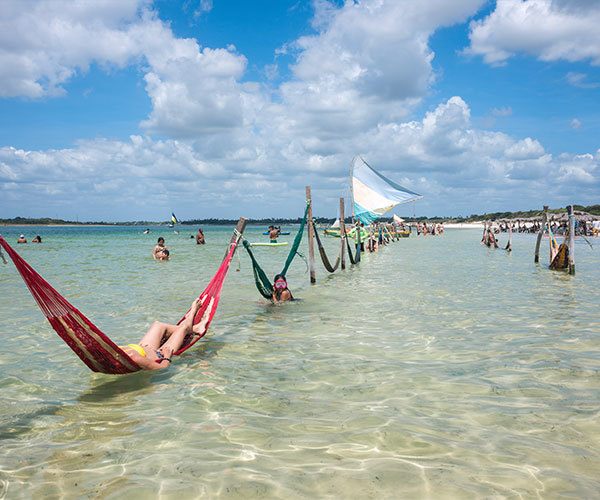 The closest city where you'll need to transit through to reach this small haven, is Fortaleza, and even after driving for around seven hours you'll need to hop into dune buggies to finally reach your destination. Jericoacoara is built entirely on its natural elements, and walking down the sandy streets lined with quaint boutique shops and restaurants is an experience in itself. Just remember to bring plenty of cash, there are no ATMS in Jericoacoara! One day you could be lounging on a sea hammock taking in the sunset, the next kayaking in nearby mangroves and the next kite-surfing along one of the most magnificent coastlines in South America.
Atins
Much like Jericoacoara, Atins is a remote and difficult location to access. Also like Jericoacoara, it's worth every minute! This tiny, un-cut gem sits to the east of Lençóis Maranhenses National Park on the corner of the Preguicas River. Once a small fishing village, Atins is flourishing and fast becoming a popular tourist destination for people accessing the national park.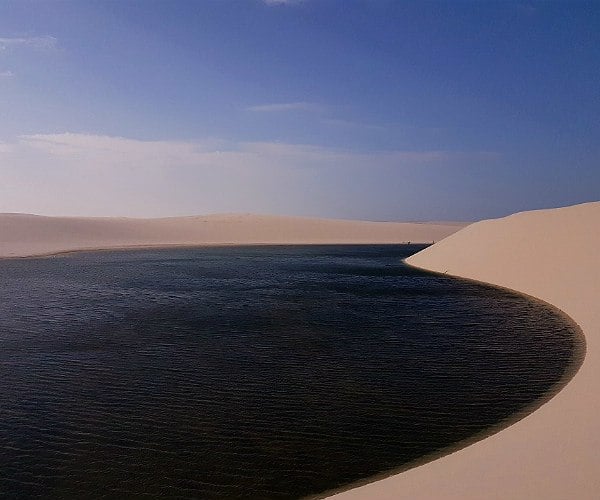 The town still holds its rustic charm, with sandy roads leading straight from the beach and local restaurants and hotels popping up throughout. While the biggest draw for visiting Atins is of course its proximity to Lencois Maranhenses National Park, there are various other beaches and dunes in the area which are perfect for walking trips to take in the natural landscape. Atins is also a popular destination for keen kite-surfers due to the year round pleasant weather and active waves.
Fernando de Noronha Island
If there is one destination that just oozes luxury and exclusivity – it's Fernando de Noronha. This hidden paradise is located 350 km off the coast of northeast Brazil, so while it is by no means suitable for a quick day trip it could easily be added onto your holiday. Only the main island is populated and the rest are home to seabirds and other marine animals. There are daily flights to the island from a few locations, such as Recife, Rio, São Paulo and Salvador, and it is also possible to get there by chartered yacht.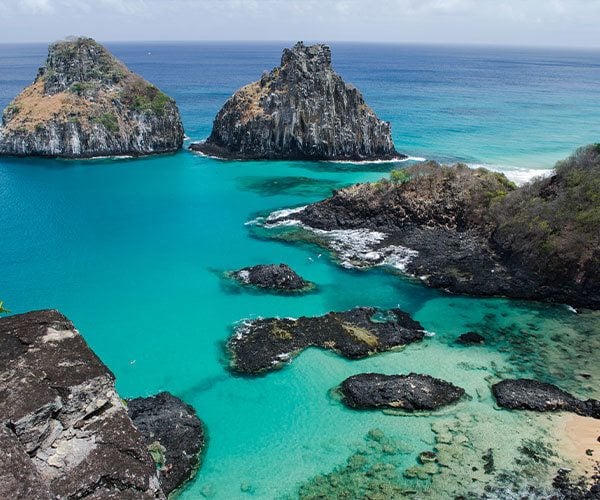 So what makes this hidden gem so exclusive? The local authorities have limited the number of visitors each day, to help preserve the ecosystem around the island. No more than 500 travellers are permitted on the island per day which means you need to plan your flights and accommodation well in advance to ensure you a spot. The island is exactly what you would imagine – crystal clear warm waters, pristine beaches and hidden coves. Hiking, snorkelling, diving and boat trips are all popular amongst visitors to truly experience the beauty of the island.
Morro Branco
Morro Branco could be taken straight from another planet. Large dusty red rock formations swerve along the beach off the coast of northeast Brazil, providing a labyrinth of dunes and cliffs that are unique to this corner of the world.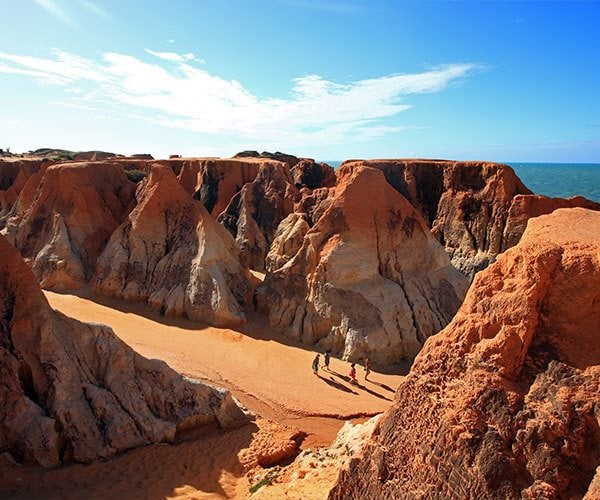 The stark contract of the deep blue ocean behind the hues of red and orange make for some wonderful photographs and visitors are able to freely walk among the towering red rocks exploring the hidden twists and turns. Local guides are always on hand to drive you to the dunes and guided tours are available, albeit only in Portuguese for now. The beach itself is beautiful and provides a totally unique and otherworldly side to Brazil.
Matt Gannan is the CEO and Owner of Tucan Travel. Tucan Travel operate cultural tours in Latin America, Africa and the Middle East, Asia and Europe, as well as tailor-made holidays in Latin America, Africa and Asia.
If you would like to be a guest blogger on A Luxury Travel Blog in order to raise your profile, please contact us.