Ayers Rock and Uluru, it has two names. In 1993, a dual naming policy was adopted that allowed official place names to consist of both the traditional Aboriginal name and the English name. 'Ayers Rock / Uluru' became the first official dual-named site in
Australia
's Northern Territory. Our flight from Sydney to Uluru (for simplicity and respect we will use the traditional name) took over three hours and moved our time zone back by an hour and a half – I always thought time zones were in full hours, apparently not, there are some that move by 30 and 45 minutes, seems a lot of trouble for half of an hour. Uluru is almost at the geographical midpoint of the country in the Red Centre – the colloquial name given to the southern desert region of the Northern Territory – flying over it we saw why. It is a barren, desolate and fiery red landscape, quite spectacular in its isolation. It really is the outback.
Our hotel The Sails in the Desert –
an oasis of luxury,
celebrates the local Anangu people's culture in its design, furnishings, sculptures and artwork so one has the opportunity to embrace the Aboriginal philosophy here. It is one of four on Ayers Rock Resort –
Touch the Silence,
and has a terrace with tantalising views overlooking the rock, which never seems to maintain the same colour. So, it was with great anticipation that we set the alarms for 4:00 AM to join our guide Toby on our first excursion, Desert Awakenings –
Experience Uluru in the tranquillity of the pre-dawn under a canopy of stars.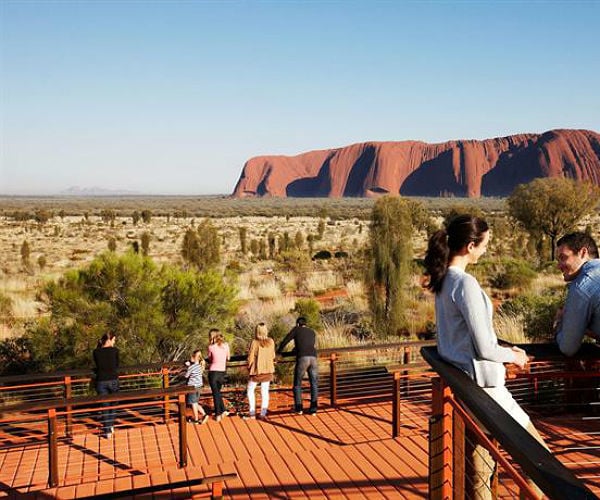 Six of us bleary early birds were collected from The Sails by a vehicle resembling a Disney ride simulator, or Starship Enterprise as guide Toby called his beloved machine. We arrived at our 'private dune' to enjoy a traditional Aussie breakfast of homemade damper and syrup, a wheat flour based soda bread baked in the coals of a campfire, and bacon and egg rolls for the traditionalists.
We watched the dawn ignite a fire in the sky as the sun rose over the desert horizon turning the rock purple, pink, orange and finally red.
It is often called the spiritual centre of the earth, I'm not sure, but I defy even the staunchest sceptic not to be moved by something here as Mother Nature unveils her spectacular light show.
Ayres Rock itself rises abruptly out of the desert like a cathedral from a graveyard. It is 348 meters high, some 200 metres higher than the Sydney Harbour Bridge, nearly ten kilometers around its base. It's also extremely hot, rarely dropping below 30 degrees and mostly above 40 while we were there.
Perhaps it is not surprising that a place of such natural beauty has been the subject of much dispute and conflict over its ownership. The story is one of resilience and courage in the face of extreme adversity. The Aboriginal civilisation is the oldest in the world with a culture that goes back an astonishing 60,000 years. Visitors can see the rock drawings by the Anangu people who lived at the rock and cared for the land for thousands of years, it is a spiritually sacred place for them. Yet the first white person to see the rock, William Gosse in 1873, promptly renamed it after the Chief Secretary of South Australia Sir Henry Ayer. In 1959 after generations of the Aboriginal Anangu population had made it their home they were thrown off their land to allow tourism and mining to flourish.
It is only in recent years that modern society has begun to recognise, acknowledge and share with the traditional owners of the land, a long way to go yet and long overdue. At a ceremony on the 26th October 1985 the title deeds of Uluru were symbolically handed back by the Governor-General to the Aboriginal people, who had been forced off their land 25 years before. They in turn signed the agreement to lease it back to the government under joint management. And so, it remains today. It was a colossal fight of determination against impossible odds at a time when the Aboriginals were barely recognised as people with any rights. As Toby recounted the history, one of our Aboriginal guides Leroy explained their perseverance.
He said, "We got our land back so we can look after the sacred site properly, only the Anangu can do this because only we understand it. We look after the beautiful things on our land the same way as our ancestors did hundreds of years ago so that the beauty remains in hundreds of years time."
"This must stop!" pleaded my wife Helene, pointing at the steady stream of tourists hauling themselves onto the rock. "Don't they realise this is a sacred place?" There are indeed signs reading 'Please Don't Climb', but Uluru has been promoted as a place to do just that since the 1940's when people didn't know about its sanctity, or didn't care. Chains have been hammered into its surface to help with the steep ascent but it has claimed many lives of ill equipped or reckless tourists.
"The energy here is so sad," she said, clearly disappointed. "I didn't expect so many people to be violating the rock." Our guide Toby explained that the Anangu consider it disrespectful and after years of discussion the Board of Management agreed to close the climb on October 26
th
2019. Unfortunately, this has just encouraged more visitors to attempt it before time runs out. He went on to say that it is currently up to the individual, his rhetorical response was poignant  "Is this a place to conquer or to connect with?"
David Moore is Author of 'Turning Left Around the World'. Published by Mirador and available from Amazon, it is an entertaining account of David and his wife's travel adventures – often intriguing, frequently funny and occasionally tragic. 
If you would like to be a guest blogger on A Luxury Travel Blog in order to raise your profile, please contact us.
Did you enjoy this article?
Receive similar content direct to your inbox.