Brazil is home to the world's largest biodiversity. Among the various ecosystems found in the country, three stand out. Considered the lung of our planet, the Amazon rainforest alone covers nearly 60% of Brazil's territory, while the Pantanal is one of the world's largest continuous wetlands. Ecotourism destinations par excellence, these regions, as well as the Cerrado, are home to a huge variety of wildlife, inviting you to immerse yourself in almost untouched nature. Let's discover where and when to go on safari in Brazil.
Amazon
Welcome to the largest rainforest on the planet! With about 60% of its area in Brazil, the Amazon rainforest impresses with its biodiversity and offers a wide range of experiences. The other 40% of its total area (in neighboring countries) has mostly muddy rivers, but in Brazil rivers are clearwater or blackwater, free of mosquitoes, and great for diving in rivers and tributaries.
For those who want to enjoy a local experience, the tip is to stay in a lodge with complete facilities to explore the surrounding forest on foot or aboard a private yacht, with an itinerary tailored by Matueté (matuete.com) to each traveler's profile and preferences.  Besides being the main mode of transportation for locals, river navigation is the best way to unveil the forest and its charms. For example, the waters of the Rio Negro reflect the vastness of the forest and reveal igarapés (streams), igapós (blackwater-flooded forests), islands, and riverside communities. Aptly called the "Amazon Caribbean" by French explorer Jacques Cousteau, the Tapajós region surprises travelers as it  is the only destination in the Amazon where, within a short distance, you can come across rivers of clear, black, and muddy waters.
Another activity that will make your Amazon safari a memorable experience is a jungle walk with an experienced guide. The experience equates to a class about the local wildlife, legends, and traditions. For those who want to admire this giant green carpet from above, the tip is to fly over it in an amphibious plane. The view of mighty, multicolored rivers, archipelagos, isolated islands, and the huge variety of plant species is impressive and worth a repeat.
The forest can be visited all year round, but the ideal season is the second half (July to January), when it rains less and rivers are at their lowest level, revealing river beaches of warm waters and great exuberance. If you are lucky enough, you may swim along with the docile river dolphins.
Pantanal
The world's largest floodplain, with 250,000 km², the Pantanal is estimated to be home to over 650 bird species (macaws, toucans, jabirus, white herons, parrots, cormorants), over 260 fish species, 110 reptiles, and 130 mammals. But the jaguar is at the top of the animal kingdom in the Pantanal waters.
Because of its characteristic alternation between periods of heavy rain, from October to March, and the dry season (April to September), the latter is the best time to go on safari. But if your goal is to see mammals in their habitat, this season extends until November. A key tip is to wait until the late afternoon as most animals leave their dens at dusk, which adds colors and shapes to the vegetation. Always led by experts familiar with the region, safaris allow visitors to observe the peculiarities and contrasts of different species of the Pantanal flora, as well as a wide variety of animals.
Because the jaguar reigns supreme over this land, Refúgio Ecológico Caiman created an organization, called Onçafari (https://www.oncafari.org/), dedicated to promoting the conservation of fauna and habitats through ecotourism, thus contributing to the social and economic development of the region. This project also works to habituate these animals to the presence of vehicles carrying staff and tourists. As animals stop fleeing in the presence of cars, they no longer see researchers and visitors as a threat. Note that "habituating animals" does not mean domesticating them, but keeping them completely wild and free without them feeling threatened by vehicles. Enthusiasts can even "adopt" a jaguar by making donations to help ensure the continuation of jaguar preservation projects. So, how about adopting a big cat?
Cerrado
With an area of just over 2 million km² (or about 22% of Brazil's territory), the Cerrado is the second largest biome in Brazil and South America, second only to the Amazon. This is the ecosystem found in Grande Sertão Veredas National Park, a new ecotourism destination that has emerged in Brazil. It is a remote place of amazing beauty located at the junction of the states of Bahia, Goiás, and Minas Gerais. Created in 2004, it is named after one of the most important Brazilian novels, 'Grande Sertão Veredas', written by João Guimarães Rosa.
The park is home to dense vegetation consisting of shrubs, grasses, and low, gnarled trees. Its wide diversity of plant species translates into a myriad of colors and shapes that surprise visitors at every step or pedal stroke, as you can explore it on foot or on a bike. Still unknown to many, Grande Sertão Veredas Park introduces tourists to a deeper, more authentic Brazil. There are many activities available to experience the region's natural wealth, including hiking in the park, photo safari, kayak tours on the lake that is the source of the Formoso River, and even star watching.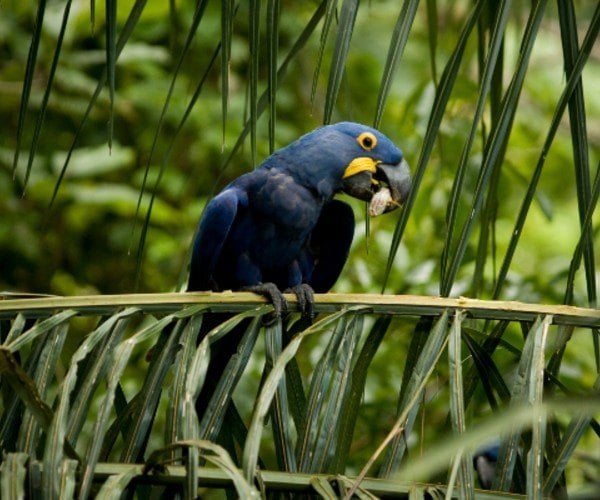 In this lush scenery, day and night safaris are great opportunities for wildlife lovers to admire the rich fauna, observing animals such as the maned wolf, jaguar, puma, red brocket, rhea, tapir, hoary fox, giant anteater, dwarf caiman (the smallest in the world), and hundreds of typical birds of the region. The best time to visit the region is from April to September. To learn more about this amazing "Sertão" (Brazilian backcountry), Auroraeco (www.auroraeco.com.br)  has created an itinerary that allows you to discover the land of Guimarães Rosa on a both ecological and cultural safari.
Simone Scorsato is Executive Director of Brazilian Luxury Travel Association. BLTA's main objective is to promote and strengthen Brazil as a travel destination to the global luxury market.
If you would like to be a guest blogger on A Luxury Travel Blog in order to raise your profile, please contact us.