Planning a wedding is an exciting experience, but it's no secret that it can be relatively stressful too! For some, deciding upon the perfect honeymoon destination can be just as tricky… let us eliminate the pressure for you and let you in on our favourite romantic retreats.
If you are after a taste of paradise and fancy reflecting on your celebrations with some guaranteed sun and sea, then look no further than our round up of top three dreamy island escapes where you can continue the romance:
Bawah Reserve
Lying 150 miles away from Singapore, and only reachable by seaplane, the journey to Bawah Reserve is an adventure in itself. The epitome of an idyllic remote island, this eco-luxe resort is well worth the voyage.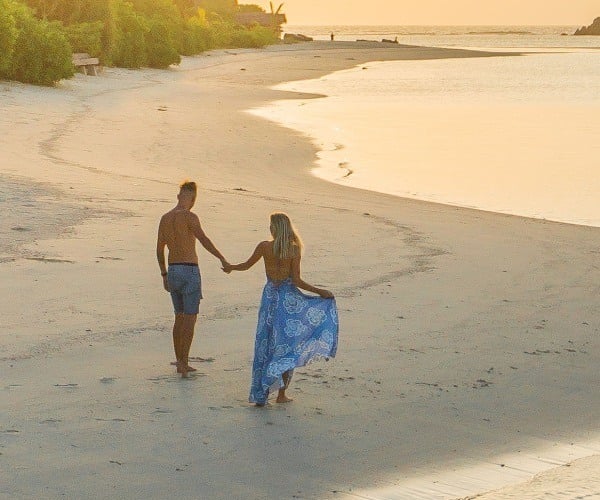 Floating amongst Indonesia's Anambas Islands Regency, this private hotel lies in a prime position and offers a real dose of island life. This tropical hideaway is home to beautifully designed bamboo suites and lagoon bungalows that speak for themselves with their endless views over the blue sea.
Begin your day with a spot of sunrise yoga at the hotel's tranquil Aura Spa. Alternatively, embrace Bawah's warm waters as soon as you wake up by snorkelling among its colourful marine life, diving between its lagoons, or simply exploring the island aboard a paddleboard or kayak.
If you're after a slower pace, take your favourite book to the infinity pool or sink into a beanbag while listening to the waves lapping the shore. Bawah Reserve even has its own love story – the property supports local life with its impressive foundation and was created in order to protect the island from dynamite fishing – so it's impossible not to feel the love in the air here!
Wa Ale Island Resort
Consistently topping the list of hottest hotel openings over the past year, Wa Ale Island Resort well and truly lives up to the hype. This island lies in the protected Mergui archipelago and makes for the ideal romantic retreat if you are after a tropical escape.
Surrounded by sprawling beaches, crystal-clear sea and untouched wilderness, Wa Ale suits both those looking to fly and flop (on the aptly named 'Honeymoon Beach') and those who are seeking an adventurous getaway. We love that this eco-hotel strikes just the right balance between rustic and luxurious: thatched architecture houses modern comforts and rugged jungle meets pristine seashore.
The diving and snorkelling experiences to be had here are among some of the best on the planet, as the Andaman Sea brims with vibrant coral reefs and teems with marine life. We highly recommend making the most of the local cuisine served here, as well as dining al fresco under the stars with the sand between your toes – cliché but unbeatable!
For deeper relaxation, there's nothing better than indulging in a massage treatment in comfort of your own villa while gazing out to the shimmering sea beyond.
Nihi Sumba
Still regarded by many as the ultimate honeymoon getaway, Nihi Sumba (formerly Nikiwatu) is a special place indeed. Offering complete luxury in an idyllic setting, this exclusive hotel overlooks a magnificent beach where chalk-white sand meets gin-clear water.
Recline on the soft shore under the dappled shade of the swaying palm trees before diving into the inviting turquoise sea to cool off and discover the underwater world: bliss. Or, if you are a keen surfer, why not become the envy of your friends by riding one of the world's most renowned waves, 'God's Left' (or 'Occy's Left')? If you would prefer to stay on dry land, do not miss out on riding Nihi Sumba's beautiful horses – trust us, galloping across the beach while the sun glows over the sea is simply unforgettable.
The spa is also out of this world – a golden bathtub (which is far more tasteful than it sounds!) sits on the outdoor deck, encircled by striking views as far as the eye can see, which makes for an unparalleled setting for an Indonesian treatment. We can assure you that you and your loved one will have a heavenly stay here.
James Jayasundera is Founder and Managing Director of Ampersand Travel. Ampersand Travel create bespoke and luxurious travel experiences to Asia, the British Isles and Southern Africa.
If you would like to be a guest blogger on A Luxury Travel Blog in order to raise your profile, please contact us.