Many of us feel attracted to soul-stirring places that exert something spiritual within us. The original meanings these sites hide shrouded in secrecy and are often buried in time, yet each is a place of mystery and awe.
Many of these destinations are known for their age-old legends, spiritual practices and long-standing ceremonies, while other sacred sites now exist as ruins or natural wonders.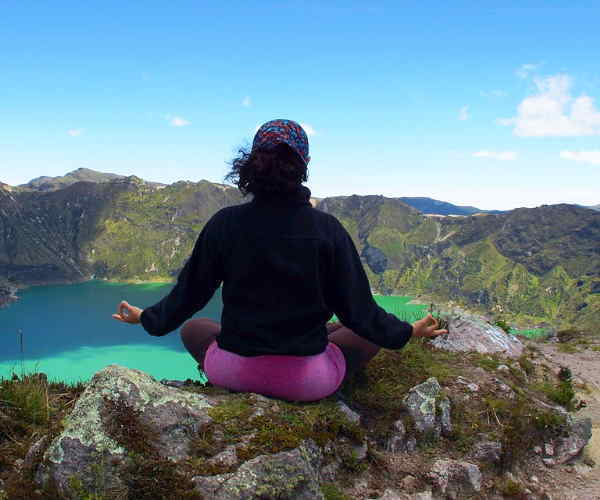 For "believers" and non-believers alike, these destinations offer something undefined, something mystical – or perhaps simply something that moves us deeply.
While hundreds of sacred sites and spiritual destinations can be found throughout South America, we have selected just ten of them that we've found particularly compelling.
1. Salt Cathedral of Zipaquira (Colombia)
As the name suggests, the "Salt Cathedral of Zipaquira" is a pretty unusual place and an unmissable stop on any trip to Bogota, Colombia. Located an hour from the Colombian capital and hewn within the tunnels of a 600-foot-deep subterranean rock salt mine is this Roman Catholic church.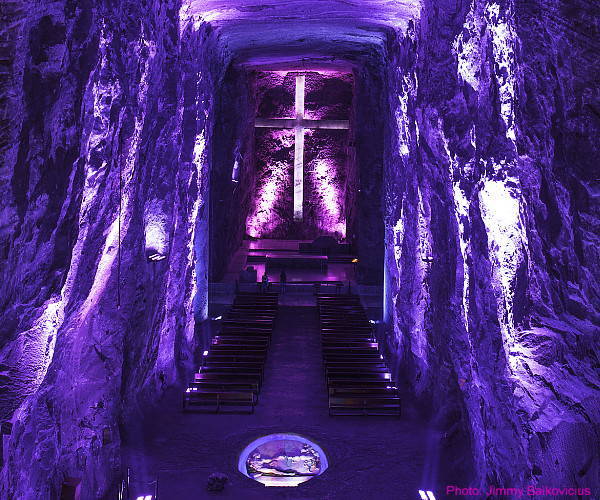 This strange and beautiful place of worship is adorned with softly lit crucifixes and cherubic statues throwing reverential shadows against the rough halite walls. Proceeding to the lowest tunnel, the temple opens up to reveal three naves that represent the birth, life and death of Christ. Looking up, you'll see a basilica dome, while at the front of the temple is an enormous, floor-to-ceiling cross illuminated by purple lights. Looking around, you'll find the pews jammed with parishioners as a choir breaks into song that reverberates throughout the chamber.
Whether you're religious or not, it's an otherworldly spot for contemplation and deep reflection.
2. Indigenous Shaman healing in the Ecuadorian Amazon
It's known that over a quarter of today's pharmaceuticals are plant-based, with the majority of these plants being native to the Amazon. In fact, many western scientists have turned to remote indigenous communities and their resident shaman to guide them to plants possessing healing properties.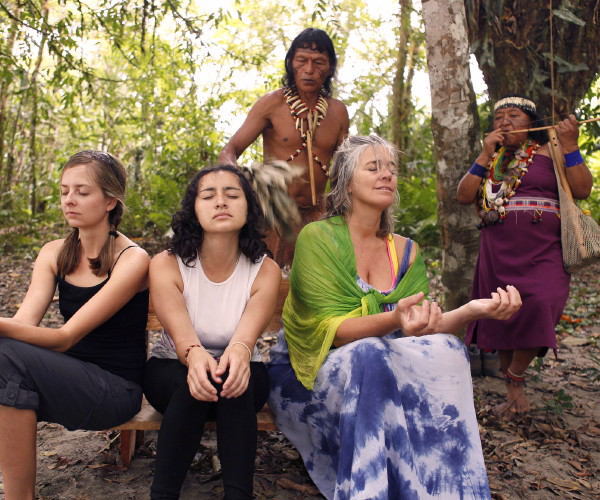 The role of a shaman has been to perform healings and divination by altering one's state of consciousness; this is done not only through local medicinal plants, but also through dream sharing, river bathing and other practices. Guided by these shamans, locals and medical tourists alike take part in traditional healing ceremonies and spiritual cleansing.
The unique nature of these shaman healing techniques has become increasingly popular, as travelers from around the world fly to South America and hike through the rainforest for various types of ceremonial and medicinal treatments.
Experience this in the early morning hours of the Ecuadorian Amazon. While you drink a gourd full of Guayusa tea, the community's shaman will sing soft rhythmic songs to the beat of a two-sided weasel-skin drum. The same shaman will interpret your dreams from the previous night, making recommendations to help you live in greater harmony with the world around.
3. The Ancient City of Tiwanaku (Bolivia)
When we think of spiritually moving South American ruins, what automatically comes to most peoples' minds is Peru's Machu Picchu. However, some of the most important pre-Columbian sites in the Americas can be found in Bolivia. Among these is the ancient city of Tiwanaku, which was once the spiritual and political capital of the Tiwanaku Empire. Believed to have existed between 300 BC and 300 AD, this empire dominated the area that straddles the current border between Bolivia and Peru.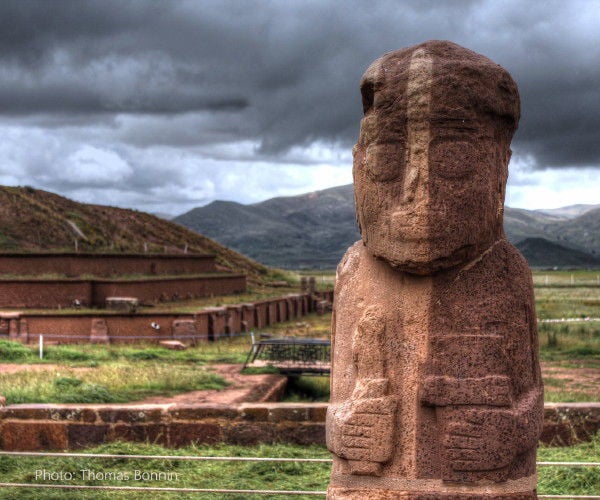 Today, Tiwanaku remains as a ceremonial site whose majestic structures remain infused with an ancient spirituality that's palpable. Visiting the site means witnessing Tiwanaku's beautifully crafted sculptures and its mysteriously crafted megalithic stone arch known as La Puerta del Sol ("The Gate of the Sun"). What's more astounding than these few remnants themselves is the mindboggling story behind their construction. Consider the fact that the stones — weighing up to 150 tons — were somehow transported from more than 10 miles away.
NOTE: Most visitors to Lake Titicaca don't even know Tiwanaku exists, despite the fact it's located only 12 miles away.
4. Salvador de Bahia's Candomblé Ceremonies (Brazil)
The city of Salvador da Bahia, located on Brazil's northeast coast, is revered as the birthplace of the Afro-Brazilian religion known as Candomblé.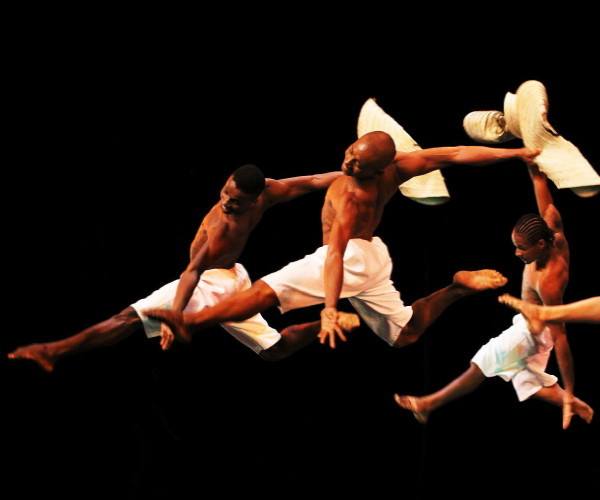 This faith, which came to Brazil on the slave ships from West Africa centuries ago, attracts peoples from all over the country — and increasingly travelers from around the world. These faithful followers and the curious alike make pilgrimages to this city of two million seeking the divine guidance, inspiration and protection of their personally adopted saint, called an "orixa."
And like other cities where African spirits have migrated — Havana, Port-au-Prince, New Orleans — Bahia overflows with a vibrant arts scene of amazing ceremonies, music and dance, as well as great food. All of this culminates with Bahia's annual Carnaval festivities, which begins in January and spans over a period of six weeks to escalate into a massive, high-decibel street celebration (in fact, many feel that Bahia's festival is even better than Rio's more secular Carnaval). The focus of all this is the city's old quarter, which has recently undergone a multi-million dollar renovation that makes it even more attractive for travelers.
5. Lake Titicaca & Sun Island: Birthplace of Inca Civilization (Bolivia/Peru)
Lake Titicaca was central to the birth of the Inca civilization, as both its founder-king and the sun itself were said to have emerged from these glistening blue waters. Consequently, the lake's Isla del Sol ("Island of the Sun") became a vital religious center, attracting pilgrims from across the ancient empire to visit its shrines on this endless lake.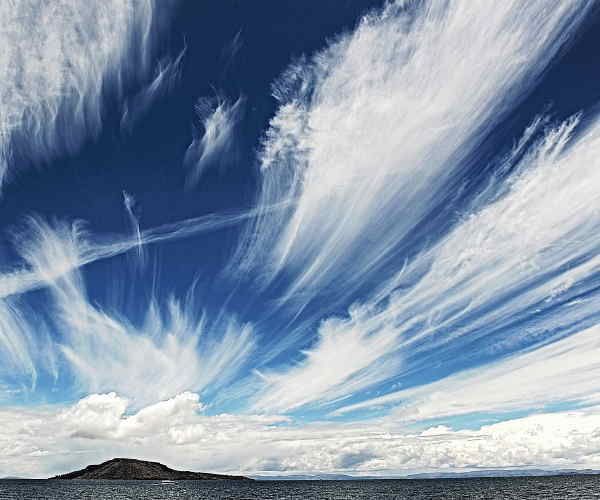 Traveling here, you too will find it hard to believe that this remarkable expanse of shimmering water is indeed a lake and not a vast ocean, as it unfolds towards the horizon in a spectacular display of natural beauty.
Sailing across the expansive lake to Sun Island, discover this sacred site brimming with authentic ancient cultures and spellbinding scenery. Soak up the mythical aura of this true South American icon as you walk along flagstone paths to temple ruins set against a backdrop of picture-perfect snow-capped mountains.
During your time in Lake Titicaca, you're most likely to stay in Puno, a historic city that is often called the "Folklore Capital of Peru." This lakeside town is a cultural hub of traditional dancing, music and colorful costumes, with over 300 local dances still proudly practiced today in a variety of Catholic and Inca celebrations throughout the year. All of this provides the perfect start to understanding and appreciating what this culturally-rich area has to offer.
6. Macho Picchu, Sacred Valley & Cusco (Peru)
The Inca have left their mark on Peru in the most awe-inspiring way, with the most remarkable of their legacy being Machu Picchu. To make your way to that wondrous citadel, first wander through the streets of Cusco. Passing its Inca-laid stone foundations, you'll come upon "Qurikancha" which was once the richest and most ornate temple in the entire Inca Empire, cementing its place in time and history.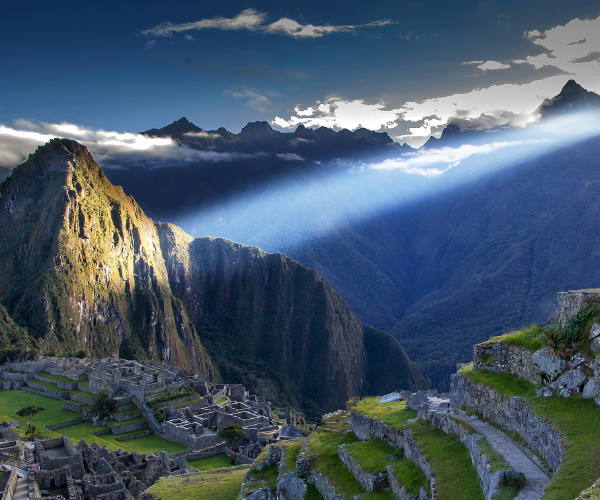 Traveling onward, through Sacred Valley, its name alone will conjure up images of ancient civilizations, storybook landscapes and an otherworldly mystique. Once visited, you will find those eager expectations more than met as the valley does indeed live up to its legendary reputation.
Upon reaching your final destination, it will be clear that no trip to Peru would be complete without witnessing the one and only Machu Picchu. This long-standing wonder regularly ranks as the world's best travel experience. Truly incredible, without comparison or equal, the "Lost City" provides life-long fascination and endless intrigue, remaining as magnetic and awe-inspiring now as it was in its ancient past. Machu Picchu is not only a step back in time and a glimpse into a long-forgotten world, it's also journey to self-discovery, awakening ancient wisdom and inner power within each of us
7. The churches, convents and cathedrals of Quito (Ecuador)
Visiting the historic district of Quito (Ecuador), you'll find this colonial center brimming with religious art and sacred architectural treasures. Internationally considered "the best-preserved, least altered historic center in Latin America," be prepared to discover picturesque colonial-era churches, age-old monasteries, and beautifully restored convents and monasteries.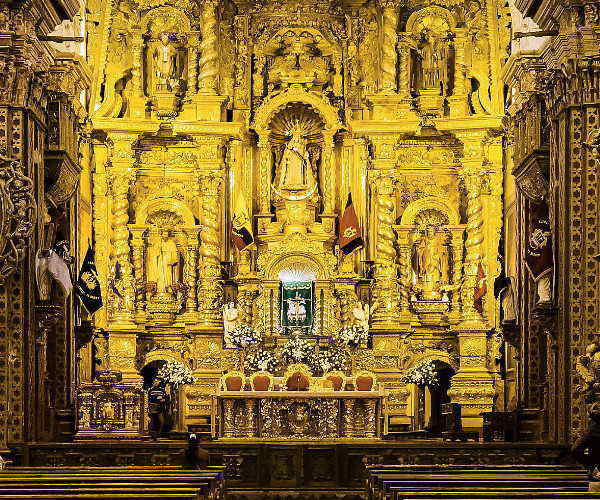 These experiences include the majestic La Compañía Church, the iconic San Francisco Church & Monastery, and the impressive Cathedral – guardians of a stunning artistic and cultural heritage. Within these sanctuaries, you'll find altars, pulpits, pillars, and arches adorned head-to-toe in gold leaf, allowing these to shine elements like jewels. Visits to these sacred sites are always humbling experiences that fill travelers with awe.
8. San Agustin (Colombia)
The phrase "must-see" can sometimes be overused; however, if you are even close to this region of southern Colombia, a trip to the monuments of San Agustin Archaeological Park will have to feature on your itinerary.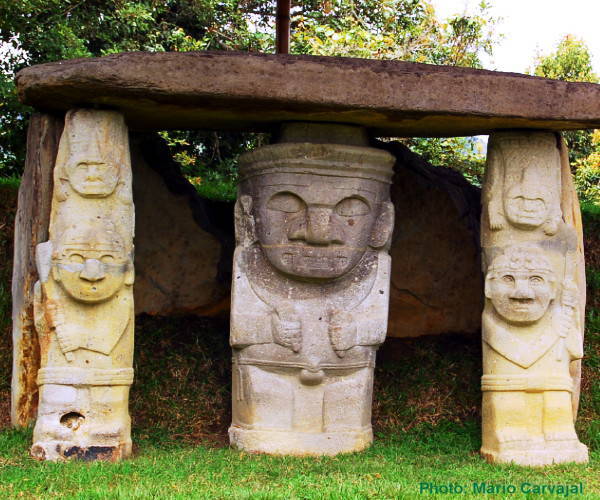 Here, you'll find more than 500 statues, sarcophaguses and monoliths dating to pre-Colombian time, some more than 2,500 years old, and all related to death, funerals and burials. Boasting UNESCO "World Heritage Site" designation, these ceremonial sites, burial mounds, crypts, tombs, sacred statues, superb artistic pieces and much, much more cover four separate sites – each an enviable attraction in its own right
On top of this almost incomprehensible array of fantastically well-preserved crypts, monuments and statues, you will find charming rural settlements, natural wonders and an altogether enchanting side to a lesser-visited yet easily accessible region of Colombia.
9. Nazca Lines (Peru)
One of the greatest mysteries on this planet is the Nazca Lines, monumental drawings etched across 500sq km of the Pampa Colorada of southern Peru, in impeccably geometric lines.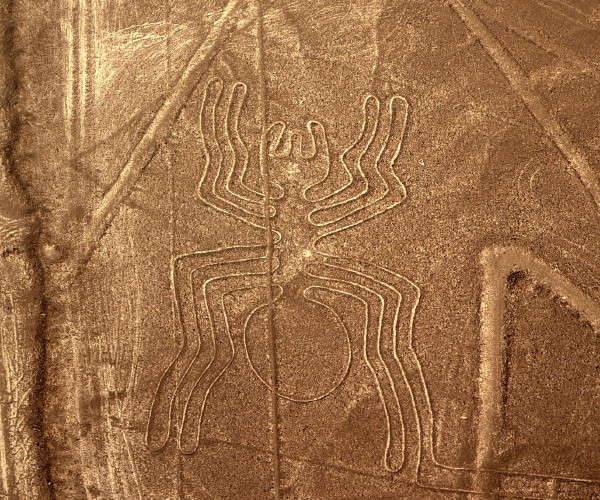 These head-scratching geoglyphs cannot be distinguished from the ground, but when soaring in the skies above on a light aircraft their majesty is undeniable – although you won't believe your eyes. How did these vast etchings come to be? It is not known, though there are many theories to suggest their origins and reasons for being: anything from ceremonial sites for the gods of water, to an astronomical calendar, and even aliens. Contemplate the many theories for yourself as you marvel at the hundreds of geoglyphs from above, making out the famous hummingbird, spider and human figure… or is it a Martian?
10. Easter Island's Moais (Chile)
While simply walking around Easter Island — itself one of the greatest, most enjoyable and memorable experiences while on this scenic volcanic island — witnessing its legendary Moai statues up close is something to behold. With their poker-face expressions and astounding sizes, these titans constitute one of the world's most mysterious archaeological pearls.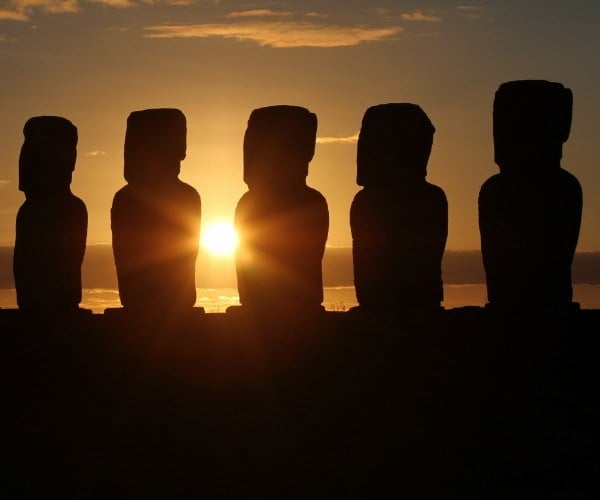 The giant statues, carved from huge rocks somewhere between 1200 and 1500 A.D. by the hands of the little-known ancient Polynesians, are strewn about the island in the hundreds, all slightly different and few being fully understood.
Many theories have emerged as to the reasons for their various locations, how they were physically transported, and how they were even carved.
For a wide-eyed visitor, though, the best course of action is to simply see and experience these for yourself – as well as any of the other sites presented.
Alfonso Tandazo is President and CEO at Surtrek Tour Operator. Surtrek Tour Operator is a well-established firm, specializing in custom-designed luxury tours in Ecuador, the Galapagos and throughout the rest of South America.
If you would like to be a guest blogger on A Luxury Travel Blog in order to raise your profile, please contact us.