Though there are different ways of exploring the Galapagos Islands, it is generally agreed that taking a cruise cannot be beaten for those looking to maximise their time on the archipelago, and fully immerse themselves in the flora and fauna to be found here. But taking an expedition cruise in the Galapagos is quite different to traditional cruises in other parts of the world, so what can you expect? Here we outline our top 10 experiences of a Galapagos cruise.
1. Witnessing the evidence of remarkable evolution
The majority of visitors to Galapagos will have been drawn by the wildlife. The lack of natural predators here means the birds, mammals and reptiles here have little or no fear of man, allowing you to observe them in a very special way (whilst of course maintaining a responsible distance). But what is extra special about the wildlife here is what drew Charles Darwin to make the islands his living laboratory in the early 19th century; the chance to see how species can adapt to their surroundings and develop traits seen nowhere else in the world.
One key example is the flightless cormorant. These birds gradually lost their ability to fly in the Galapagos as the lack of predators meant they simply did not need to. As a result their wings are far shorter and stubbier than those of a regular cormorant. The Galapagos (or Darwin) Finches are another fascinating example. There are 13 species endemic to the Galapagos Islands, each with slight variations to their beaks depending on the food on offer where they have evolved – thick, sturdy beaks to crack seeds for example, or narrower pointy beaks to grab insects from amongst the leaves. Your cruise will be accompanied by a qualified naturalist guide, who will point out the remarkable creatures you can see at each landing site.
2. A snorkelling experience like no other
Snorkelling is a big part of any Galapagos cruise because, not only is there plenty of incredible marine life to be seen, but the creatures under water are just as fearless as those above land! You can quite frequently find yourself swimming alongside sea lions who seem to genuinely want to play, zooming around you and seeing you will react.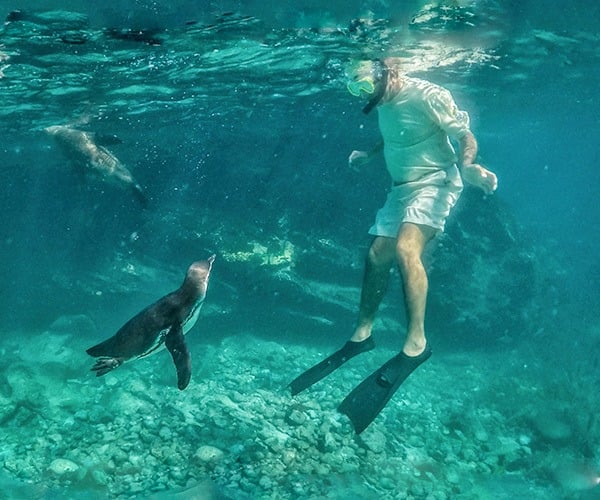 Out of nowhere a cormorant may dive down beside you like a torpedo, while you're paddling along watching an enormous sea turtle drifting in the underwater currents. White-tipped reef sharks are another common sight, as well as rays and 'chocolate chip' starfish. Depending on the location, if you're particularly lucky and willing to stay in the water a little longer, you may well catch a glimpse of a marine iguana nibbling at algae, or maybe even a super-speedy Galapagos penguin!
3. Volcanoes from every angle
The formation of the entire Galapagos archipelago owes itself to volcanic eruptions and lava plateaus, so it is inevitable that visitors here will get to see some remarkable landscapes during their cruise. The volcanic islands of the Galapagos vary greatly in both size and age. The oldest islands are to be found in the east; Española for example is over 3 million years old. Isabela Island in the west offers the other extreme; the largest and youngest island in the archipelago, she was actually formed by a chain of six volcanoes, five of which are still active.
Whilst the vast majority of cruises run with minimal seismic drama, the volcanic origins of the Galapagos mean that visitors will see something remarkable, wherever their cruise itinerary takes them. This could be it the opportunity to hike to the vast crater of Sierra Negra on Isabela, explore lava tunnels surrounded by lush forest on Santa Cruz or walk across the treacle-like 'pahoehoe' lava floes on Santiago Island.
4. Nature walks
On a Galapagos cruise nothing beats the excitement of setting foot on land to explore the next visitor site with your guide. Some are dry landings, others may involve a refreshing light paddle as you hop off the panga and arrive on a pristine beach. Visitor sites are strictly monitored and protected by the Galapagos National Park authorities; no longer than 2 hours can be spent at each site, visitors must stick to the designated walking trails and no vessel is permitted to return to the same landing site within 14 days.
Due to the diversity of the islands no one nature walk will be the same. You may be walking along powder sand beaches where countless sea lions are snoozing in the sun, or navigating trails surrounded by lava rocks where you have to step over clumps of marine iguanas flattened on the path in front of you, warming their bellies on the ground (this helps them digest their food!)
5. Wildlife safaris
The experience of seeing wildlife from your Galapagos cruise is not always necessarily by snorkelling or nature walks. At some landing sites, you will get to enjoy the flora and fauna by means of a relaxing boat safari in a panga (motorised dinghy). This allows you to approach craggy peninsulas where blue-booted boobies perch on ledges, observing you with curiosity. You may pass smooth protusions of lava rocks emerging from the sea where marine iguanas bask in the sunshine, or areas of mangrove and flooded forest where enormous sea turtles bob around the boat. This is always a very enjoyable way to travel!
6. Relaxing on deck
Whilst it is fair to say that taking an expedition cruise in the Galapagos will be a relatively active holiday, this doesn't mean you will not get opportunities to relax. After lunch on board for example, there may well be a couple of hours to relax up on the deck, taking in the surroundings and quite possibly having an afternoon nap.
On a vessel like the Sea Star Journey, you will also be able to take advantage of a relaxing soak in the Jacuzzi on deck (this is also very welcome after you return from snorkelling!) The evening is another wonderful time to be up on deck; quite often a frigate bird may follow the boat for a little while as it sets sail, swooping very low and entertaining the onlookers. There can also be some memorable sunsets, as well as the opportunity to spot dolphins and other marine life.
7. Outdoor dining
Vessels such as the Sea Star Journey will endeavour to offer outdoor dining at least once during a cruise, providing conditions are fair. It is a wonderful feeling to enjoy your meal outside with the rest of the group, enjoying the Pacific air and taking in the vast expanse from the middle of the ocean. If you are celebrating a special occasion such as a birthday or anniversary, the Sea Star can also arrange a private dinner just for you in a special outdoor area on the middle deck.
8. Kayaking
Some cruises offer the opportunity to experience the islands from a different perspective, exploring beaches and coves by twin sea kayak. Without the noise of a motor you can get very close to cliff edges and outcrops to observe blue-footed boobies, cormorants and penguins without disturbing them. In other landing sites you may even be able to see etchings left by pirates. Passing buccaneers were some of the earliest human visitors to the Galapagos Islands back in the 17th century, taking advantage of their strategic position to hide out and also replenish their food supplies with the meat of giant tortoises.
9. Blissful beaches
The beaches of the Galapagos are always something to be enjoyed, not just for their natural beauty but also for the wildlife that will inevitably accompany you! Most Galapagos cruises will provide some opportunity to enjoy the beaches. This could be having some down time on one of the beaches on the larger inhabited islands, such as Isabela or Santa Cruz, where you can also grab an ice cream or cold beer to complement the experience. Equally the beach experience could be the opportunity to have a refreshing swim or don your snorkel at the end of nature walk, before the panga returns to collect you. (Be prepared to share the beach with playful sealions though!)
10. Getting off-grid
Though you are now more likely to encounter WiFi in the Galapagos than ever before, this is mercifully restricted to the small areas around the inhabited islands. For much of the cruise you can enjoy the experience of being blissfully disconnected, a rare commodity in this modern age and something that does wonders for the soul.
Being out in the Pacific, far from any visible land and with just nature and enormous skies surrounding you really is an experience to appreciate. Be sure to head up on deck before bed if the night is clear as abundant stars, constellations and occasional shooting stars can be observed with zero light pollution. The experience of being so 'off-grid' means that many travellers feel strange for a little while when they first disembark at the end of the cruise and are confronted with civilisation again. This is definitely a good sign though, as it means you really have had the adventure of a lifetime!
Marcel Perkins is CEO at Latin Trails. Latin Trails is an incoming destination management company specialized in bespoke tours, with a focus on offering unique experiences throughout Ecuador, the Galapagos Islands, and Peru.
If you would like to be a guest blogger on A Luxury Travel Blog in order to raise your profile, please contact us.