Latin America's boundless natural beauty makes it the perfect destination for those seeking a unique rural retreat as part of their luxury holiday. With exquisite properties tucked away amongst mountains, lakes, rolling grasslands and exotic fruit plantations, the possibilities are endless for those looking to escape the pressures of everyday life and immerse themselves in the traditional lifestyles of the Latin American countryside. Here are our favourite luxury farm-stays in Latin America:
Hacienda Zuleta, Otavalo, Ecuador
This stunning 16th century farmhouse has belonged to the same family for over 100 years and celebrates the traditional products and crafts of the Ecuadorian highlands. Just two hours from the capital city of Quito, this charming colonial-era building is tucked away amongst the dramatic scenery of the Andes mountain range and guests can enjoy exploring the highlights of the region on foot, horseback or by bicycle.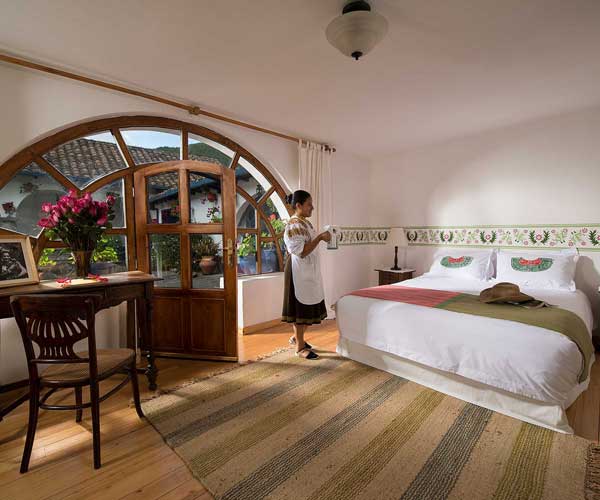 Nearby, Otavalo and its famous indigenous markets offers the opportunity for travellers to experience the rich tradition of Ecuadorian handicrafts, whilst back at the farm, guests can enjoy cooking classes with the hotel staff and learn how to use traditional products from the farm's own dairy and the local area to produce outstanding Ecuadorian specialties. Rooms effortlessly blend the all the comforts of modern luxury with the enduring charm of unique heritage furniture and Spanish-style colonial architecture. For an authentic and immersive stay in the wild Ecuadorian highlands, we cannot recommend this property enough.
Reserva do Ibitipoca, Minas Gerais, Brazil
Perhaps a farm-stay is not what most first-time visitors to Brazil would come up with when planning a trip to this gargantuan country, but much more so than the glamourous high-rises of Rio and Sao Paulo – Reserva do Ibitipoca gives travellers a flavour of the 'real' Brazil. Ensconced in the rolling hills of a 4000-hectare estate in the interior state of Minas Gerais, this exquisite farm-stay is one of South America's finest small luxury hotels.
The elegant rooms in the main farmhouse feel a world away from the humdrum of everyday life. None of the suites include televisions in a move that forms part of the hotel's project to encourage maximum disconnection from the white noise of modernity during your stay. Keen horse-riders will leap at the opportunity to explore the picturesque reserve from the back of one of the farm's specially-bred Mangalarga or Anglo-Arabian horses, whilst other guests may simply enjoy the opportunity to wander the grounds alone in search of hidden waterfalls, exotic flowers and the region's vibrant wildlife. The meals provided on the reserve are both sophisticated and simple, utilising a variety of homemade breads, cakes, jams and dairy products all made on the property and other ingredients sourced from small-scale businesses in the local towns.
Hacienda La Danesa, Guayaquil, Ecuador
Located just over an hour away from the southern Ecuadorian city of Guayaquil, Hacienda La Danesa has belonged to the Danish Olsen family for three generations and now offers guests a unique rural hideaway in the tropical lowlands. This stunning cacao and dairy farm enjoys a year-round balmy, tropical climate and makes for the perfect stop after a tour of the Galapagos Islands, which often end with a flight Guayaquil, a somewhat underwhelming city to say the least.
Converted garden cottages and stable buildings have been tastefully finished in a quirky modern style, losing none of the character of the Hacienda's stunning original buildings. Guests can enjoy an in-depth insight into the chocolate-making process on the farm's own plantation – chocolate being a product that Ecuador is becoming increasingly renowned for – in addition to river-tubing, horse-riding, cooking classes, birdwatching and trekking. Whether as a relaxing stop after a cruise in the Galapagos, or a tranquil final stop in a comprehensive itinerary on the Ecuadorian mainland, Hacienda La Danesa is the perfect place to while away a few sunny days.
Los Potreros, Córdoba, Argentina
Without a doubt one of our favourite properties in Argentina, this Anglo-Argentine estancia offers guests one of the friendliest welcomes imaginable alongside a truly authentic and personalised experience of life in rural Argentina. Accessible from the city of Córdoba, this working cattle farm is tucked away on a 6500-acre estate in the rolling green hills of the Sierras Chicas.
Farmed by the Begg family for four generations, your hosts Kevin & Louisa delight in opening up their home to guests in search of a spot of countryside relaxation. Each rustic room offers guests bundles of traditional Argentine character with vintage furniture and cosy sheepskin throws creating a warm and hospitable ambience. Perfect for those who wish to enjoy some peaceful day exploring on foot, on horseback or by bicycle, guests are invited to experience the best of this beautiful region and peek behind the scenes of a working estancia. Treated to hearty meals, produced using ingredients from the estancia's own animals, guests get the full home-from-home experience on this fabulous estancia.
Vira Vira, Pucón, Chile
Featured during BBC's Amazing Hotels series, this luxury hideaway in the northern Chilean Lakes region is also a working farm and produces exquisite organic dairy products on-site. The cuisine plays a big role in the hospitality at Vira Vira and guests can enjoy innovative cuisine based upon a wealth of Chilean culinary traditions, with the menu curated personally by the chef each day to incorporate the freshest seasonal ingredients.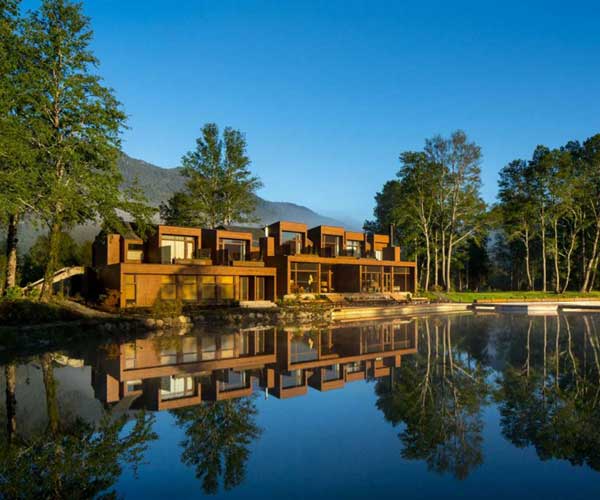 The farm produces roughly 25,000kg of grains, 15,000kg of potatoes, all different kinds of meats and poultry and a large choice of locally grown fruit and vegetables such as artichokes, asparagus, salads and much more. In the modern milk and cheese dairy, the hotel produces yoghurt, cream, butter, quark and a large selection of carefully prepared cheeses. They are exclusively reserved for the hotel guests and are not sold anywhere else. A countryside escape such as this is good for the soul and those who seek rural tranquillity at Vira Vira are able to relax in amongst some of Chile's most striking scenery. Verdant forests, towering volcanoes and cobalt-blue mountain lakes surround this idyllic hotel where each suite is the perfect combination of sleek modern luxury and heritage-inspired Chilean rusticity. Truly an amazing hotel, this farm is the perfect retreat for a remote getaway in Chile.
Hacienda Bambusa, Armenia, Colombia
This stunning traditional hacienda is built with pillars of local bamboo and is decorated in resplendent colours that echo the style of the Colombian Coffee Region's quaint colonial coffee towns. Bordered by verdant fields of cacao, pineapple and manioc, this charming farmhouse offers exceptionally personalised service in this peaceful rural area. For birders, the enchanting gardens, full of exotic flowers, attract over 100 different species including gorgeous jewel-toned hummingbirds.
Guests can enjoy a tour of the hacienda's cacao plantation and a unique chocolate tasting experience with the hotel chef. The half board meals at the farm are taken from an ever-changing menu that is inspired by the bountiful produce of the Coffee Zone, and that flawlessly fuses modern culinary techniques with traditional Colombian recipes. Situated within driving distance from many popular coffee towns and the striking Cocora Valley, guests of this hacienda can tick off all the major tourist attractions in the area, whilst also having access to more specialist tours exclusive for the guests of Bambusa. Enjoy tranquil days of exploring the UNESCO protected Coffee Zone landscapes in ultimate luxury and enjoy being welcomed into the friendly locals' traditional way of life.
Simon Williams is Director of Humboldt Travel. Humboldt Travel is a luxury travel company specialising in tailor made holidays to Latin America.
If you would like to be a guest blogger on A Luxury Travel Blog in order to raise your profile, please contact us.