By
Nabeel Shariff
on Sep 17, 2019 in
Cyprus
,
Europe
,
Featured
,
Greece
,
Middle East
,
Nevada
,
North America
,
Portugal
,
Regions
,
Turkey
,
USA
,
Western Europe
Depending on where you are in the world, September may mean the summer has come and gone. For many places, the warm calm breeze will gradually turn into a bitter October wind, or calm blue skies may eventually bring dull rainy days. September is one of those 'odd' months making halal travel a little bit more complicated. The weather is currently transitioning from summer to autumn, or relaxing night skies to cold and wet ones.
For those that weren't able to make the best of the summer holidays, and are looking to travel in September, we've put together a list of halal-friendly destinations that are lucky enough to have pleasant weather this time of the year. Whether you're looking for a beach destination to soak up the sun, a city break to mingle and explore, or even a romantic destinations perfect for Muslim honeymooners, we've got you covered with our carefully selected September getaways.
Turkey
Weather
One of the most popular destinations for Europeans, halal-friendly Turkey is one of those blessed countries that get pretty good weather all year round. While Turkey begins to cool down in September, it remains rain-free and extremely warm. In fact, Septembers sea temperatures are the second warmest of the year, with August being the warmest. Muslim travellers can expect daily temperatures of 24°C which is just right for those looking to enjoy a reasonable temperature.
What to do
Turkey offers a vibrant culture and a ton of history making it the perfect place to explore and get to know the locals. While there are plenty of adventures waiting for your arrival, Turkey is probably best for those looking to enjoy a more active holiday exploring the in's and out's of the country. Home to breathtaking castles, mosques, castles, palaces, natural thermal spas, and more, the perfect adventure awaits in Turkey.
Greece
Weather
Another destination offering warm weather in September is Greece. With temperatures of 24°C throughout most of the month, Greece and Turkey come head to head when it comes to offering relaxing weather perfect for days on the beach and hours of exploration. However, though September offers peaceful weather, it's good to note that the sun does gradually become cooler towards the end of the month. If you're looking for a destination that has sunny days with a relaxing cool breeze, Greece is the place to be. 
What to do
During September Greece hosts a handful of events making it the perfect opportunity to meet new people and discover music, food, history, and more. Greece also offers plenty of history and ruins waiting to be explored, giving guests the chance to take a step back in time as they revisit medieval landmarks, ancient ruins, and more. Apart from the history Greece has to offer, breathtaking views, stunning waters, and hidden beaches are ready to take your breath away.
Cyprus
Weather
If you're looking for a summer getaway that offers a little bit more sun than the above two, Cyprus is a great choice. With an average maximum temperature in September of 29°C on the west coast, 31°C on the eastern-south cast and 34°C inland, you know you're in for a hot treat! While the beautiful sunny weather is perfect for a summer getaway, it's good to take note that if you plan on travelling towards the mountains, the weather will drop to around 24°C and rain can be expected.
What to do
Another spot for a fantastic late summer getaway is in Cyprus. With water parks still open, beaches still buzzing, and plenty of popular attractions awaiting your arrival, you'll have plenty to keep you occupied on your travels. Cyprus is great for Muslim families looking for a place with something for everyone, and with plenty of sunshine to enjoy, the white sugary beaches will come in handy.
Algarve
Weather
If you're looking for the ultimate beach getaway then you're in for a treat. Algarve is located on Portugal's southern coast and offers a stunning beach getaway for Muslim families and couples looking to relax in awe as they're surrounded by burnt orange cliffs, luxurious resorts, and breathtaking turquoise waters. Visiting this special part of the world in September offers guests the perfect weather with warm sunny days, and 'just right' sea temperatures compared to the hotter months where the heat can get a little too much. The average day time temperature in Algarve is 27°C, with evenings offering cooler temperatures of 18°C. 
What to do
Algarve is home to plenty of hiking trails, scenic golf courses, and bustling towns, giving guests the chance to enjoy the perfect balance of relaxation and explorations. Home to plenty of pristine beaches, you get to decide how you want to soak up the sun. Families and couples will also enjoy a selection of luxury hotels and resorts making it the perfect place to enjoy a romantic getaway or even a special treat for the whole family.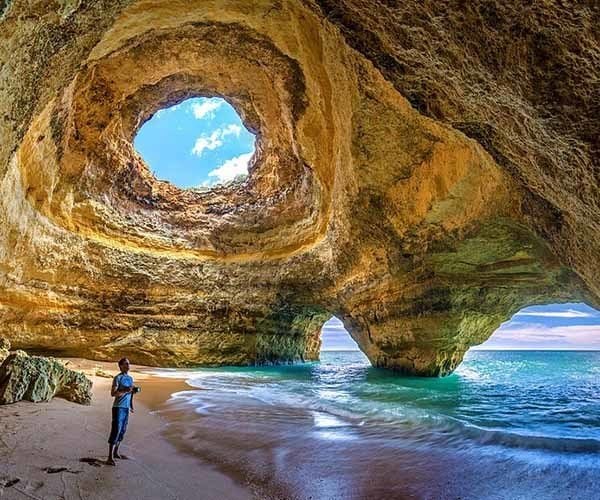 Las Vegas
Weather
For those looking to move away from the European destinations and are looking for a different scenery, Las Vegas is not only full of entertainment, but it's also home to warm and sunny weather during this time of the year. With the highest temperatures in September reaching as high as 36°C during the day, be prepared to bring a lot of sunscreen and water with you during your trip. However, on average, expected temperatures are around 27°C and 30°C, which is just right for those looking to enjoy hours of swimming fun in one of the many hotels that make up 150,000+ hotel rooms in Las Vegas!
What to do
Known for its bustling entertainment, Las Vegas has a lot to offer. From world-class shows to some of your most popular celebrity acts, Las Vegas has everything you'll need to enjoy both the day and night. Also, home to the Red Rock Canyon National Conservation Area, enjoy a trip off the streets where you can appreciate mother nature. For those looking to stay in the main city, there are plenty of shows, acts, entertainment, attractions, and more, waiting to put a smile on your face.
Nabeel Shariff is the Owner of Luxury Halal Travel. Luxury Halal Travel brings together some of the world's leading hotel brands to offer Muslim travellers incredible experiences whilst observing their Muslim faith.
If you would like to be a guest blogger on A Luxury Travel Blog in order to raise your profile, please contact us.