By
Vickie Clark
on Sep 18, 2019 in
Accommodation
,
Air Travel
,
Czech Republic
,
Eastern Europe
,
Europe
,
France
,
Going Out
,
Hotels
,
Ireland
,
Regions
,
Restaurants
,
Speciality Travel
,
United Kingdom
,
Western Europe
Halloween is a haunting tradition celebrated by people all over the world. Every year on the 31st October revellers participate in lots of fun activities and events. These include guising (also known as trick or treating), watching horror movies and carving pumpkins. The tradition is believed to have originated in Ireland, where the Celtics celebrated Samhain. Samhain was a Gaelic festival held after harvest. It honoured the souls of the dead. This was believed to ward off bad luck.
To celebrate a more authentic Hallows' Eve, we're taking you on a private jet tour of the top 5 most haunted cities in Europe. Are you brave enough?
Edinburgh
A city known for its history and culture; Edinburgh is a favourite with tourists all over the world. However, Edinburgh also attracts a very large number of paranormal enthusiasts each year. This is due to some of the most infamous hauntings in the United Kingdom and beyond. There are countless haunted sites to see on your visit. These  include, West Bow, Brodies Close, Mary King's Close, Edinburgh Castle and Niddry Street Vaults. The cities cobbled streets and winding closes make it the perfect backdrop for a Spooktacular Halloween evening.
Nearest private jet airport
Edinburgh Airport (EGPH, EDI) is located approximately 20 minutes drive from Edinburgh City Centre.
Fine dining
The Witchery, Rhubarb Restaurant, The Honours, Ondine, The Kitchen, Wedgewood the Restaurant and Castle Terrace.
Luxury hotels
The Balmoral, Waldorf Astoria, The Chester Residence, Prestonfield House and The Witchery by the Castle.
Paris
Most commonly known for its romantic side, Paris also has a supernatural side.  The Catacombs of Paris are underground ossuaries. They hold the remains of more than six million people making it one of the largest graves in history. Visitors report seeing apparitions and other strange, hard-to-explain sights and sounds, so a visit here is not for the faint hearted.
Nearest private jet airport
One of the busiest business aviation airports in Europe, Paris Le Bourget (LFPB, LBG) is exclusively dedicated to private jets and located approximately a 30-minute drive from the centre of paris.
Fine dining
Restaurant Guy Savoy, Le Meurice, Le Cinq at Four Seasons George V, Epicure & Le Jules Verne, Eiffel Tower.
Luxury hotels
Ritz Paris, Shangri-La Hotel Paris, Four Seasons Hotel George V Paris, Le Bristol and Mandarin Oriental.
Prague
Said to be one of the most haunted cities in Europe, Prague is an ideal choice for those looking to be spooked. Much like Edinburgh, the cobbled streets and gothic architecture make it a perfect setting for those looking for an authentic Halloween experience. Houska Castle on the outskirts of the city is believed to have been built over a gateway to hell and people have also reported sighting of  a 'Headless Templar Knight' who is often spotted galloping his horse down the streets of Prague, holding his head under his arm.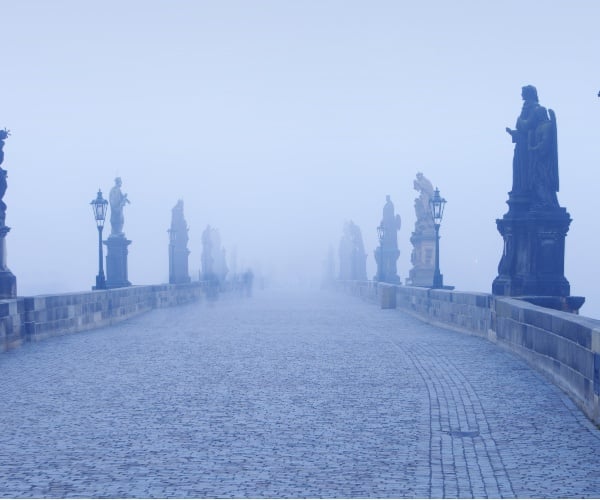 Nearest private jet airport
Located approximiately 10km from Prague City Centre, Prague Vaclav Havel Airport (LKPR, PRG,formally Prague Ruzyne International Airport) is an international airport dedicated to private jets and scheduled airlines. It is the busiest airport in the Czech Republic.
Fine dining
Les Moules, Zlata Praha Restaurant, Kampa Park Restaurant, Bellevue, Celeste and Mlynec.
Luxury hotels
Four Seasons Hotel Prague, The Emblem Hotel, Mandarin Oriental Prague, Three Storks, Alchymist Prague Castle Suites and Golden Well Hotel.
Dublin
Halloween tradition is said to have originated in Ireland, so it makes sense to include Dublin in our Top 5 most haunted cities in Europe. Dublin's famous university, Trinity College, is haunted by former lecturer Edward Ford who was murdered in 1734, while Lambay Island off the coast of Dublin, is haunted by the spirits of sailors who drowned when the RMS Tayleur sank on its maiden voyage from Liverpool to Australia.
Nearest private jet airport
Located approximiately 9km north of Dublin City Centre, Dublin International Airport (EIDW, DUB) is one of the busiest airports in Ireland.
Fine dining
The Greenhouse, Locks Brasserie, Kinara Kitchen, Chapter One, Restaurant Patrick Guilbaud and Etto.
Luxury hotels
The Westbury Hotel Dublin, The Fitzwilliam, The K Club, The Marker Hotel, The Clarence and The Merrion.
London
A city so ancient and steeped in history, it is no surprise that London has made it into our Top 5 most haunted cities in Europe. When the fog descends, you could be on the set of a horror film. Some places in London are notorious for strange occurrences and mysterious happenings that cannot be explained. These places are home to famous spirits, murders and troubled souls.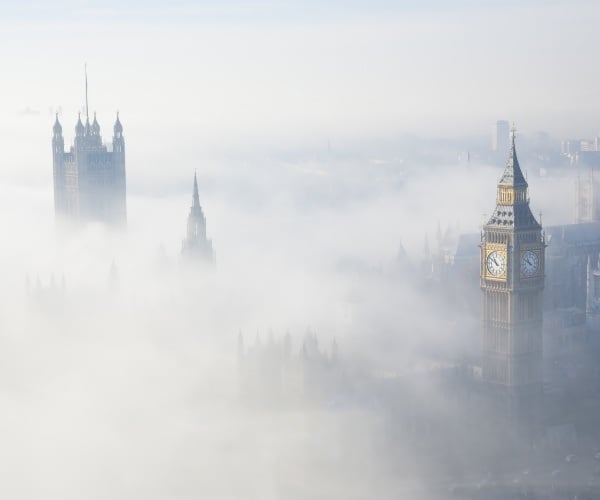 One of the most terrifying places to visit is the Tower of London which is a hotbed of paranormal activity. The ghosts of Anne Boleyn, along with Lady Jane Grey are said to haunt the tower courtyard. There are thousands of other ghost stories which have hailed from the English capital. One of which is the story of the crazed old woman who runs through the graves and tombs of Highgate Cemetery. She is aparently looking for the children she murdered but are you brave enough to see for yourself?
Nearest private jet airport
There are a number of airports in London but London City (EGLC, LCY) is the closest airport to central London. Crew must be specifically trained to land at London City so not all private jet operators are able to use this airport. For airports solely dedicated to private jet flights, Farnborough (EGLF, FAB) and Biggin Hill (EGKB, BQH) are great alternatives. Luton (EGGW, LTN) and Stansted (EGSS, STN) are also a popular choice.
Fine dining
Ikoyi, Hide, Angler, Barrafina, Chez Bruce, Clove Club, Club Gascon and Five Fields.
Luxury hotels
The Dorchester, The Savoy, The Mayfair, Brown's Hotel, The Langham London, The Ritz London, The Connaught, Claridges and Mandarin Oriental, Hyde Park.
Vickie Clark is Client Services Director at The Private Jet Boutique Ltd. The Private Jet Boutique Ltd. is a one-stop shop for private jet charter, helicopter charter, scheduled flights and luxury holidays.
If you would like to be a guest blogger on A Luxury Travel Blog in order to raise your profile, please contact us.