When contemplating New Zealand, with its multitude of amazing activities, natural wonders, and stunning scenery, wine may not be the first thing that leaps to mind.
However, New Zealand has long fostered a complex relationship with wine, dating back centuries. The earliest vines were planted here back in the 1800s and kicked off the country's ongoing fascination with the art of winemaking. As the fledgling viticulture industry grew it began to gather international recognition, fully bursting onto the world stage with the renowned Sauvignon Blanc vintages of the 1980s.
New Zealand wines continue to win international acclaim and awards, bringing home three trophies from the International Wine Challenge in 2018.
Crafted with heart
New Zealand's love affair with the fruit of the vine continues today and the industry is flourishing, boasting more than 2000 vineyards across the country.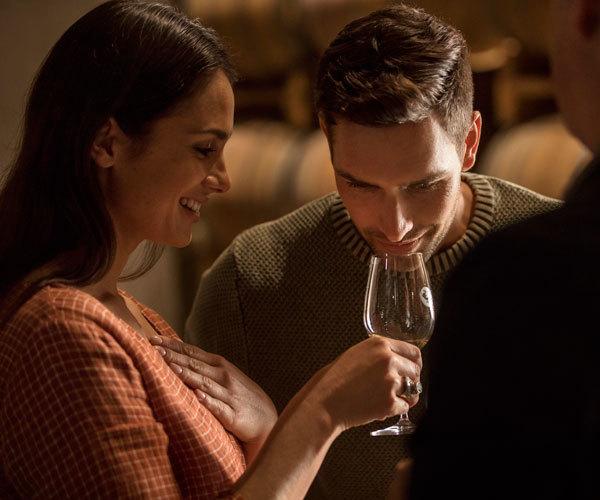 Whether you are a dedicated oenophile looking for the elegantly refined or a casual aficionado in search of the consummately quaffable, there is a region, varietal, and vintage to suit. Wine trails, tours, and events abound. From formal tastings and pairings to a glass and a laugh with close friends, New Zealand is the perfect wine-lovers destination.
1. Craggy Range
One of the best moments in New Zealand, Craggy Range not only has an inspirational cellar door but is renowned for its outstanding food.
A pure expression of New Zealand nestled in the heart of Hawke's Bay, you can sample select glasses of their premium vintages paired with an extraordinary dining experience. Indulge in fine cuisine as you look out over the vineyard nestled against the spectacular backdrop of Te Mata Peak. Deepen the experience with a stay amongst the vines in one of the vineyards' boutique cottages or luxury lodges.
2. Amisfield
Named the best winery in New Zealand the last two years running, Amisfield reflects the spirit and heart of Central Otago.
Masters in the art of winemaking, the vineyard cultivates the nuances of its geography, weather, and soil to produce distinctive vintages that speak to the character of the region. Take a break and enjoy the luxurious yet rustic atmosphere of this essential food and wine destination, as you enjoy true New Zealand hospitality and breath-taking scenery and partake of fresh regional ingredients crafted into culinary works of art.
3. Cloudy Bay
Embrace the unknown and enjoy a private tour of one of the first preeminent vineyards in Marlborough, the country's finest wine region.
Cloudy Bay is passionate about creating wine and its winemakers work hand-in-hand with nature to distil its character into aromatic and flavourful Sauvignon Blanc and Pinot Noir vintages that express the best of the region. The cellar door, nestled in the Marlborough countryside is situated right at the winery and provides an authentic New Zealand wine experience.
Alternatively, visit their cellar door in Central Otago, overlooking the splendour of Lake Dunstan and the Southern Alps. Tour the vineyard and enjoy a tasting flight in the comfortable warm atmosphere of the Cloudy Bay Shed or indulge in the breath-taking outdoor vistas as you savour the creations on offer.
4. Two Paddocks
If you're looking for a more star-struck experience, visit Two Paddocks, and explore the labour of love created by actor and proprietor, Sam Neil.
This small family-owned vineyard in Central Otago is dedicated to producing quality organic wines that boast of New Zealand authenticity and style. Pinot Noir and Riesling are their passion and you can visit one of their four vineyards, one in each of the great valleys of the region, and sample wines crafted from the heart and designed to be enjoyed by family friends.
5. Tantalus Estate
Take flight for an exclusive heli-wine experience to Waiheke Island, and enjoy the sights of Auckland and the Hauraki Gulf from the air as you fly to the iconic winery at Tantalus Estate.
Situated in the heart of Waiheke Island's wine country, Tantalus Estate produces rich complex Bordeaux and Rhone-style reds perfect for cellaring. Spend the day wandering among the vines, tasting the small-batch vintages, or enjoy fine cuisine in the airy light surrounds of the Tantalus Estate Restaurant as you look out over the lush vineyards.
6. Queenstown Heli-wine Tasting
Take in the majestic scenery of Queenstown and Central Otago with an exclusive wine adventure in the alpine high country.
Enjoy stunning views as you soar over beautiful valleys, rugged gorges, and snow-capped mountains and are transported on a wine tasting journey like no other. Touch down to sample local offerings and picnic in remote alpine meadows as you indulge in a private tasting surrounded by the natural beauty of the region.
Hidden gems
You can wander off the beaten track during your travels and still find boutique vineyards and hidden gems that offer unique tastings and wine experiences. In addition to the larger, more renowned wine regions, there are many smaller regions scattered across the country that are well known for their boutique vineyards. Each adds their own special note to the symphony of New Zealand winemaking.
Discover Nelson with its vibrant art and café culture, many of which are conveniently nestled within a nearby cellar door. The compact size of this little region makes it easy to visit most wineries within a day, even by bicycle.
Christchurch and Canterbury pride themselves on their foodie culture, and the fertile land and pure waterways yield some delectable fare. You will find food and wine trails, culinary pairings, and gourmet delights dotting the region.
Frolic along the sea as you visit the sunny, warm shores of Northland, it's almost subtropical climate and long growing season yielding full-bodied rich wines, in both red and white varietals.
Investigate the unique terroir of the Waitaki Valley in North Otago, where the hot dry summers, cold winters, and long dry autumns combine with the limestone and complex geology of the region to produce distinctive vintages that reflect their unique origin.
Enjoy the warm climate and sunny days of the Waikato and Bay of Plenty, where small pockets of vineyards dot the landscape, celebrating Pinot Noir, Pinot Gris, and Sauvignon Blanc.
Many people overlook Wairarapa on their rush to Wellington and miss out on its warm character, charming towns, and boutique wineries. Luckily this lovely region is just a short scenic drive from the capital, allowing visitors to enjoy the wine activities, unique accommodation, and superb dining.
Gisborne is the Chardonnay capital of New Zealand and is notable for its history – this is where Captain Cook first stepped onto our shores in 1769. The region has a wealth of wineries within an easy 15 minutes of the city, which attracts visitors looking to relax and enjoy the laid-back beachy atmosphere.
Made with passion
No matter where your adventures take you in New Zealand, there are vineyards, cellar doors, and wine activities just waiting to be explored. Our love of wine and the art of winemaking shines through everything we do.
Whether you want to spend the day immersing yourself in the experience as you hop from vineyard to vineyard, pop into that cellar door that calls to you from the roadside, indulge in a carefully cultivated food and wine pairing, or just enjoy a nice bottle as you sit on the patio overlooking our stunning scenery we have something to suit every taste and every palette.
Take the time, explore, and share our passion for wine… its variety, and complexity… and its unique ability to connect people from all walks of life and bring them together, creating memorable experiences.
Veronika Vermeulen is Director of Aroha New Zealand Tours Ltd. Aroha New Zealand Tours Ltd. has been offering 100% tailored journeys and private guided luxury experiences in New Zealand since 2000.
If you would like to be a guest blogger on A Luxury Travel Blog in order to raise your profile, please contact us.