By
Trina Howes
on Sep 24, 2019 in
Business Travel
,
Cruises & Boat Travel
,
Europe
,
France
,
Italy
,
Monaco
,
Regions
,
Spain
,
Speciality Travel
,
Western Europe
Luxury yacht charters are becoming more accessible the world over, catering to anything from a single guest to 150 at dockside functions; and it is for this reason that corporate event charters in the Mediterranean – the first and most popular yacht charter grounds – are an integral way to make your company stand out from the competition.
Corporate event charters are done for a variety of reasons, such as being a creative location for a product photo shoot, rewarding employees for excellent performance, team-building, impressing clients or simply as a comfortable and convenient way to travel to business sites at different locations along the coast.
Sailing yachts are an excellent way for small teams to build on trust and bonds already established by working together to reach a destination or even take part in one of the region's regattas.
For a more hedonistic break from a high-pressure work environment, there are motor yachts with on-board amenities that might be comprised of a Jacuzzi and bar, cinemas, spa and massage facilities, plus a whole host of water toys like kayaks for exploring the enchanting coasts.
This is to say nothing of the highly trained crews that include personal trainers, Jet Ski and Scuba dive instructors and professional chefs (some with Michelin training) that will create unforgettable meals that cater to the dietary requirements of all of the guests.
Here are four of the best locations in the Western Mediterranean for a corporate event yacht charter to bring out the best in you and your luxury boat.
The beautiful Port Vell in Barcelona plays host to some of the industry's most prestigious events, and its facilities are world-class for dining and leisure. This cultural hub abounds with Michelin-quality restaurants and big-brand names intermingled with historic theatres and the latest shows.
Just on the doorstep is the stunning Gothic Quarter and the Picasso Museum while to the south is the Botanical Gardens and Montjuïc Castle, and deeper into the city visitors will come across magnificent examples of the art noveau movement, to which Gaudi was an integral influence.
The Balearic Islands are just an hour's cruise away for magnificent beaches, stunning towns and secluded anchorages excellent for entertaining without the world looking in, or for focusing on closing that important business deal.
During an extended lunch there will be opportunities to kayak along the shore or have some high-octane fun on the jet skis and Seabobs. Those who want to keep their feet dry but still explore have plenty of beaches to select from and the cities are a labyrinth of visual wonders such as the UNESCO World Heritage Site 'Catedral de Mallorca' in Palma.
Cannes
Cannes is a city of culture and while it may be best known for the Cannes Film Festival, when superstars arrive aboard their own private vessels, there are plenty of other festivals throughout the year and there are numerous opportunities for museum and gallery viewings just a short walk from the marina.
Centre d'Art La Malmaison in the old Grand Hotel features works by Picasso and Chagall, Galerie Hurtebize has post-impressionist and modern art, while the eclectic museum of Musée de la Castre is to be found after an atmospheric stroll through the old quarter of Le Suquet.
The most important building to visit right on your doorstep is the Palais des Festivales, which annually becomes the venue for the Tax Free World Exhibition Conference, entertainment industry focused MIPCOM, and a celebration of the creative arts at Cannes Lions. Various tradeshows also cover customer relationships and digital marketing, transport & logistics and even workplace design.
Add to this the various private parties, galas and concerts that take place throughout the summer, plus sandy beaches and plenty of high-end shopping, and Cannes is the perfect destination for networking or rewarding business partners, clients and employees.
Monaco
Monaco is one of the superyacht industry's most prestigious playgrounds, known for its casinos, lavish brands, illustrious eateries and, of course, the Monaco Grand Prix. Moor yourself beside the race track and watch the action mere metres away from your sundeck sunbed or dining table.
After the action, host your own evening party on board beneath the sparkling lights of Monaco, or cruise away to one of the secluded bays for a night of entertaining under clear starry skies.
Don't forget to secure your preferred place a year before to avoid disappointment.
Sardinia
Arguably the best destination in the Western Mediterranean for water sports, Sardinia has the perfect location away from the mainland but close to the 300+ beaches of Corsica and the La Maddalena Archipelago, a nature reserve.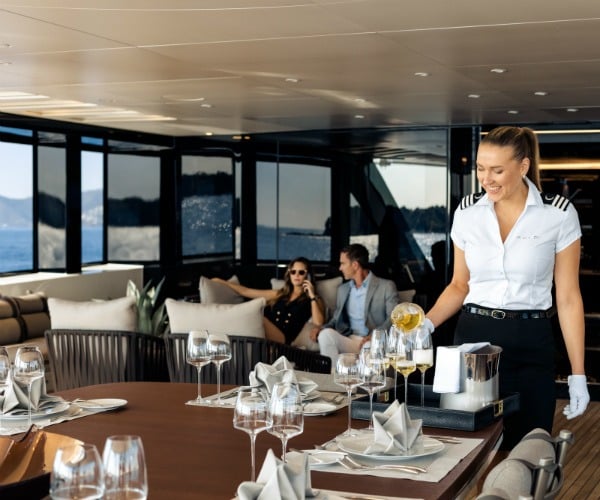 Kayak, paddleboard, Scuba dive and snorkel from sunrise to sundown, then party along soft sand beaches where your on board chefs can have your dinner ready and waiting.
Porto Cervo is a favourite stop amongst the yachting community for its exceptional yacht club and marina facilities – which is to be expected from the host of the majority of the Mediterranean's most famous regattas. Spectate as elegant sailing yachts vie for first place in races such as the Rolex Swan Cup and the Maxi Yacht Rolex Cup. Join the evening celebrations following the victories, and rise the next day for some luxury shopping before sailing off to your next adventure.
Naples
A massive metropolis and the longest continually used site of human habitation, Naples will awe first time and returning visitors who cannot help but notice towering Mount Vesuvius dominating the background. Big nature and a big skyline also have big cultural rewards for your employees and clients to discover, most notably the National Museum of Archaeology which has some of the best finds from Pompeii, and then there's the trip to Pompeii itself.
Other great landmarks include the world's oldest working theatre of Teatro di San Carlo, Palazzo Reale, 13th Century Castel Nuovo and farther into the city is the Museo di Capodimonte, boasting three floors of works from distinguished artists Raphael, Titian and Caravaggio as well as contemporaries like Andy Warhol.
As part of the Amalfi Coast, a short cruise will take your group to the sophisticated island of Capri, and there is an abundance of beaches from Sorrento to Positano.
There are almost infinite combinations for locations, duration, activities and vessels on a corporate event yacht charter in the Mediterranean, and there are motor yachts and sailing yachts to suit every budget.
Trina Howes is a Director of CharterWorld America. CharterWorld is a luxury private yacht charter company that creates outstanding vacations with excellent yachts at amazing prices – worldwide.
If you would like to be a guest blogger on A Luxury Travel Blog in order to raise your profile, please contact us.