Prague Castle is so much more than just a pretty face. Its fairytale facade hides a past filled with mystery, mayhem, power struggles and fierce assassination plots. It's also far, far larger than your average palace. In fact, with a total surface area covering 7.28 hectares (over 780 000 square feet), the Guinness Book of Records has proclaimed Prague Castle as the largest ancient castle in the world.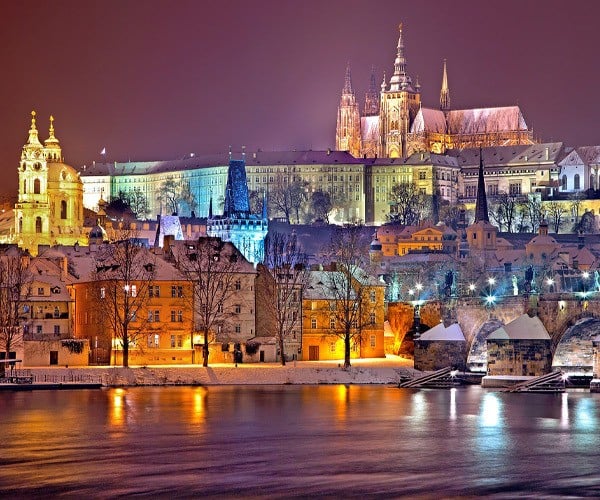 But back to the mayhem, which is what makes Prague Castle so very intriguing. Intriguing enough to warrant over 1.8 million annual visitors at last count.
Built in the 9th century, perhaps one of the darkest periods in Prague Castle's history began on the night of March 15, 1939 when Adolf Hitler spent the night at the castle, after occupying Prague during World War II. Although Hitler left the city soon after, he would later send in SS General Reinhard Heydrich to take charge of the castle and rule the Czech people. A key player in the horror that was the Holocaust, Heydrich was named The Butcher of Prague by the Czech people – his rule being one of tyranny and terror, characterized by disappearances and executions. In response, a group of exiled Czech government officials hatched a plan called Operation Anthropoid to assassinate Heydrich. Their plan would succeed, and Heydrich died on June 4, 1942, from wounds sustained during their assassination attempt.
This was not the first time Prague Castle played a starring role in a murderous plot, though. Did you know, for example, that the word "defenestration", which can be defined as the action of throwing someone out of a window, was invented for an incident at Prague Castle in 1618? As the story goes, in 1617, Roman Catholic officials shut down a pair of new Protestant chapels. Incensed, Protestant rights defenders called for a trial in the council room at the Castle, and won. Two Catholic regents and their secretary were found guilty of violating the right to religious freedom. Their punishment? They were thrown out the window to their death. (In their case, the murders did not succeed: all three are said to have landed on a pile of horse manure, emerging uninjured – if rather mucky.)
These days, Prague Castle residents are more political than murderous. Once the seat of power for kings of Bohemia and Holy Roman emperors, in 1918 Prague Castle became the official seat of the President of the Czech Republic. It remains as such today, with the president living in the New Royal Palace located within the grounds, and the 26 houses and six gardens of Wallenstein Palace serving as home to the Czech Senate.
It is also home to The Bohemian Crown Jewels – including the St. Wenceslas crown, royal scepter, and coronation cloak. Don't expect to be able to see them on your visit to Prague Castle however. Kept under lock and key (seven of them, in fact) in a chamber of St. Vitus Cathedral, only the President can decide if and when the jewels go on public display (which happens every five years or so).
You can visit Prague Castle seven days a week, year-round, except for December 24th. Opening hours are slightly different for different areas of the castle complex, but your best bet is to arrive at 10am to access all areas and exhibitions. The ceremonial Changing of the Guard, including a fanfare and flag ceremony, is held daily at 12pm in the first courtyard, while the Changing by the Castle gates happens on the hour from 9am to 6pm.
If you have a really special photograph you would like to share with A Luxury Travel Blog's readers, please contact us.