It's been said before, and we'll says it again, the Cape region is one of the best culinary regions in the world. This also means there's always new restaurants that are hot or not. To keep track of the ones you really need to pay a visit next time you're in the area, we listed the hottest restaurants at the moment for you.
Janse & Co
The restaurant has been open for almost 2 years now, and it's fast becoming one of the most sought after places to go on a culinary journey. After Arno Janse van Rensburg made furore in the winelands outside Cape Town, he came back to the bustling city bowl to start his own project called Janse & Co. On his side is Liezl Odendaal who worked with some of the biggest names in the South African food industry. And being a very gifted pastry chef, the dessert lovers will love to try one (or more) of her creations.
While guest will still enjoy a fine dining experience, the mood is more casual and the focus is on the ingredients which are sourced locally. The interior of the restaurant is beautifully done, without too much details which will take away the attention that needs to been drawn to the plates of amazing food. The darker color of the interior just makes the food pop even more. In summer time, you can also eat outside on the terrace, giving it an even more casual look and feel. And the beautiful wine storage is just another testimony to their commitment to deliver great wine pairings too.
Manor Kitchen at Lanzerac
This well knows wine estate which dates back to 1692 has everything you could wish for when visiting the winelands near Cape Town. Opulent accommodation, a luxurious spa, amazing wines which you can enjoy in the tasting room, but most of all 2 restaurants of which the Manor Kitchen is the more formal one. The kitchen produces some classic dishes with a modern twist, of course paired with the wines from the estate. Testimony of their confidence to serve wonderful dishes, is the fact that you can look into the kitchen from the restaurant.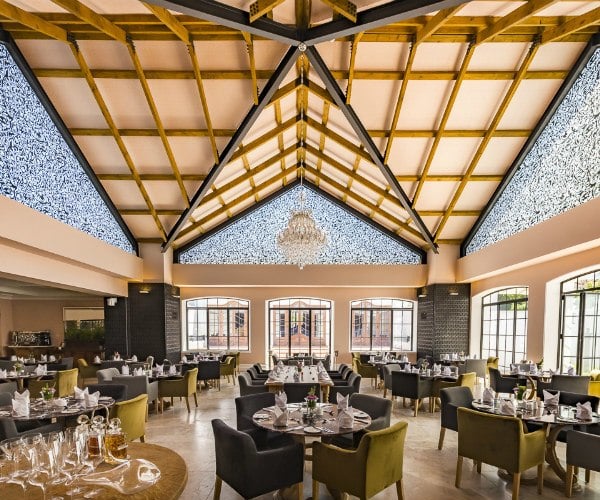 Rather a morning person? No problem as South Africans like good food all day, hence why you can enjoy a sumptuous breakfast buffet which will get you fueled up. Or if you are more into the tradition of afternoon tea, you must visit on a Saturday to indulge yourself while sipping some bubbly which is produced in house. Lanzerac has everything to offer you an amazing time, and that's why it is so popular these days. It's a place where heritage meets modern times, and it clearly seems to work.
Fyn
Right in the city center of Cape Town you'll find this gorgeous new restaurant which opened about a year ago. The restaurant itself is beautifully designed with a massive wooden ceiling feature which absorbs all of your attention when you walk in. Next you'll see that the kitchen and restaurant are all in the same room and there's a buzz that draws your attention to the chefs and the artwork they are producing right in front of your eyes. With names like Peter Tempelhoff and Ashley Moss in the kitchen, you know you're in for a ride.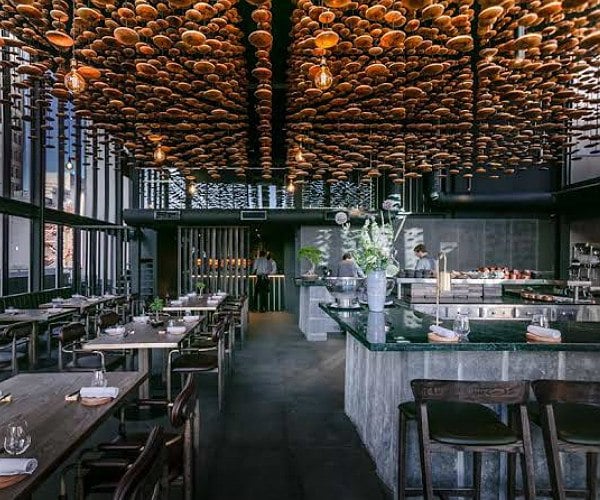 With a clear Japanese theme running through the menu, you can expect amazing attention to detail, surprising combinations and beautifully plated food all day long. Don't forget to go for the wine pairing if that's your thing, cause Fyn restaurant has some great pairings with sometimes lesser known wine estates from the Cape region. And don't forget to check the stunning mural which is the perfect mix of African and Japanese influences. The perfect spot for that selfie you were looking to snap all day.
Cuvée at Simonsig
Being located in the wine estate which invented the MCC (Méthode Cap Classique), which is the sparkling wine made in South Africa following the methods used in the famous French Champagne region, this restaurant has the heritage of Simonsig going for it. But of course it also delivers some amazing food to match the quality of the wines which are produced on the estate.
This restaurant is bringing back all the good memories you have from your childhood when eating those hearty meals while being surrounded by family. Of course, Cuvée has given the food a modern twist, but the idea remains the same. This place is jam-packed on Sundays and understandably so. The food is superb, without being too gourmet, and accompanied by the best wines the estate produces. A place which is built by one family, in order for other families to enjoy it.
Le coin Francais
If you like culinary masterpieces, this is one place you just can't miss. As one of the newest hot-spots in Franschhoek, the culinary capital of South Africa, it has quickly made a name for itself. Chef and owner Darren Badenhorst earned his stripes in some of the most luxurious lodges in Mozambique and Stellenbosch, before starting his own adventure. And it was an instant success.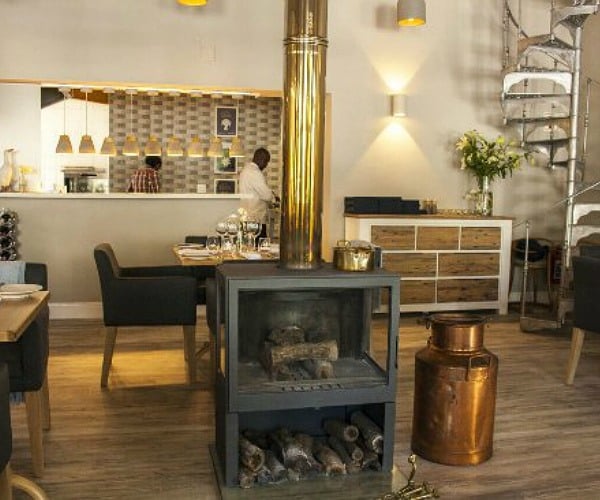 Putting a modern twist on some nostalgic food, and presenting it as a piece of art on a plate is something few can pull off, but Darren masters it to perfection. Add Jasper Venter as the maître d and you know it is the perfect combination. He was trained in La Residence, which is among the top 20 hotels in the world, so he knows a thing or two about managing a restaurant and making sure all guests are having a wonderful experience.
Have you visited any of these restaurants before? And if so, do you agree with their spot in this list? Or do you have any other hot-spot which we need to check out?