Wander to the very end of the 580-metre long Princes Pier in Port Melbourne, Victoria, and you will see, stretching into the distance, a mesmerising series of wooden pillars, emerging from the shimmering water in hypnotic lines. Mere wooden stumps to some, an Instagrammable photographic opportunity to others, for so many others these pillars represented freedom and safety in years gone by. These old pylons are the remains of the original wooden pillars of a pier which served as a major arrival point for new migrants to Australia for over half a century.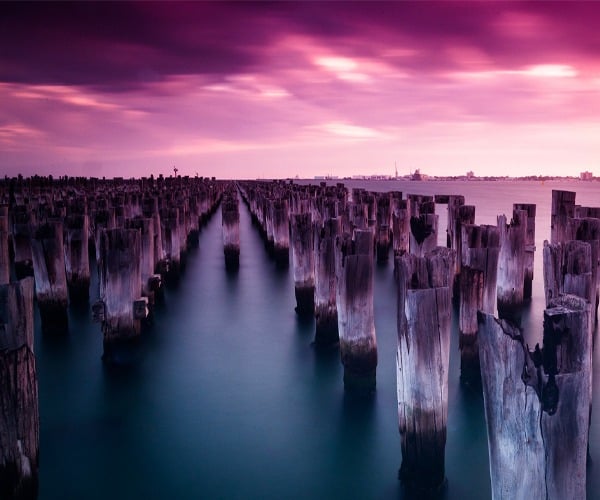 Built between 1912 and 1915, Princes Pier was the third major pier constructed at Port Melbourne. From its completion in 1915 until 1969 it was the gateway to a brand new city, in a brand new country, and a brand new life, for immigrants disembarking here, particularly during the post-war period.
Over and above this, together with its neighbour, Station Pier, Princes Pier served as a major passenger and cargo terminal in the twentieth century until it was decommissioned in 1985.
Originally known as the New Railway Pier, it was renamed Princes Pier after a visit from the Prince of Wales (later Edward VIII) in May 1920. In the years since, it has seen more than its fair share of activity. Linked by rail right from the pier to the Port Melbourne railway line, eight railway tracks ran onto the bridge, ferrying passengers and cargo from ocean to city up until 1953. The line continued to work as a siding from 1961. Eventually, after years of use, Princes Pier would succumb to poor timber condition, helped along by a fire caused by squatters, and was closed to all public access in the early 1990s.
Reopened in December 2011, after a multi-million dollar refurbishment and restoration, today Princes Pier is the second-largest-timbre-piled wharf structure in Australia. More open air museum than mere pier, though, as you stroll its length you will find sprinklings of historical information and exhibitions, which will leave you informed of both its working past and social significance.
To get there, Princes Pier is a short, easy walk from the Beacon Cove Tram Stop (Tram 109). Bus lines 234 and 235 also stop near Princes Pier, while the closest train lines are Belgrave, Frankston, Pakenham, Sandringham and Sunbury.
If you have a really special photograph you would like to share with A Luxury Travel Blog's readers, please contact us.