Photograph of the week: Marina Bay Sands, Singapore
On the 27th of April 2010, after an expenditure of $8 billion (USD), the world's most expensive standalone integrated resort property ever built opened its doors to the public. Inside the Marina Bay Sands, awed guests would discover Singapore splendour at its most glamorous: 7-star hotel accommodations, casino, luxury shopping mall, convention centre, theatre, art/science museum, celebrity-chef restaurants, endless views. And then there's that pool. You know the one… 57 floors and 191 metres above ground, with a 146-metre infinity edge overlooking Singapore in all her flashing finery.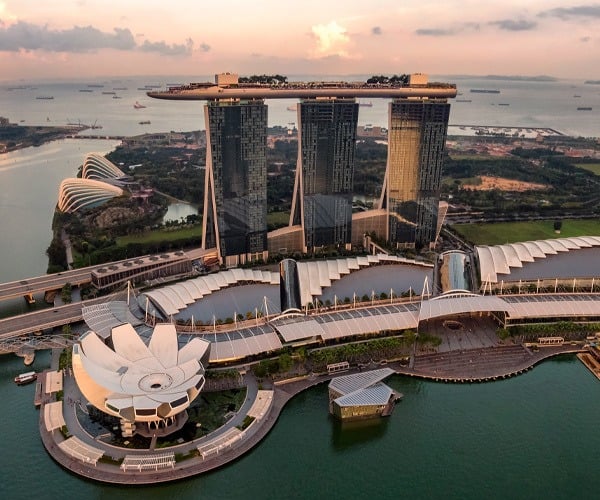 The world's longest, and highest, elevated swimming pool, the pool at Marina Bay Sands holds an astonishing 1.5 million litres of water. For reference, even if you drink 3.7 litres of water a day, you'd still be drinking water from this pool well into the 3000s. (But only guests are allowed a sip, er, dip, no exceptions. Those not staying at Marina Bay Sands can view, and photograph the pool from the SkyPark or CÉ LA VI sky bar.) Hard as it is to believe, Marina Bay Sands is about more than just that iconic, much-Instagrammed pool though. Designed by Moshe Safdie, who was inspired by a deck of cards, the three towers of Marina Bay Sands (pictured here), are an unmissable fixture of Singapore's skyline, and have easily become one of the most photographed places in the world in the handful of years since. The three towers are connected by the 340-metre long boat-shaped SkyPark, itself large enough to fit four-and-a-half A380 jumbo jets, where visitors can gaze all the way out to the Singapore Strait. This fantastical structure, looking for all the world as if it came straight out of a science fiction movie, can also boast of the world's largest atrium casino, with 500 tables and 1,600 slot machines; a convention centre which holds 45,000 people; and of being one of the top 40 largest hotels in the world, with 2561 rooms and suites, 6 expo halls, 250 meeting rooms and the largest ballroom in Southeast Asia. Other fun facts about Marina Bay Sands: they use enough key cards per month to cover the distance of seven full marathons. The in-house ArtScience Museum is shaped like a lotus flower and has a sustainability feature of harvesting rainwater for the building's restrooms – indeed, this rain oculus recirculates 6,000 gallons (nearly 23,000 litres) of recycled water every minute. One hotel floor was built every four days during construction of Marina Bay Sands – the fastest for a project of such scale in Singapore. And, there is a fourth tower in the works – it was announced in April 2019 that the Marina Bay Sands would extend the hotel with a fourth standalone tower which will hold over 1,000 hotel rooms along with a 15,000 seater state-of-the-art auditorium to hold festivals and concerts, and a projected price tag of US$3.3 billion for the structure. Want to experience Marina Bay Sands for yourself? Rooms here start at around US$350 and top out with the Chairman Suite, which will set you back a cool US$12,500 (there or thereabouts). Alternatively, you can purchase a ticket for the Marina Sands SkyPark Observation Deck (S$29, Adult; S$23 Child, 2-12 years old). At 57 floors up, this gives you sweeping views of the spectacular Singapore skyline and beyond. Even better? For around the same price as the observation deck entry, you might rather want to indulge in a cocktail at the legendary CÉ LA VI rooftop bar. Exactly the same views (slightly better in fact), only with something refreshing in your hand. To get here, take the MRT and stop at Bayfront, from where you can walk via the luxury mall directly into the hotel lobby.
If you have a really special photograph you would like to share with A Luxury Travel Blog's readers, please contact us.
Did you enjoy this article?
Receive similar content direct to your inbox.