The information here is ideal for anyone wanting to learn Spanish in Barcelona (referred to as Castellano by locals), whether you are travelling, staying here for a prolonged period or living here permanently. There is no better time than the present to learn this beautiful language and put your skills into practice! Therefore, here is some information on a few of the most highly-rated courses on offer in the city to help you study Spanish in Barcelona.
Olé
With the opportunity to learn a language in Barcelona with Olé, you can be confident in knowing that you will receive a full experience as well as just classes. Beginning in 2005, Olé were revolutionary in creating Spanish teachers that wanted to teach in a small and more personal environment than what they found in schools or other institutions. As they offer accommodation whilst you learn to speak Spanish in Barcelona, you have one less thing to be worried about before moving. In the case that you already live in Barcelona, their classrooms are based in Eixample.
In addition to this, they are recognised by the Instituto Cervantes. This is an initiative backed by the Spanish government in order to boost the number of Spanish speakers around the world. With this title, Olé put themselves at good stead as an option to you for when you study abroad.
Speak Easy Barcelona
Founded in 2001, Speak Easy Barcelona is a well-established company that teaches Spanish to around 800 people every year. As well as being recognised by the Insituto Cervantes, they have highly trained Spanish-speaking staff that are certain to ensure you enjoy your time here in the city whilst you study Spanish in Spain. Futhermore, Speak Easy is located in Eixample, by the Universitat Metro stop, a central location that is easy to access from anywhere in the city. This could not be better suited to help you improve your Spanish as you live in Barcelona.
Camino Barcelona
Thirdly, Camino Barcelona is a reputable school for you to attend and make sure you get a good grasp of Spanish in Barcelona, leaving Spain with a high language level. The company guarantee that their language classes never exceed 10 people, Camino Barcelona is perfect for someone wanting authentic and personalised Spanish classroom environments. As well as this, the company can help you get onsite student accommodation in Barcelona. This is not only good because it means you will get to your Spanish class on time, but also that you will be living in Eixample. Meaning that the whole city is on your doorstep. Giving you plenty of opportunities to try out your new language!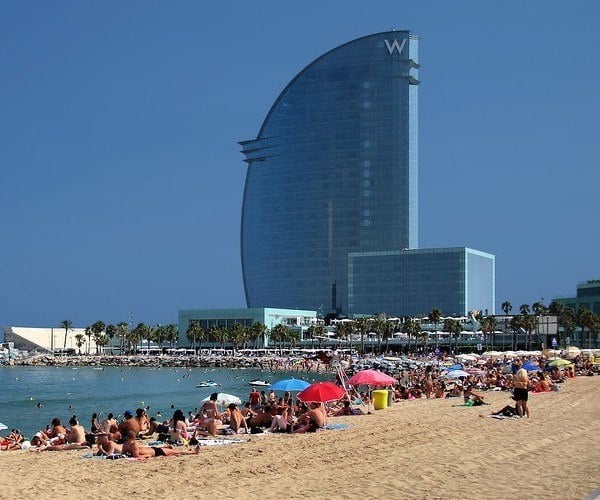 Camino Barcelona give you the chance to go on excursions with your class and even attend weekend trips to other parts of Catalonia. Sounds perfect to us! Lastly, as was the case for the two prior, Instituto Cervantes accredit Camino Barcelona as well.
Lingua Schools
Lastly, Lingua Schools is another central school that is respected and used by many people who wish to attend Spanish classes in Barcelona. Not only are they recognised by Instituto Cervantes, they also have all native teachers to make sure you improve quickly and receive honest feedback. Away from studies, the company can accommodate you either through a shared apartment or through a homestay with a local family. The latter option would give you a great opportunity to enjoy home comforts in a Spanish environment, so as to best optimise your growth as you undertake a Spanish class in Spain.
Furthermore, they also arrange day trips and other excursions, such as Saturday hikes up to Tibidabo or a weekend in Girona. This adds to the whole experience and would undoubtedly give you memories for a lifetime.
After researching this topic, it is clear that there are not many things to separate these four institutions with each one being successful in its own right. The only thing you have to do now is research, have a think and choose where to study and start your journey to learn Spanish in Barcelona.
Sandra Roig is Marketing Director at AB Apartment Barcelona. AB Apartment Barcelona is an apartment rental agency offering over one thousand short and long term apartments across Barcelona.
If you would like to be a guest blogger on A Luxury Travel Blogin order to raise your profile, please contact us.