5 perfect beach barbecue destinations to enjoy on a luxury yacht charter
You are on board your luxury charter yacht with your own private chef and your perfect charter crew attending to your every need, in a lovely yacht charter cruising destination with beautiful deserted beaches all around, and blue green water. What could be missing? A "pop-up" beach barbecue where once there was nothing but sand. Suddenly as created by your yacht charter crew, your charter yacht rounds a corner, and in a remote beautiful bay, where there is no one but you, and your yacht, there is a beach barbecue set up complete with tables, chairs, perhaps a gazebo style tent, a bonfire waiting to be lit, candles, torches, fairy lights, grills, music and everything else needed to make this a special beach barbeque for a lunch or dinner created by your crew that will exceed all expectations. Here are some of the top yacht charter locations where fun beach barbecues can happen.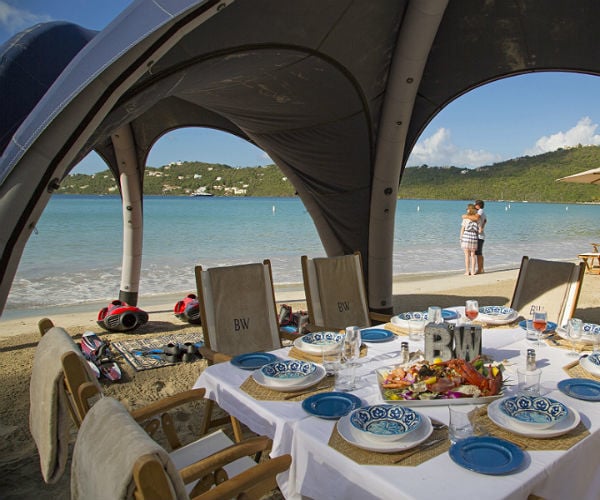 The Exumas, The Bahamas
The Exumas are a beautiful string of islands stretching south of Nassau to Georgetown. To have fire on the beach, the beach barbecue must take place on a cay outside of the Exumas Land and Sea Park, and Sandy Cay next to Great Major Cay where the Swimming Piggies live is a great location, as a deserted Cay where your bonfire and you will be the only inhabitants of the cay for the time period of either a lunch or dinner barbeque. The sand beach is white powdery sand stretching into beautiful warm crystal clear shallow water in shades of blue and green.
Spend time first stopping by Great Major Cay to feed the swimming pigs and then head to Sandy Cay where the crew will have a terrific beach barbecue setup depending on what your charter yacht has on board, however all yachts that charter in the Bahamas expect to have a beach barbecue and are stocked full of beach barbecue goodies for a great beach barbecue setup. Let your crew know whether you want your beach barbecue to be more upscale with table cloths and candles or a real beach barbecue dining and sitting in beach chairs in the sand. It is all up to you. The water toys will be set up on the beach to be used at any time and your chef will be on the beach with the grills going grilling your lunch or dinner with the crew keeping your drinks topped up and ice cold. Maybe the yacht has beach volleyball or other fun beach sand games. And of course, the crew will have the music set up and playing your choice of tunes. With the huge selection of remote beaches in the Bahamas, a beach barbecue is always on the itinerary when outside the Exumas Land and Sea Park on a yacht charter in the Exumas in the Bahamas.
The Cycladic Islands, Greece
After seeing the sacred island of Delos next to
Mykonos
, which should be done early in the day, so as not to be seeing ancient marble ruins during the hottest part of the day that would be reflecting the sun's rays; after, a great location for a beach barbecue lunch is nearby on the mostly deserted island of Rineia right across from Delos.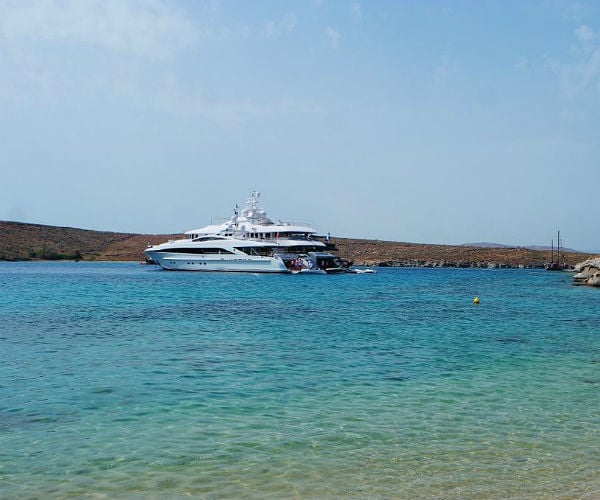 The "beach" is mainly a pebble beach, however the water is beautiful, cool and clear and with beach chairs, tables, and sun shade, this is the perfect location for your Chef to barbecue a lunch perhaps of vegetables and Greek kebabs absorbing a smoky flavor grilled over beach driftwood accompanied by cool white Greek wines, while watching your charter yacht on anchor in front of you and enjoying the water toys. There are hiking trails on Rineia for those that want more activity otherwise, those that want to relax can swim or float in the water or just laze the afternoon away under the sun shade with glasses topped off by the always attentive yacht charter crew under the sunny Greek skies.
Nevis Island, Caribbean
Once a Colonial Plantation Island, and now home to thousands of green vervet monkeys, Nevis is the perfect Caribbean Island to have a beach barbecue with a bonfire. Nevis is one of the "breadbasket" islands of the Caribbean, where the locals make jams, fruit breads, fruit syrups and elderberry wine, all of which are a lovely addition to any beach barbecue.
On a clear day, perhaps the peak of the volcano will be visible from the beach. A beach barbecue on Nevis could be an afternoon event with the crew creating a lovely base on the beach to expect to enjoy a dinner barbecue and bonfire. Enjoy swimming, water toys, snorkeling, walking the sand, shelling, and all that nature has to offer. Nevis is a great location for hiking, especially towards dusk as the monkeys come out to feed at dusk and then are very visible. Nevis also has several horseback riding stables, for anyone that wants to go horseback riding for the afternoon; perhaps riding up to the peak of the volcano and then rejoining the group for dinner on the beach and a great bonfire. There is so much that is possible to do on the island in very close proximity to a great beach bonfire location. Those that are very active can be off doing their favorite activity in the afternoon, while those that want to just be lazy, can be on the beach, in sand chairs, under the shade bimini being waited on by the crew, perhaps dipping into the water from time to time, until everyone rejoins the group in time for dinner and a fun bonfire with dancing in the sand.
Down East, Maine
Your captain will have his favorite location, most of which are kept a secret, for a true "Down East lobster boil" on the beach complete with rockweed seaweed.
Just caught lobsters, pulled that day from the sea are bought right from the lobster fisherman, steamers or little neck clams are acquired, along with just picked corn on the cob, new potatoes, and some sort of sausage or hot dogs, all of which are the makings of an old fashioned Lobster Boil that must be cooked in clean rockweed seaweed and clean ocean water both of which are available in abundance in Down East Maine. The best Lobster Boil is done outside on the beach, in a huge pot over a cooking ring connected to a propane tank. Rockweed seaweed is key as this seaweed has little small hollow bulbs in each seaweed string in which there is ocean water. As the seaweed is heated, these bulbs burst adding a unique flavor to the ocean water in which the meal is cooking. The ocean water is important as well, as the salt in the water adds a sweetness to the lobster meat that cannot be found by cooking the lobster by any other method. When time to cook, the food that is part of the boil must go in the cooking pot in strict order from first to last. Following is the order, along with the cooking time for each. Line the bottom of the pot with seaweed and fill the pot 1/3rd of the way full of clean ocean water. Wait until the ocean water is boiling to begin filling the pot with food. Fill from first to last and cook: · Potatoes 30 minutes · Lobsters 25 minutes · Clams 20 minutes should be steaming on top of the lobsters, not in water · Sausage 15 minutes should be steaming on top of the clams, not in water · Corn on the cob 3-5 minutes should be steaming on top of all, not in water The lobster boil should be done in 30 minutes. More clean rockweed seaweed should be made into a sort of "nest" on the beach to pour out all of the Lobster Boil food onto the seaweed to cool and for everyone to then help themselves. Also served should be melted butter and fresh lemon slices for the lobster meat and steamed clams. And everyone will need lobster crackers with tiny picks and forks to crack the lobster shells and pull the meat from the shell. The yacht crew can provide anyone not knowledgeable with instructions on the very best way to crack and clean a lobster of all the meat. With the Lobster Boil, traditionally biscuits might be served with blueberry or other fruit jams, and for dessert, usually there is strawberry shortcake or fruit pies. This is a real American Maine treat.
Eastern Flores Archipelago, Indonesia
There are so many islands in this area, and an enormous number of remote beaches from which to pick for a beach barbecue in which to have a bonfire and then after for bio-degradable wishing balloons to be lit to watch your wishes lift off and disappear into the sky, which is especially magical if done against a night sky.
At one point, wishing balloons were not nature's friend and at that time wishing balloons were never used on charter yachts; however, completely bio-degradable wishing balloons can be purchased, so that nothing is left behind. Wishing balloons are only possible if the wind is blowing out over the water, in a location where there is a large expanse of water, as even though wishing balloons do climb high into the sky and will burn out as soon as they start to fall to the earth, all precautions are taken so that a fire is never started on land. Most beaches in this area are very remote; untouched and beautiful coral gardens are close to the islands, so that an afternoon of snorkeling or
scuba diving
for any certified scuba divers in the group is easy to enjoy. Perhaps fishing, swimming, using water toys, or just swimming, and lazing on the beach are of interest. Charter yacht crew are always ready to make a beach barbecue afternoon into whatever guests might want to do. With all that can be done, having a setup on a beach with afternoon activities as a precursor into an evening bonfire dinner barbecue, ending with wishing balloons, a remote beach in this area is an excellent location for an afternoon of fun leading into a dinner barbecue with dancing after dinner in the sand. In this yacht charter area, if the charter is on board one of the local charter yachts with many Indonesian crew, it may be that the crew can provide live music for dancing…and the beat goes on. A
private yacht charter
with a crew is basically a live product where the crew can create the on board fun if wanted, and usually do. Beach barbecues, in the right yacht charter locations are great fun, and most charter yachts that charter in these yacht charter locations have lots of terrific gear for beach barbecues on board. The crew are ready to organize out of thin air a magical "Pop Up" Beach Barbecue in a lovely deserted bay for a fabulous lunch or an afternoon and evening of sparkling fun and frivolity, to enjoy the sand, beach, water, and dining "al fresco" by the light of torches, fire and fairly lights, where until you and your charter yacht arrived, there was simply sand and water and nothing else.
Missy Johnston is Owner of Northrop-Johnson Yacht Charters Newport. Northrop-Johnson Yacht Charters is a luxury crewed yacht charter company offering top notch private yachts with great crews in every worldwide cruising destination.
If you would like to be a guest blogger on A Luxury Travel Blog in order to raise your profile, please contact us.
Did you enjoy this article?
Receive similar content direct to your inbox.