Primates are fascinating. Any amount of time spent with an impressive Silver-back Gorilla or an boisterous Chimpanzee can be a truly grounding experience. It is no surprise that people flock from all over the world to Africa to see our closest relatives in the flesh. Upon observing these mighty and intelligent primates you realise that they really are not much different from humans after all. Their social interactions, personalities, facial expressions, body language and everything in between are all uncannily human and will take you on a journey not just up a forested mountain edge, but through to the origins of where mankind all began.
Chimpanzees
Chimpanzees are a joy to watch. It is no wonder seeing these incredible primates in the wild is on so many bucket lists; spending an hour with a family of Chimpanzees can be a truly  life altering experience. Africa is the best (and only!) continent in the world to see Chimpanzees in the wild, and there are a few excellent spots in East Africa which give tourists from all over the world the best chances of finding them.
Tanzania: the Mahale mountains
Mahale is without a doubt the best place to trek the chimpanzees in the wild – the odds of seeing the chimps are really fantastic here. The place to stay is Greystoke Mahale, where the guides have been with the chimpanzees for years; a few nights at Greystoke offers a truly enriching and singular wildlife experience.
Rwanda: Nyungwe
As well as being an exceptional place to trek the mountain gorillas, Rwanda is home to a flourishing Chimpanzee population. You can combine both in one trip, making Rwanda one of the best primate destinations in the world (as well as Uganda!). There is only one place to stay here – One & Only Nyungwe Forest Lodge.
Uganda: Kibale
Uganda is similar to Rwanda in primate experiences and both are phenomenal for Chimpanzees. However, Uganda is a little more affordable than Rwanda in general so this is the ultimate destination for those who want to tick off the primates on an adventure of a lifetime.
Mountain gorillas
Mountain gorillas are extraordinary creatures. Trek for anything from 5 minutes up to 5 hours to spend an hour in the captivating presence of these mighty primates; without a doubt one of the most enriching wildlife experiences in the world today. The only places the mountain gorillas can be found is in The Congo, Uganda or Rwanda. Uganda and Rwanda have better tourism infrastructures than the Congo, so we would recommend basing yourselves here for your gorilla trekking adventure.
Seeing the mountain gorillas is not cheap, and for good reason. Permits are expensive and limited; all to help conserve the gorillas in their ever-dwindling numbers. The permits in Rwanda are a staggering $1,600 per person per trek. In Uganda they are $700 per person per trek – so a lot more cost effective! There is a myth that they are easier to spot in Rwanda than Uganda, but this simply isn't true. 99% of time, you will be able to find them wherever you go. In both Rwanda and Uganda, trackers will go out early to see where the gorillas are so the guides can take you straight to them. The luck on the day element therefore isn't whether you'll find them, but how far up the mountain they are and as such how much trekking is required!
Rwanda: Volcanoes National Park
Rwanda has in recent years transformed itself into a truly luxurious and enviable tourist destination; and all of this luxury and tourism revolves around the mountain gorillas which reside in the Volcanoes National Park straddling the well known Virunga National Park in The Congo. It is an exceptional destination, but one for those with a hefty budget.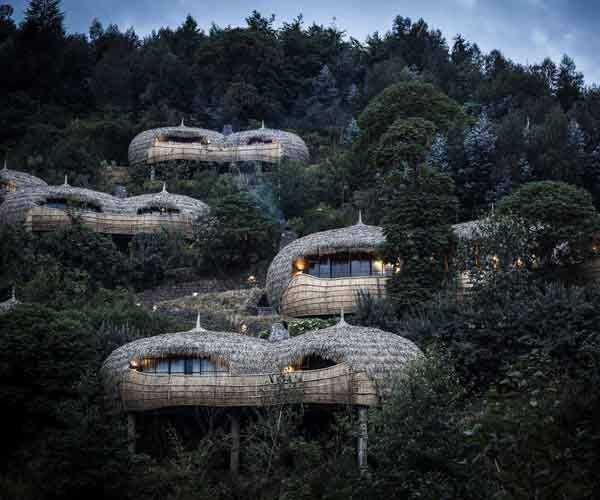 Uganda: Bwindi Impenetrable Forest
Bwindi Impenetrable Forest is an equally good place to see the mountain gorillas. A new kid on the block; you will not find the Uber luxurious lodges in Uganda, but homely and authentic boutique hotels in excellent locations. At $600 per person per trek, permits are cheaper than Rwanda, though Uganda is slightly harder to get to logistically, so costs can add up to mean there isn't much in between Rwanda and Uganda cost-wise.
Marc Harris is Managing Director of Africa Odyssey. Africa Oydssey is run by a team of award-winning experts offering tailor-made African safari holidays.
If you would like to be a guest blogger on A Luxury Travel Blog in order to raise your profile, please contact us.