A trip to Kyoto, Japan, with its 17 UNESCO World Heritage Sites and over 1600 temples and shrines, can feel overwhelming. A whirlwind of activity amongst a riot of glowing gold and vibrant vermillion. So much to see, so much to do, so little time. Given that this could be considered the home of Zen, however, with hundreds of Zen gardens dotted all around the city, it makes sense that it is a city best explored at a gentler place. Or you stand to lose out on all that makes Kyoto so extraordinary – like the quaint streets leading to the picturesque Yasaka Pagoda, for example.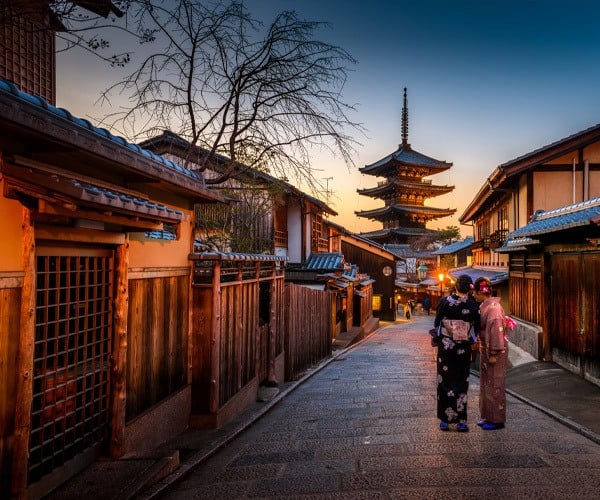 Aimless wandering can yield magical sights of years gone by; a fuller picture of a place steeped in cultural riches and historical significance. You only have to stroll the narrow paved stone lanes of the historic district of Gion and Southern Higashiyama to know the truth of this.
Soak up the charm of the Japan of yore as you make your way along the street of Yasaka-dori, lined with wooden houses and paper lanterns, before catching your first glimpse of the picturesque Yasaka Pagoda – also known as Hōkanji Temple or Yasaka-no-to Pagoda. As you meander, take the time to stop into traditional merchant shops selling local specialties such as Kiyomizu-yaki pottery, sweets and pickles; sip tea at a traditional tea house; and marvel in sightings of geisha in their exquisite kimono and striking white makeup rushing to and from appointments.
Once you reach Yasaka Pagoda, there is much more to marvel in than just a pretty pagoda. Built in 589, it is the oldest pagoda in Kyoto and a prime example of Japanese art. Destroyed and burned more than once, Yasaka Pagoda has not changed in its design once from its original form, always being reconstructed to its identical glory. Last rebuilt in 1440 by the Shogun Zoshinori Ashikaga, this original form is also highly functional: the design, which features a long central wooden beam, is earthquake safe and remains a model for modern day experts tasked with constructing buildings in earthquake prone regions.
Located between the Yasaka Shrine and Kiyomizu Temple, Yasaka Pagoda is a short five minute walk from Kiyomizu-michi Bus Stop, having taken the Kyoto City Bus 100 or 206 from Kyoto Train Station. Visitors to Yasaka Pagoda are sometimes allowed entry up to the second floor and no further – although this in itself is a rare opportunity. For your best shot at entry, visit between 10am and 4pm daily, but don't be surprised to find the pagoda randomly closed – open hours are irregular at best. If you are lucky enough to gain entry, the fee is 400 yen.
Regardless of whether or not you get to go into the pagoda itself, the entire area is a real gem of Kyoto. The shops and restaurants here are typically open around 10 in the morning and close around five in the evening, except during the 10-day long Higashiyama Hanatouro Festival in March when the streets are lined by thousands of lanterns and many of the area's temples, shrines and businesses have extended hours and special illuminations.
If you have a really special photograph you would like to share with A Luxury Travel Blog's readers, please contact us.