Top 5 things to do in Dubrovnik
Dubrovnik is a popular holiday destination with little wonder as it is full of sights, history and sunny days. It's often visited by tourists coming on popular cruises and it's very often you see some magnificent cruise liners moored off the coast ferrying excited visitors back and forth via the ships boat taxis. A new way to explore the country and indeed Dubrovnik is to choose a luxury villa or hotel of which there are many options along the Adriatic coast. Dubrovnik is located on the Adriatic and is a walled city, widely considered to be one of the best in the world. It is viewed by many as the must-visit place of
Croatia
. So while you are there you will want to take in the best sights so here are five to get you started.
1. Game of Thrones tour
If you are a fan of the popular television series, you will likely be aware that some of the scenery shown in the film was shot on location in Dubrovnik. Unsurprising there are now plenty of tours operating day trips to show you the specific spots. The guide is not only great for Games of Throne fans but also provides for an excellent and economic way to get a guided tour of the city as the experienced guides will stop to show you other sights along the way and you are generally welcome to ask questions that go over and above those involved in the popular TV series. If you want to learn more about the area, then you will appreciate the tour guide who will talk you through each stop. If you prefer you could just check these out on your own by doing your own research on Google. Either way, there's plenty of wonderful things to see and discuss.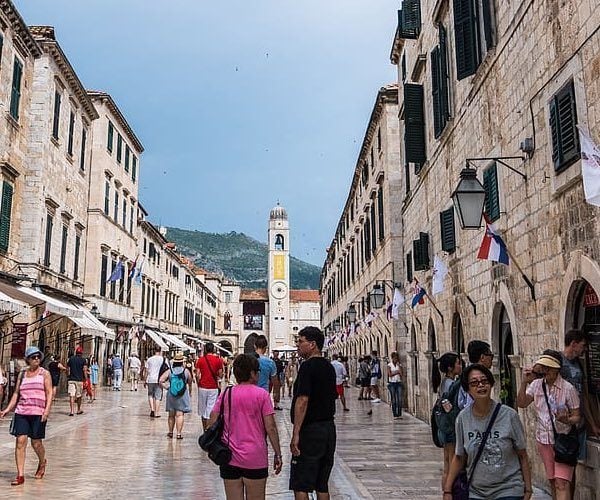 2. The cable car
It has to be said that the cable car which goes up the side of Mount Srd boasts some of the most spectacular views in the area. The sight of Dubrovnic in it's full glory from above is simply stunning. The car is steeped in history as it has been operating in the area since 1969 and as you ascend you will get to see a bird's eye view of the old town below. It is a unique view of the walled city, and you will be climbing to 412 metres in the car with spectacular country views along the way. Once at the top you can also explore Fort Imperial which has been standing since the early 19th century and was integral to many military battles that took place in Dubrovnik. The cable car is much like the type of transportation you may be familiar with in ski resorts and the typical speed to enter and exit the car makes for not so much need to hang around waiting for the next car to come. You should expect to pay around $35 USD or around 32 Euro per person for a ride so it's not a cheap excursion but couple this with wonderful walk at the top and the length of time it takes for the entire trip probably makes it a reasonable value activity.
3. Walk the walls
Once you have seen the walled city from the dizzying heights of the cable car, you might want to explore it on foot. Built as a defence for the 300-year-running independent Republic of Ragusa city-state the wall stretches out at around two kilometres and takes in the whole of the Old Town. The sea views will take your breath away, and as you walk, you will come across three fortifications, more than a dozen towers and five bastions. We certainly recommend taking lots of drinking water with you and snacks if you tend to feel hungry on walks and this trip is going to be more difficult for those who have trouble walking as path is a cobbled walkway with climbs and steps. Unless you are Usain Bolt or Mo Farrah, allow about two hours for the entire walk and the cost of this activity is totally free. Be aware that there are around 1000 steps involved on the full walk. There are guided walks along the walls too which provides for a guide to show you all the significant points of interest.
4. Check out the beaches
Most of the beaches of Dubrovnik are pebbles not sand, so you really want to rent a lounger if you plan to sit and chill, but there are certainly a lot of great beaches to explore. Lapad beach is the biggest in the area, so you will likely find that it is busy as it is favoured by families. There are plenty of restaurants and bars nearby. Banje Beach is another popular attraction, and this is a semi-private beach which means you cannot be in certain areas unless you are a paying customer, which involves renting a lounger. You can walk from the city centre to some of the beaches if you are feeling active but if you have some things to carry, you may want to take transport. A great aspect of these beaches is that, just like all along the Adriatic coast, water is very clear and it's safe to swim and sunbathe.
5. Head into the Old Town
If you love history and architecture, you will love the Old Town as there is so much character there. You will find Baroque, Gothic and Renaissance influences, and there are loads of great places to check out. Find the Dominican Monastery which is now a museum of art, or check out the Palace Sponza which is a gorgeous 16th century palace. A great place to head to for lunch is "Konoba" where you will be able to sample some wonderful Mediterranean delights and some great Seafood too. For an absolutely unforgettable dining experience, visit Bowa with it's wonderful sea views. Here you can sample some Croatian recipes or indulge in some fabulous seafood and take in the atmosphere. After lunch, perhaps head over to visit "The Rector's Palace" which is a beautiful palace that used to serve as the seat of the Rector of the Republic of Ragusa and also the seat of the Minor Council and the state administration. It dates from the 14th Century and is a wonderful afternoon activity. If you plan to stay a little longer into the evening then head over to Buza Bar which has some enchanting sea views and wonderful drinks menu. Another option is to visit "More" the cave bar set inside an actual cavern or you could go a bit more quirky and visit the chilled out "Iced Bar" for an extra special drinking experience. All in all, Dubrovnik is a wonderful place to visit with lots of options to see and do. It's been a war torn city for centuries (even up until recent days) but now it's a magically relaxing place steeped in history all ready for you to explore.
Kerrie Potts is CEO at Exclusive Private Villas Limited. Exclusive Private Villas offers exquisite, handpicked luxury villas around the world.
If you would like to be a guest blogger on A Luxury Travel Blog in order to raise your profile, please contact us.
Did you enjoy this article?
Receive similar content direct to your inbox.