New Zealand goes beyond fish and chips on the beach or smoky barbeque meals when it comes to gastronomy. With a distinct Pacific-rim influence, our cuisine is something guaranteed to delight even the most sensitive of palettes, and indulgence is forgiven, because If sea-food is your thing, then New Zealand is your oyster.
An extravaganza of sea-food to indulge in, from crayfish, oysters and King salmon to Abalone and Scallops, you can expect world-class taste sensations on your next visit to New Zealand.
Exploring the best that our country has to offer, not only in nature, culture, scenery but in cuisine and gourmet delights is an interesting way to plan your itinerary. Plan your next trip around some of the gastronomic festivals that occur across the country, and feast to your heart's content.
Scallops
With delectable, fresh seafood offerings, you are spoilt for choice, from festivals to fishing, from restaurants to quaint food trucks, you can indulge in all things tasty. The key to sea-food indulgence is sustainability and quality, and these are two key components in the local sea-food industries, vital to producers and consumers alike.
The Coromandel Peninsula on North Island of New Zealand is renowned for its pristine beaches, spectacular natural sites, it's mountains and forests. Visitors are rewarded with white sand and secret coves, hot water beaches and scenic hikes. It is also home to some delightful culinary festivals.
The Whitianga Scallop Festival in September has been running for 14 years and is a perfect example of feasting around sea-food. This event has grown into one of New Zealand's iconic seafood celebrations, with Scallops as the featured ingredient. This tasty little delight is cooked in a myriad of different ways by talented national chefs, restaurants and community groups and matched with cooking classes, demonstrations and live entertainment.
Another notable sea-food festival in the Coromandel happens in May. This annual event offers a full schedule of fishing, shucking and cooking demonstrations as well as local eateries showcasing sea-food uniquely cooked with distinct flavours and techniques. The harbour is popular for its mussel and oyster farms, as well as being a great place to haul out your own catch.
Oysters
New Zealand is an oyster lover's dream; one can feast on this delicious shell-fish in an array of spaces and places, from high-end restaurants to inner-city bars, road-side stalls and sea-food festivals.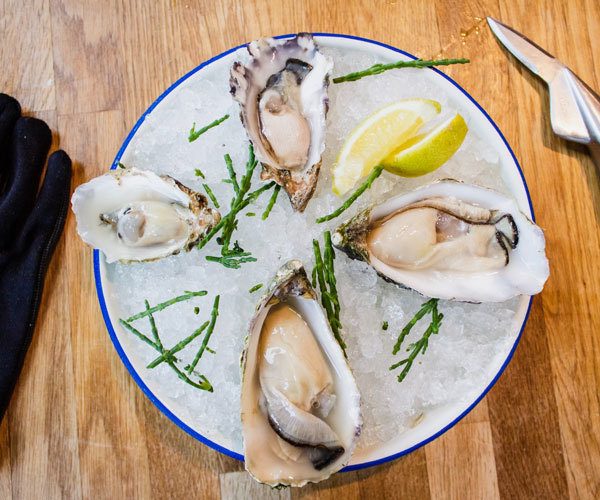 The New Zealand Pacific oysters are widely recognised as sustainable seafood. Although more of an accidental import to the country the oyster industry is a thriving one. Farmed at intertidal and sub-tidal sites around the country, each farm must adhere to the strictest conditions enforced by local councils.
The Bluff oyster festival in Invercargill on the South Island is always a roaring success; people flock from far and wide to be part of this annual event. It starts with the Piping-In and the traditional Ode to the Oyster and then it's time to enjoy a wide variety of succulent southern seafood headlined by the iconic Bluff Oyster. Held in May, come fair weather or foul, the "salty seaside town" prepares itself for an unadulterated oyster feast.
Salmon
The king salmon, one of five species of Pacific salmon, is New Zealand's largest freshwater fish. While this fish is now scarce in most parts of the world it has thrived in New Zealand, which incidentally accounts for over half of the world's production of king salmon. Mount Cook Alpine Salmon at Tekapo, stands as the highest salmon farm in the world; a unique landscape for a hatchery, but a successful one at that.
Mount Cook is the highest mountain in New Zealand and is located in the Southern Alps, which runs the length of the South Island. Nestled in the Alps is a network of waterways gushing with ice-cold, glacial water, mineral-rich and pure.  It's in these waters that the hatchery operates, allowing the salmon the freedom to revel in the fast-flowing currents, swimming in excess of 20km's per day. The purity of the farming creates some of the best-tasting fish, and the king salmon offers the highest natural oil content of Omega-3's which benefits both heart and health.
Abalone
The unique abalone or pāua, as named by the Māori people of New Zealand, are distinct for their clear white meat enclosed in a beautiful blue shell. Its subtle taste and firm texture show the superior quality of the water supply, rich in natural nutrients. Moana New Zealand operates an abalone farm in Bream Bay in Northland, New Zealand. These untainted blue abalone grow in some of the highest quality ocean seawater in the world.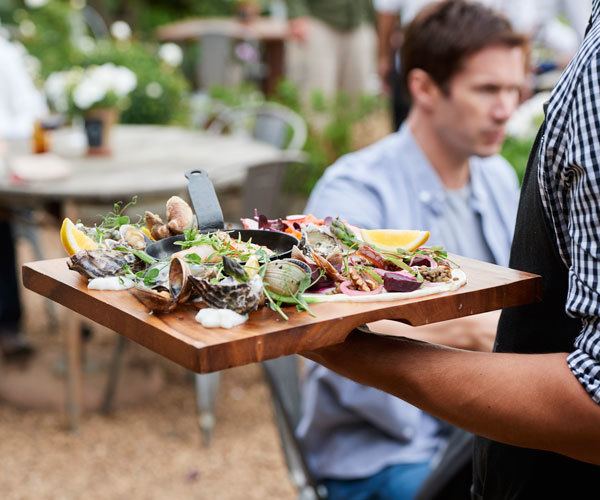 Like other leaders in the sea-food industry, Moana New Zealand has committed to the promise to protect the environment by agreeing to an industry code of conduct. This means that when you enjoy sea-food in New Zealand you can rest assured that it is clean, pure, sustainable and most importantly it's good for you!
Crayfish
Exploring the South Island would not be complete without traveling one of the most beautiful ocean roads in the world, but imagine that this road leads to crayfish heaven? The road from Blenheim to Kaikoura is this very road, and given that the word Kaikoura means eating crayfish, this town is a must-do on your sea-food itinerary. You have a choice of al fresco dining at the Seafood BBQ trailer or for a more fine-dining experience you could try the 5-star restaurant at Hapuku Lodge and Treehouses.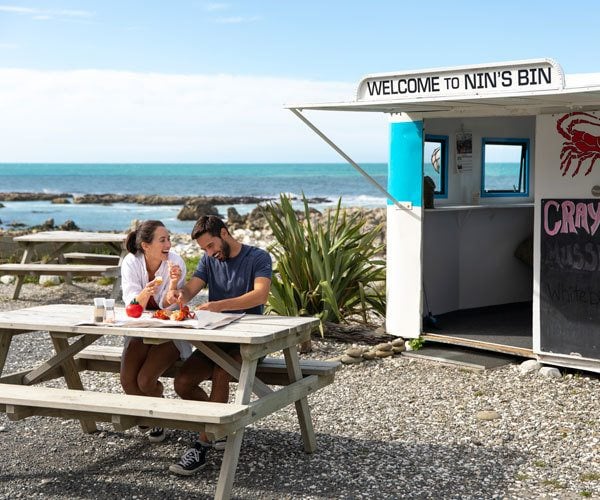 If the delicious fare wasn't enough to draw you to the town, then consider the abundant wildlife and its semi-resident population of sperm whales. This coastal town offers you the chance to explore via the peninsula walkway that winds from the town centre to multiple lookout points.
When it comes to holiday destinations, New Zealand certainly has a lot to offer. Many people talk about the colours dialled up, brilliant blue skies, vast green hills, endless beaches and sparkling turquoise oceans. Yet it is the depth of the experience that offers such delight. Diving into food shows us a nation of high standards, clean air, mineral-rich waters. The insights into a tiny nation with big dreams; the awards and the accolades show investment by people into creating produce that excel all standards of excellence.
Come and taste New Zealand on your next holiday; you'll be so glad you did.
Veronika Vermeulen is Director of Aroha New Zealand Tours Ltd. Aroha New Zealand Tours Ltd. has been offering 100% tailored journeys and private guided luxury experiences in New Zealand since 2000.
If you would like to be a guest blogger on A Luxury Travel Blog in order to raise your profile, please contact us.