Traveling to play golf typically involves playing on bucket list courses — the famous ones with long, storied pasts that you've seen the greats play in tournaments throughout the years. Unfortunately, some of these courses are notoriously difficult to get onto, for a variety of reasons. Here are our top five most sought after courses in the British Isles that will take some time and work to get a tee time.
The Old Course at St. Andrews
Obviously, any course known as "the Home of Golf" would be popular among golf fans, so it's no surprise that it's notoriously difficult to get a tee time at The Old Course, even though it's technically a municipal course. The St. Andrews Links Trust provides several avenues for securing a tee time, although the only guaranteed method is buying a package from a tour operator such as Worldwide Golf Adventures. And with the upcoming Open Championship taking place at the Old Course in 2021, tens of thousands of golfers from all around the world are trying to get their picture on the iconic Swilcan Bridge ASAP, making it even harder to get the tee time you want at this Scottish treasure.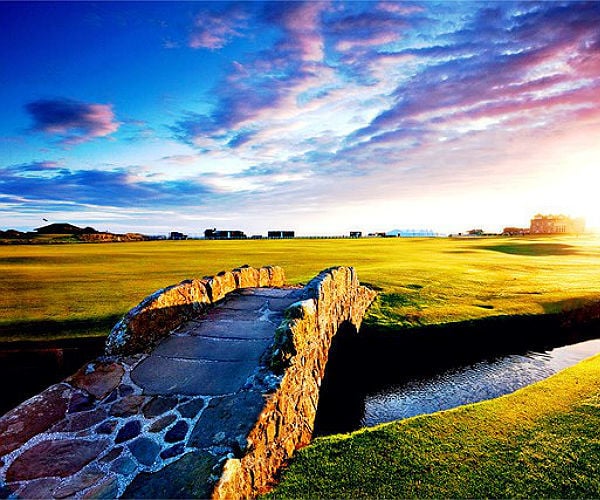 Dunluce Links at Royal Portrush Golf Club
Hosting the 148th Open Championship in 2019 was a big deal for Royal Portrush Golf Club in Antrim, Northern Ireland, and not just because tickets sold out in record time. In fact, the championship's first time back in Northern Ireland in 68 years was the largest sporting event ever held in the area and generated more than £100 million in economic development for the region. The Dunluce got plenty of attention during the championship, making an already popular course even more so. Ranked fourth by Golf World in their 100 Greatest Courses in the British Isles, Royal Portrush is also ranked 12th in the world by Golf Magazine and the fourth-best course outside of the U.S. by Golf Digest.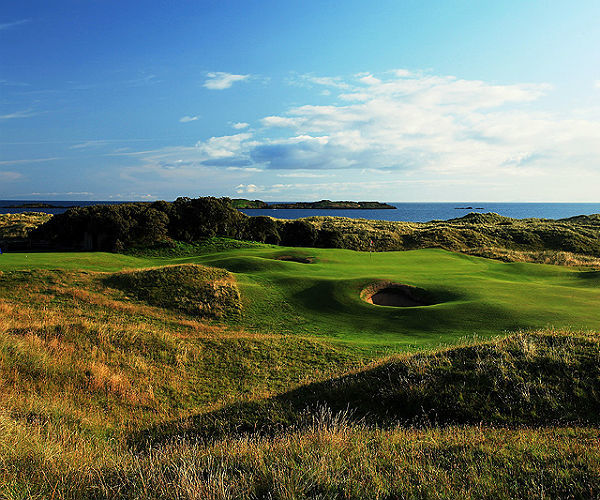 The Championship Course at Royal County Down Golf Club
This 7,200-yard masterpiece in Newcastle, County Down, Northern Ireland features not one, but two holes in Golf Magazine's book The 500 Greatest Golf Holes. You've probably seen many photos of the ninth hole, since it's one of the most photographed holes in the world. The course's most recent accolade was being voted the Best Golf Course in the World by Golf Digest in 2018.Tee bookings for the following year open up in May and are usually booked up in short order. In its 130-year history, the Old Tom Morris classic links course has been home to a number of championship tournaments, most notably the Irish Open in 2015. However, after Royal Portrush's 2019 triumph, who knows if the R&A might be interested in adding one more Northern Irish course to its rota?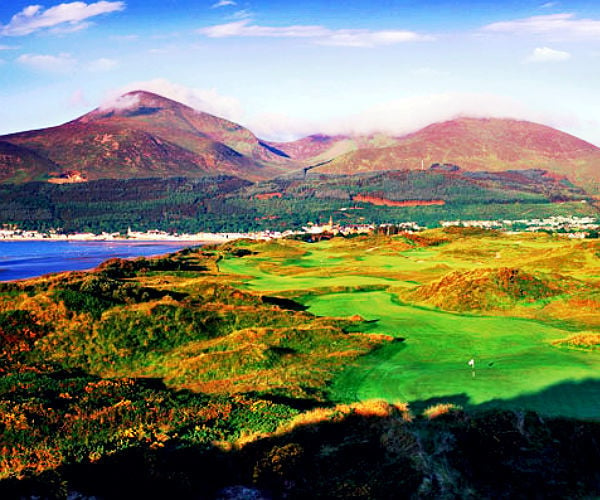 Muirfield
Home to The Honourable Company of Edinburgh Golfers, the oldest verifiable golf club in the world, Muirfield is the closest course to the Scottish capital, but that doesn't mean it's easy to get onto. The course is one of the most famous on the Open Rota, possibly due to its departure from a traditional links layout and how the wind affects every hole differently. Visitors are only allowed in very limited numbers, so early booking is essential. The course is open year-round, so some players might have better luck getting a tee time in shoulder season.
Swinley Forest Golf Club
The youngest of the clubs on this list at 100 years, and the only one in England, Swinley Forest Golf Club is a Harry Colt-designed gem of a course on Royal hunting forest. From the beginning, the club welcomed women and encouraged players to bring their dogs, making for a unique atmosphere. The course is notoriously unpretentious, with no handicaps and no club championships, but that only makes it more desirable to play on. As one of the UK's most exclusive private clubs, it is extremely difficult to get a tee time unless you have the right connections.
If you're interested in playing any of these courses in 2020 or beyond, you should start planning as early as possible. Finding the right golf tour operator to help you get the right tee time can be extremely helpful, too.
Ravi Coutinho is Founder and Lead Golf Travel Expert at Worldwide Golf Adventures. Worldwide Golf Adventures is a luxury golf tour operator that arranges custom golf vacations for clients around the world.
If you would like to be a guest blogger on A Luxury Travel Blog in order to raise your profile, please contact us.