By
Michael Edwards
on Dec 13, 2019 in
Accommodation
,
Air Travel
,
Asia
,
Attractions
,
Food and Drink
,
Going Out
,
Hotels
,
Malaysia
,
Regions
,
Resorts
,
Restaurants
,
Spas & Pampering
,
Speciality Travel
,
Travel Miscellany
Langkawi, on the west coast of Malaysia, is an idyllic archipelago of 101 islands sun-bathing in the warmth of the Andaman Sea.
It can be an action-packed, high adrenaline destination with jet-skis and zip wires. For nature lovers, it is one of the most bio-diverse environments on the planet. And for those who just wish to relax, it has luxurious hotels with infinity pools and the sugary white-sand beaches.
New flights from Qatar Airways have made Langkawi an accessible paradise for everyone: for honeymooners seeking a supremely romantic destination, for families and for those seeking adventure.
Qatar Airways
Winners of the Skytrax 2019 Airline of the Year Award, Qatar Airways is the uber- luxurious choice for travellers heading to Langkawi.
Flying from London's Gatwick and Heathrow airports as well as Aberdeen, Birmingham, Cardiff, Edinburgh, Glasgow and Manchester the airline provides easy access for travellers on their way to Doha; the first leg of the journey to Langkawi.
As Qatar Airways also scooped the Skytrax 2019 awards for Best Business Class and Best Business Class Seat the first flight of around seven hours to Doha, with so much to enjoy on the Oryx Entertainment system, almost passes too quickly.
Qatar Airways provide crisp white table-clothed restaurants, aspiring to Michelin star standards, at high altitude. This is fine-dining complete with amuse-bouche, three-warm breads with a choice of three oils and Godiva chocolates to finish.
After a welcome glass of Champagne or orange juice, staff take your order from the menu and wine list. Impressively. passengers not only select what they want to eat but also when they want to eat.
Watch a film on the 17-inch screen with noise-cancelling headphones before having your cocktail and starter delivered. Take advantage of an hour's free Wi-fi to catch up on some e-mails, then savour your main course and dessert.
With a two hour turn-around in Doha there's the opportunity to sample Qatar Airway's sleek Business lounge before the next flight.
Flying over the Indian Ocean it is time to take advantage of the 14 button control panel to create an 80 inch long flat-bed. Use the toothbrush in the bathroom, put on the complimentary pyjamas, pull-up the blanket and get some good quality sleep. Breakfast, with a Starbucks-like range of coffee or tea, will be served when you order it.
The Danna Langkawi
Approaching its 10th birthday, The Danna Langkawi is Langkawi's version of Singapore's Raffles but with the advantages of a prime beach-front location and sheltered harbour. White blossoms from the tall frangipani trees float serenely on the vast infinity pool. It is no surprise that the Danna, just 15 minutes from the airport, is first choice for so many honeymoon couples. A few years later, pining for the Danna's colonial chic luxury, they return to book their off-spring into the Kids' Club.
Nostalgic pictures of Penang in the days of the British Empire, cooling fans, rattan chairs on extensive verandas and deep luxuriant baths recall the comforts of colonial days.
If the spacious rooms are luxurious then the secluded villas, with direct access to the beach and a private swimming pool, are A-List celebrity opulent. Rather than heading to the 9 treatment rooms in Danna's spa, the masseuse will provide a treatment on a dedicated table in the privacy of your villa.
Live the colonial lifestyle with a game of billiards before dinner or a cocktail from the bar. With 118 varieties of gin on offer the Danna has one of the widest selections in Asia.
Planters' Restaurant menu celebrates Malaysian food as one of the great fusion cuisines. Once located on one of the world's busiest trade routes, Chinese and Indian and Sumatran travellers all brought tasty influences to the Malaysian dinner table. As Langkawi is close to Thailand's southern border there is a strong influence of aromatic rice and fragrant noodle dishes too.
The Malaysian Tasting Platter of sea bass sambol, chicken percik, beef rendang, king prawn curry, papadum, Malay pickle and steamed rice is the perfect introduction to Langkawi's diverse culinary traditions and the skill of Planters' chefs.
Planters' Champagne Breakfasts also provide the opportunity for a feast, either Asian or Western style, from an immense buffet. Then for lighter options – or just a coffee – there is also the more informal Straits and Co.
The Meritus Pelangi Beach Resort and Spa, Langkawi
Designed in the style of a Malaysian village the Meritus Pelangi Beach Resort and Spa, Langkawi consists of 355 rooms and suites spread over 34 acres specialising in heartfelt 5* hospitality. As soon as you arrive there is a chilled flannel and cool fruit juice welcome.
Skilled topiary shapes Casuarina trees into natural sun-umbrellas as guests relax on sun-loungers along the one kilometre of white sanded Cenang Beach. It's a beach that eventually leads into a lively stretch of local bars, fire jugglers, restaurants and shops.
Rooms are spacious, efficiently cooled and dark-wood colonial stylish. Large balconies look out across the azure Andaman sea to other islands in the Langkawi archipelago or on to one of the resort's two swimming pools or ornamental lakes.
Breakfast at the Meritus Pelangi takes some planning. The Spice Market, with scores of tables both inside and out, offers the ultimate Asian breakfast buffet. A tour of the restaurant is essential to assess what's on offer from Chinese, Indian, Malay and Thai classics.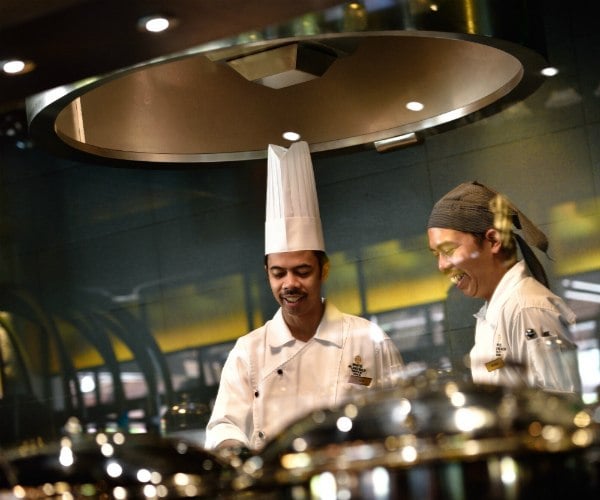 If you still prefer a Western breakfast, ordering your eggs as you like them and topping up on pancakes and toast, there's also CBa. Phonetically it's "sea-bar" which sums up its beachside sand-between-your-toes laid-back location. Come sunset, it's a favourite romantic choice for honeymooners' al fresco dining.
Sumptuous afternoon tea was always a key element in the decadent colonial lifestyle and that is just one of the reasons to belong to the Club Lounge. Hot and cold drinks throughout the day, as well as complimentary cocktails in the evening, also build the case.
Although currently being refurbished, there will soon be a small water park for children as well as a petting zoo, to add to the Kids' Club programme.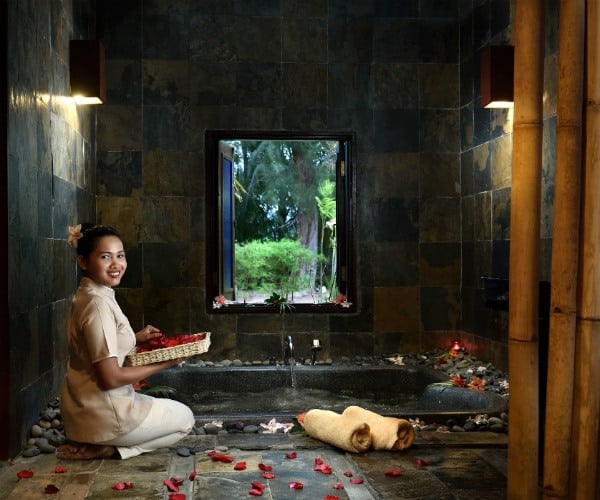 Meanwhile grown-ups can keep themselves occupied with the spa, the sea-view fitness suite with steam-room, archery, cookery courses, mini-golf, squash and tennis.
What to do in Langkawi
Langkawi can be a high-octane destination with jet-ski island-hopping safari, provided by Mega Watersports, skimming over aquamarine seas.
Or high-adrenaline flying with the Umgawa Legendary Adventures zipline  whizzing through the rain-forest canopy of flying squirrels, flying snakes and eagles. Alternatively, Langkawi is a book, cocktail and sun-lounger destination on pristine sugary-white-beaches.
Cruising through the mangroves with – Dev's Adventure Tours – and visiting the limestone caves, travellers can see why Malaysia is one of the planet's most bio-diverse destinations. Cave bats consume 400 mosquitoes an hour whilst outside eagles soar above the tree-line.
Stepping back in time, the Old Langkawi Charm Experience, again provided by Dev's Adventure Tours, takes visitors through paddy fields where white egrets perch on the backs of water buffalo to arrive at a traditional Malaysian house for a cookery course, creating your own dinner.
Another unmissable highlight is a sunset cruise through a seascape resembling Vietnam's Halong Bay or a James Bond movie set. Avante Boat Charters provide dinner, unlimited drinks, live music, dancing and an incredible feel-good party vibe.
Talk to anyone who has visited Langkawi and they will have thrilling memories of the Sky Bridge.
The world's steepest cable car ascends to the Sky Bridge, a 410 feet curving pedestrian bridge, at 2,170 feet above sea-level. It gives astounding views over both the Langkawi Peninsula and across to Thailand too. Back down almost at sea-level at the Oriental Village there are also SkyRex, SkyDome (3D Cinema) and a 3D Art gallery to visit all provided for us by the Langkawi Development Agency.
Disclosure: Our visit was sponsored by The Danna Langkawi, Meritus Pelangi Beach Resort and Qatar Airways.