It might take some time arranging and planning but just imagine if you and all those amazing women in your life jump in a plane for the adventure of your lives – a luxury safari in the Maasai Mara in Kenya. Time seems to fly by and with busy schedules it can be difficult making time to hang out with all the girls. Arranging a trip to a completely different country, perhaps on the other side of the world to you, might just be what you all need to reconnect as friends while having the time of your lives.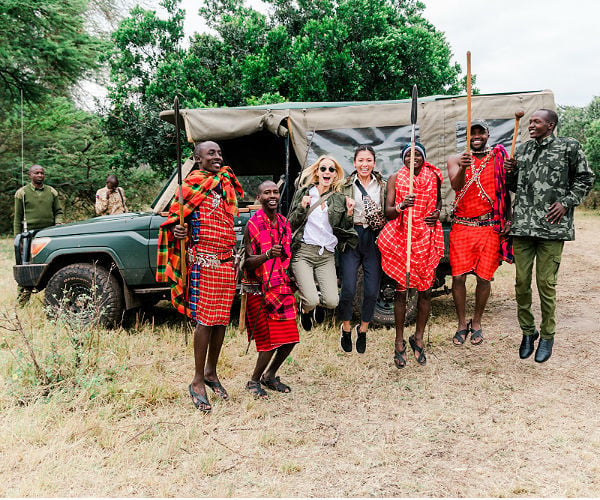 As the new decade approaches, it might just be the right time to make those calls, write those emails or text their mobiles, letting your friends that you have already figured out the highlight of the new year. If they don't catch onto the idea at first, here are five/four reasons to convince them why a women-only safari in the Maasai Mara will make 2020 their best year yet:
Learn something new
Different experiences teach us new things about ourselves, perhaps giving us a fresh perspective, challenging us in unique ways and empowering us to get out of our comfort zones more often. Going on a women-only safari with your best gal pals gives you so many opportunities to do just this in a safe and comfortable space, without judgement. This is particularly so if it is your first time in Africa on safari. Much of what you experience will possibly be quite different to what you are used to.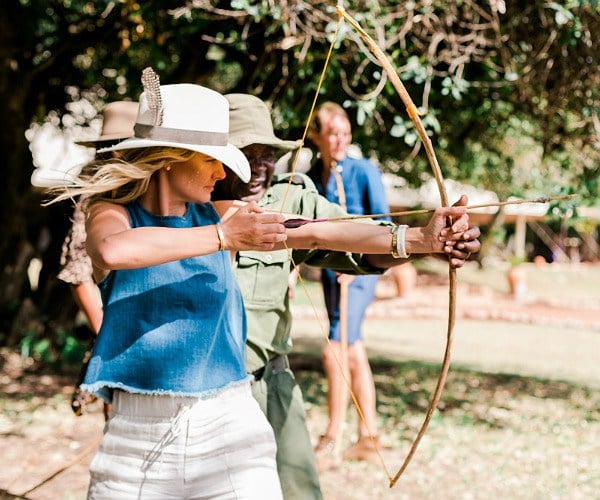 A safari in the Maasai Mara presents great opportunities to challenge yourself in various ways, particular from those community members of the one of the oldest indigenous peoples, the Maasai, that call it home. Take instruction from one of the camp guides on how to hit the bull's-eye with a handmade bow and arrow. Who knows, you might prove to have a hidden talent for archery. Let a Maasai warrior teach you to jump as high as they do or throw a handmade spear as far as you can.
Not only are these activities loads of fun, there is so much rich local heritage behind these different practices that you can learn about straight from the mouths of those that continue today to practice them. This is such a distinct privilege and a unique experience to a safari in Kenya and particularly the Maasai Mara. Sit down with women from local communities and listen to their lived experiences as well as the shared stories passed down from generations.
Renew old friendships and make new ones
Life back at home is busy and spending quality time with all the girls together can be difficult to arrange with full schedules. If some of your friends live all over the world, you will agree that video calls just aren't the same as having a real face-to-face conversation together. Being on safari in the Maasai Mara is an incredible, possibly once in a lifetime adventure that is so special when shared with those you cherish. It is an amazing time where you get to hang out, catch-up and have new experiences together.
While you might be on safari with your friends from back home, there are still many people to meet and make memorable friendships with. Together with visiting local Maasai communities, there are many more people back at camp that will welcome you with a genuine smile and who are open for chats throughout your stay. Although the national languages are Swahili and English, Kenya is a multi-ethnic country with as many as 42 different groups so expect to have interesting conversations with the camp staff and guides.
Reconnecting with old friends and making new friends at the same time – that's what a large part of a women-only safari in the Maasai Mara is all about. It is laughing around the pool, sharing dinner under the stars, sighting incredible wildlife and watching the sun's last blaze of colour as it sets over Kenya together – and, of course, so much more!
Support responsible tourism
There are many ways we can play our part to ensure that are travel has as little impact as possible on the environment and the people in the chosen destination. From reducing our carbon footprint and using less water at camp while in the host destination to supporting local markets instead larger chain stores and respecting local traditions, responsible tourism is completely possible to achieve when on safari in Africa broadly, and in Kenya more specifically.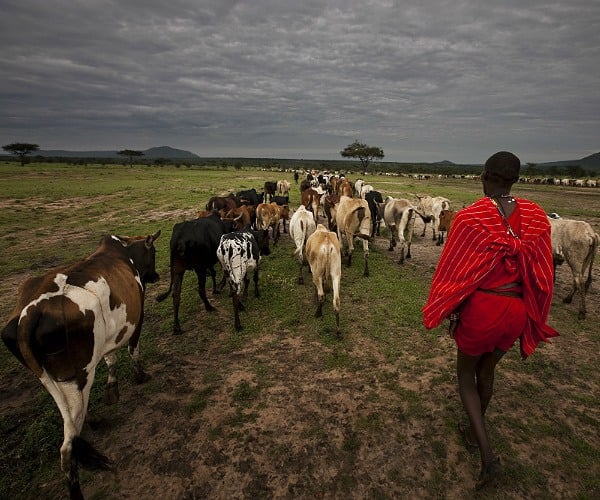 One of the best ways of going on a responsible safari is choosing a camp that is committed and actively invests in its surrounding environment and wildlife conservation as well as working in a positive partnership with local communities. In the ideal case, the community will own the land, its members will also be offered employment at the camp and camp management will support initiatives within the community in a way that creates empowerment rather than dependency.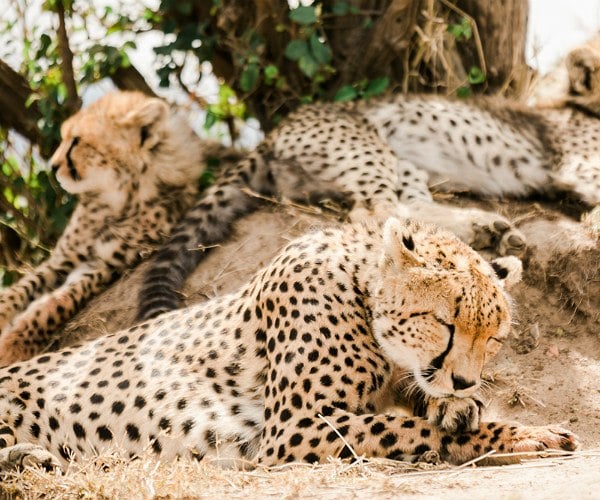 In the broader Maasai Mara, camps and communities take ownership to protect the environment and wildlife within conservancies. When you visit on your women-only safari, those fees you pay to enter the area go towards wildlife conservation, anti-poaching efforts and the protection of that environment generally. You can always contribute further by donating towards wildlife conservation projects and community initiatives.
Get moving
There are so many exciting ways to explore the Maasai Mara with your girlfriends. The traditional way is on a game drive, where your guides can cover good distances, while you keep your eyes peeled from the comfort of your seat and enjoy the thrill of seeing that animal you have always wanted to. Perhaps a lion will walk so close to the vehicle you hold your breath, or the astonishing spectacle of thousands of wildebeest crossing Mara River on their annual migration will unfold before your eyes.
Ditch the four wheels and take to the wilderness by foot, being led by an expert guide. They will teach you the discrete language of the bush; the signs that show what animals and birds have crossed the path you are walking on as well as the interconnectedness of all life within the local ecosystem. For something a little different to get all the girls' hearts pumping, you can jump on a bike and cycle the area or see the beautiful landscape from above as you take to the sky in a colourful hot-air balloon at dawn.
There may even be amenities back at camp that allow you to keep up your fitness routine in various ways, all while being surrounded by breathtaking scenery. Some camps have swimming pools that are ideal for doing laps, fully equipped gyms as well as areas to practice different kinds of exercise, perhaps yoga or tai chi. As much as possible, a women-only safari needs to have something for everyone, whether it be adventuring through the bush or staying fit.
Kick back and relax
If we are talking about a women-only safari, it needs to be holistic in a way that is good for the mind, body and soul. The ideal safari is one that offers a balance of both journeys in the wilderness of the Maasai Mara and down-time back at camp where you can relax, unwind and reflect in complete comfort with a touch of luxurious indulgence. After an early morning game drive or guided bush walk, putting your feel up will be just what you need.
Luxury safari camps offer just those kinds of special touches that will leave you feeling pampered and refreshed. Special outdoor bubble baths – complemented by glasses of champagne, of course – allow you to soak al fresco, while closing your eyes and taking in the sounds of the bush. Sometimes you might just need that 'me' time away from the girls and these kinds of private spaces are just perfect for spending quality time with yourself.
Another luxury is the massage and spa treatments presented by some camps that cater to discerning travelers who enjoy the finer things during their safari in the Maasai Mara. A women-only safari would just not be the same without being able to enjoy a deep and soothing massage by a trained therapist. This is the balance that a women-led safari should be about so that you don't leave feeling like you need a holiday after your holiday!
Calvin Cottar is Director and Owner at Cottar's 1920s Safaris. Cottar's 1920s Safaris is an award-winning luxury 1920s safari camp and private bush villa located in the famous 'seventh' natural wonder of the world, the Maasai Mara in Kenya, and owned and managed by the oldest established and continuing safari family in Africa.
If you would like to be a guest blogger on A Luxury Travel Blog in order to raise your profile, please contact us.