By
Paul Eyers
on Dec 16, 2019 in
Accommodation
,
Asia
,
Cambodia
,
China
,
Food and Drink
,
France
,
Going Out
,
Hong Kong
,
Hotels
,
Maldives
,
Regions
,
Resorts
,
Restaurants
,
Singapore
,
Thailand
,
Travel Miscellany
,
United Kingdom
,
Vietnam
Since The Economist published a short article in late 2018 entitled 'The Year of The Vegan', predicting that "2019 will be the year veganism goes mainstream" many have coined this phrase, whilst many others have chosen the lifestyle. Writing "Where millennials lead, businesses will follow" they could not have been closer to the truth with big businesses now desperate for their own slice of the vegan cake.
Many luxury hotels and resorts have adapted, created and innovated to be sure that they can offer plant based food to meet the growing demand for vegan travel. We have stayed at some of the finest hotels and resorts around, and the growth and availabilty of vegan cuisine has been rising steadily. That was until this year when the luxury travel industry seemed to truly embrace veganism meaning there were a multitude of exciting plant based options available. We've been celebrating 2019, 'The Year of The Vegan' in luxury and style and here's 12 of our favourite plant based experiences from the past 12 glorious months.
January 2019: JW Marriott Emerald Bay Resort – Phu Quoc, Vietnam
JW Marriott Emerald Bay Resort is a whimsical playground that has been conjured up by the luxury hotel architect extraordinaire, Bill Bensley and has to be seen to be believed. We enjoyed a selection of plant based delights throughout the resort as the chefs were eager to impress with 'off menu' creations including this salad like no other salad from 'French & Co'.
February 2019: Fusion Resort – Phu Quoc, Vietnam
Fusion Resort Phu Quoc is a luxury wellness resort where you can enjoy a plant based breakfast next to your own private pool before embarking on a series of all inclusive spa treatments from the expansive and serene 'Maia Spa'. The toughest decision we had to make during our stay was whether to order these Banh Xeo savoury pancakes for breakfast every day, or actually try something else on the menu.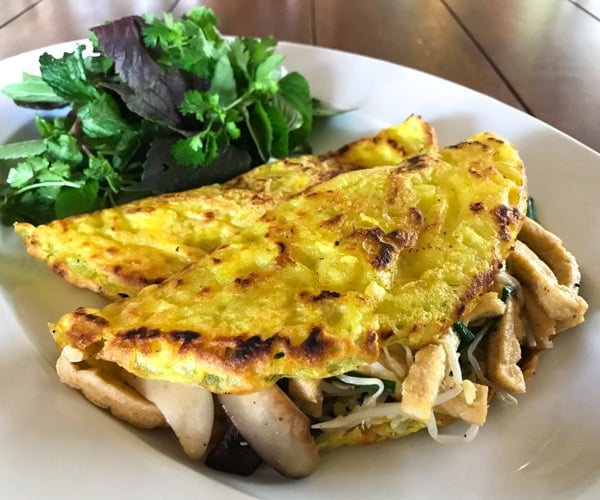 March 2019: Evason Resort – Hua Hin, Thailand
Evason Hua Hin is a luxury coastal resort on the Gulf of Thailand with a unique and incredible plant based offering. They are home to the leading plant based culinary academy in the region, Blue Lotus Hua Hin. Sign up for a 'Weekend Intensive' or 'Speciality Cuisine' course and you could be creating dishes as vibrant and delicious as this trio of tacos that we made during our stay.
April 2019: Six Senses Duxton – Singapore
Six Senses Duxton and sister property Six Senses Maxwell in Singapore are the first city centre properties from Six Senses, a brand synonymous with luxury resorts, sustainability, wellness and healthy cuisine. We can honestly say that these 'Chilled Organic Vine-Ripened Tomatoes' from 'Yellow Pot' at Six Senses Duxton are the tastiest tomatoes we have ever eaten.
May 2019: JW Marriott Hotel South Beach – Singapore
JW Marriott Hotel Singapore South Beach is a modern and stylish hotel with a convenient location in the heart of Singapore offering multiple F&B outlets throughout. Akira Back is where we enjoyed a veritable plant based feast. The menu features a number of vegetarian and vegan options, but request a vegan menu at the time of booking for that extra special experience with dishes including this 'Crispy Tofu with Kochujang Soy and Finger Lime' which was sublime.
June 2019: Shangri-La at The Shard – London, England
You can't fail to miss The Shard, an impressive skyscraper that opened in 2013 and houses one of the finest hotels in London, Shangri-La at The Shard. This luxury property is home to TĪNG which offers unrivalled views of the surrounding city and a 'modern British menu' which features the most incredible carrot based dish we've ever tasted.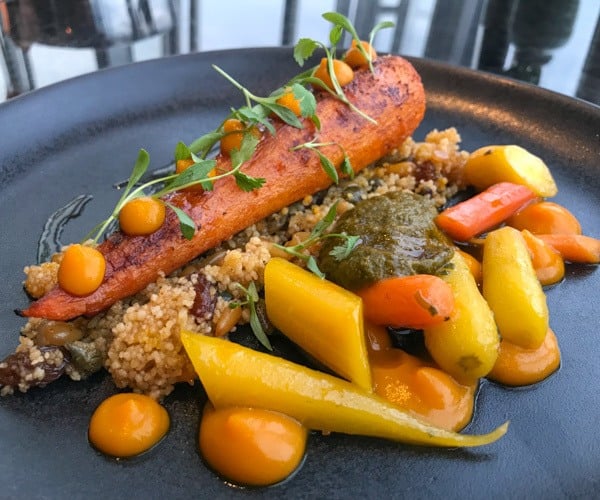 July 2019: La Suite West – London, England
La Suite West is a boutique hotel just a short walk from Hyde Park and home to 'Café Forty One', the only 100% plant based hotel restaurant in London. Hotel guests and diners are in vegan heaven and can enjoy breakfast, lunch, all day desserts and afternoon tea in the dining room, or al fresco on the terrace. There were many highlights but it was this millefeuille with pistachio and seasonal berries that made us smile the most.
August 2019: Shangri-La Hotel – Paris, France
Shangri-La Hotel Paris is the former home of Prince Roland Bonaparte and overlooks the Eiffel Tower and River Seine, it's a palatial property that oozes elegance, style and grandeur. The culinary team have been at the forefront of promoting plant based cuisine to their guests from around the world. We missed the monthly 'Green Dinner' but were lucky enough to enjoy the simply sublime vegan afternoon tea which should be on your plant based bucket list for sure.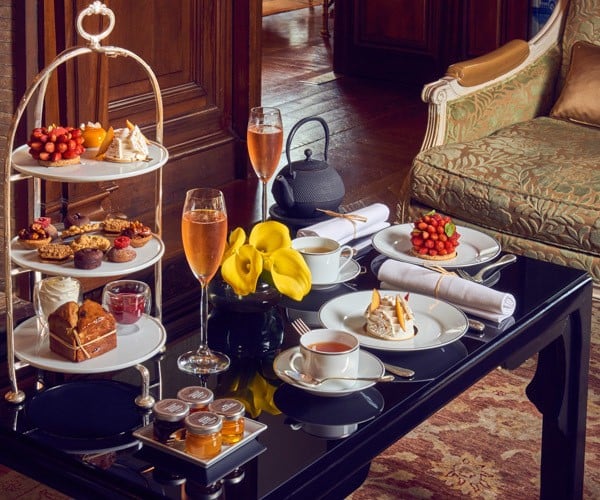 September 2019: Cordis – Hong Kong
Cordis Hong Kong is a modern upscale hotel located in the heart of Mongkok and home to the elegant 'Ming Court', their one Michelin starred Cantonese restaurant. As part of the excellent Green Monday initiative they have introduced plant based options at Ming Court and also the other F&B outlets throughout the hotel. We loved our vegan dining experience at Ming Court and also loved the 'off menu' creation for breakfast featuring an Impossible Burger with porcini mushrooms, asparagus and pan fried potatoes.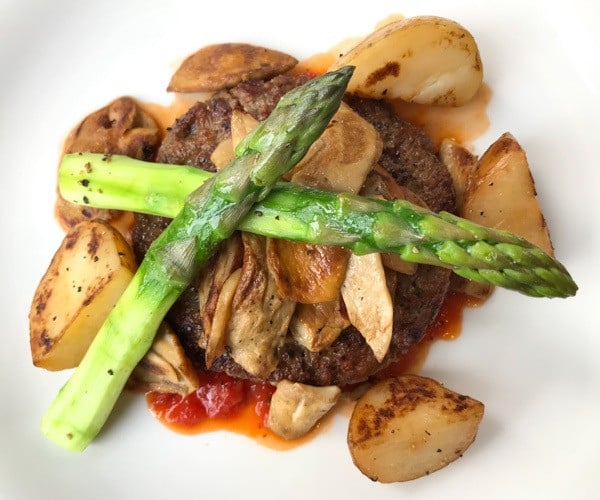 October 2019: Soneva Fushi – Baa Atoll, The Maldives
Soneva Fushi is considered by many to be one of the most exclusive resorts in the Maldives, maybe even the world, so the opportunity to visit was one we were extremely excited by. Our excitement was not just about experiencing this barefoot luxury tropical island, but to dine at the first and only 100% plant based restaurant in the Maldives. 'Shades of Green' is set within an organic garden and that's where your dining adventure starts, foraging with Chef Jenefer as she explains the ingredients and concepts that will form your memorable meal. Wow.
November 2019: Amilla Fushi – Baa Atoll, The Maldives
Amilla Fushi translates to 'My Island Home' and oh my, do we wish we could call this minimalist and stylish luxury resort home. Our white washed overwater villa complete with private pool was straight out of a dreamy design magazine and we felt very much at home. Knowing that there was a vegan menu that is available throughout the resort, in addition to plant based dishes on the exisiting menus, meant that we never wanted to leave.
December 2019: Treeline Urban Resort – Siem Reap, Cambodia
Being able to call Treeline Urban Resort our 'local' is a very special feeling. This design led hotel with a passion for the arts boasts a riverside location and is just a few hundred metres from our home. The fact that they have recently introduced a vegan menu and plant based dishes elevates our passion for this luxury boutique hotel to the highest level meaning we are happy to end 2019, 'The Year of The Vegan' at HOK, their signature restaurant.
If we thought that the rise of veganism had peaked, we would happily relive our 2019 vegan travel adventures again as they were remarkable. But we are confident that this was just the start and 2020 will be bigger and better with plant based and vegan options becoming the norm at luxury hotels and resorts around the world. Long may it continue…
Paul Eyers is Founder of Vegan Food Quest. Vegan Food Quest have become luxury vegan travel specialists as they continue to find, eat and write about the best vegan food in the world.
If you would like to be a guest blogger on A Luxury Travel Blog in order to raise your profile, please contact us.