The Floating City. City of Canals. La Serenissima. Venice, the capital of northern Italy's Veneto region, goes by all these names. Built on 118 small islands in a lagoon in the Adriatic Sea, with no roads to get around, only canals, Venice is unquestionably one of Italy's most picturesque cities. Indeed, the world's. With its 177 winding canals, striking architecture, romantic gondolas taking the place of cars, and 417 beautiful bridges, this is a city built for romance, whimsy, and picture-perfect memories.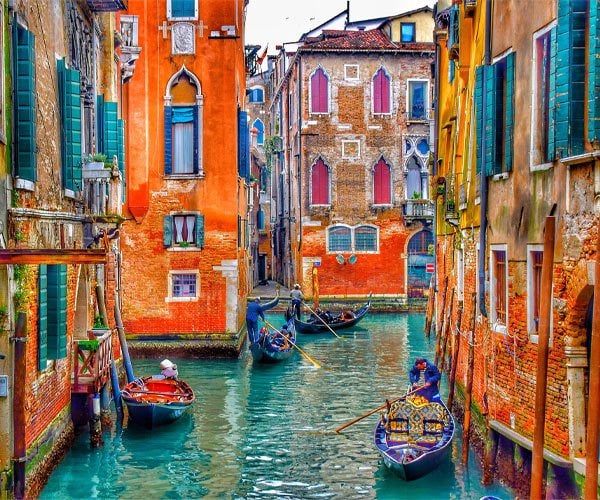 There is far, far more to Venice, though, than Instagrammable marriage proposal opportunities.
Like the fact that Venice is not built directly on the land of those 118 islands, but on wooden stilts, made up of millions of petrified logs driven into the ground. These logs are primarily sourced from Alder trees, a wood known for its water resistance, and were brought to Venice by boat from other countries such as Slovenia and Croatia.
Or the fact that it is home to one of the narrowest streets in the world: Calletta Varisco is just 53cm wide in parts.
It is also home to 450 Renaissance and Gothic palaces, most of which line the Grand Canal, Venice's S-shaped main thoroughfare. Included in this number is the cursed Renaissance Palazzo, Ca'Dario: the series of unexplainable deaths which seem to affect all of Ca'Dario's inhabitants started with its very first owner when the structure was built in 1487. Its latest victim? John Entwistle, famed bass guitarist of The Who, who was leasing Ca'Dario at the time of his death in 2002.
And then there's the fact that Venice is sinking at the rate of 1-2 millimeters a year. Due to both natural causes, such as the shifting of the Adriatic plates upon which Venice sits, and man-made causes, such as the continued extraction of water from the city over the past century, attempts are being made to counteract this sinking. An engineering project to create moveable barriers that will stop the city flooding when tides rise 9cm or more above regular height is currently being floated, so to speak.
All these interesting facts aside, there can be no denying that Venice, first and foremost, remains firmly entrenched in the minds, and hearts of travellers as a city of romance. (A view certainly helped along by the fact that famed playwright and lover Giacomo Casanova hails from here.) There's just something about those canals, and travelling by gondola, that screams romance. Something which Venetian folklore certainly plays into: they say that if a couple in a gondola kiss as they pass underneath each of the city's 417 bridges they will remain in love forever.
Speaking of which, you can't visit Venice and not take a trip in a Gondola – whether you're coupled up or not. For one thing, they are practically the only form of transport allowed in the city: aside from no cars, skateboards, roller skates and bikes are also banned from use in the city. For another, not riding a gondola would be akin to going to Paris and ignoring the Eiffel Tower. Going to Agra in India and ignoring the Taj Mahal. Going to Rome and ignoring the Colosseum.
Used as transport around the narrow Venetian waterways for more than 10 centuries, there are currently around 350 of these traditional boats at work on Venice's canals. In another interesting Venice fact, only 3 to 4 gondolier licenses are issued annually, and there are only 400 licensed gondolas operating in Venice today (only one of which is a woman).
Final fact to know before you go? If you want to see the real Venice, with real people living there, go soon. Aside from the sinking issue, the population of Venice has decreased from 120,000 to 60,000 in the last 50 years and some experts believe Venice could be a ghost town by 2030 with only tourists visiting by day.
If you have a really special photograph you would like to share with A Luxury Travel Blog's readers, please contact us.