While many associate Brazil with the carnival in Rio or the African rhythms of Bahia, the south of Brazil presents a completely different scene. The culture is strongly influenced by European immigration, reflected in everything from the architecture to the music, gastronomy, and habits of the locals.
From family-run wineries to gorgeous beaches, cooler temperatures, hiking trails, unbelievably stunning vistas, craft beer, bucket list events, and incredible cuisine. There is so much to explore, and that is what makes it so appealing. Here are 8 remarkable destinations to visit in the south of Brazil for unique experiences to inspire your next adventure.
Vale dos Vinhedos – enjoy the best sparkling wine of Latin America
Sipping on the best sparkling wine of Latin America is reason alone to visit Vale dos Vinhedos. While tourism is increasing to the main destinations Bento Gonçalves, Garibaldi, and Caxias do Sul, Brazil's wine producing region still feels like one of their best-kept secrets. The region has earned more than 1,000 medals in international competitions for its refreshing espumante, and also offers a great selection of red and white wine. Cabernet Sauvignon, Merlot, Chardonnay, Pinot Noir, Tannat, Syrah, and Muscat are some of the main grapes cultivated in Brazil.
Casa Valduga (don't miss their wonderful lunch), Miolo (their fancy vineyard parties attract a beautiful crowd), and Aurora (the most awarded Brazilian winery), are a few great wineries where only the finest is good enough. A drive along Caminho De Pedra, a 12km historical route full of traditions, culture, and of course, wine, is another must-do. Apart from excellent wine, Bento Gonçalves spoils you with gorgeous views and incredible gastronomy, making you wish for nothing else but more.
Praia Rosa – see whales from your bedroom window
In addition to gorgeous nature, surfing spots, rustic lodges, and beaches described as Brazil's finest that enchant its visitors, Praia Rosa is the best place in the south of Brazil for whale watching. See whales from your bedroom window, as southern right whales (Baleia Franca) come here to give birth and feed their babies between July to November. Boat tours, carefully regulated to protect the whales, are also available.
Most of the population came here to surf back in the days and ended up falling in love with the natural beauty. There is a chance that you will, too. In summer, Praia Rosa presents a happening scene with events and famous DJs spinning records, while it in low season transforms into a tranquil paradise perfect for disconnecting.
Blumenau – celebrate the world's biggest Oktoberfest outside of Germany
More than 3.5 million people speak German in Brazil, and the influences of German culture are especially strong in the south. Indulge in authentic German food and amazing beer in Blumenau, Brazil's little Germany. The annual Oktoberfest in Blumenau is the biggest outside of Germany, with 500 000 visitors passionate about the traditions, music, and great chops.
Between 1824 and 1972, about 260,000 Germans settled in Brazil. The total has increased significantly ever since, perhaps thanks to the German-Brazilian women having an average number of births of 10,6, the highest in the country.
Several beer festivals take place in Blumenau throughout the year, such as the Festival Brasilero Da Cerveja in March. This is the locals' favorite, with 100+ microbreweries presenting their best selection of craft beers.
Balneario Camboriu – dance the night away at one of the best clubs in the world
Ranked one of the top clubs by DJ Mag, a barometer of the best clubs in the world, the nightclub Green Valley in Balneario Camboriu is a destination of its own. With the latest technology, special effects, visuals, lighting, renowned DJs, a large open-air area, open minds, and gorgeous surroundings, you are guaranteed one of the best outdoor clubbing experiences you will ever have.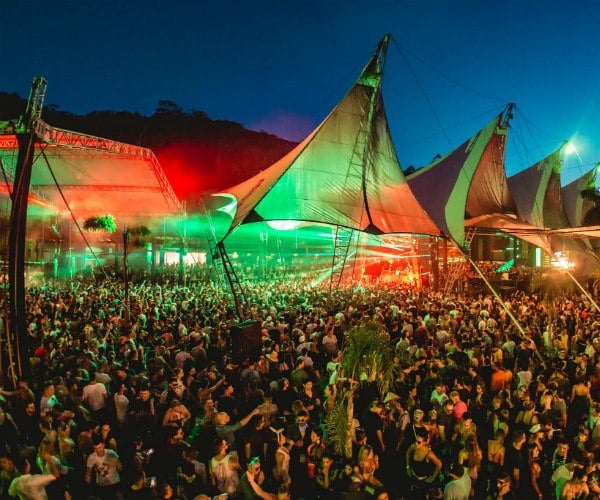 Beautiful beaches, luxury hotels, shopping, modern infrastructure, and scenic roads such as the Interpraias highway, considered one of the most stunning roads in Santa Catarina, will keep you busy in between the dance sets.
Curitiba – dine at one of the world's biggest restaurants and learn about home brewing
Home to iconic venues such as Madalosso, the biggest restaurant in the Americas, and one of the biggest in the world, Curitiba will become your happy place if you like to eat. Madalosso is a favorite among tourists and locals alike, known for its familiar style, Italian food, and, as you might have figured, capacity, of 4600 guests.
The gastronomy in Curitiba reflects the mixed population, with wonderful fusions of Brazilian, Árabe, Ukrainian, Japanese, and Italian cuisine. This is also where you will find the largest number of homebrewers in Brazil, supported by public initiatives all about teaching people how to make delicious beer at home. Alternative bars, lovely parks, botanical gardens, festivals, and historic neighborhoods are other factors contributing to many Brazilians describing Curitiba as their favorite city.
Florianopolis – challenge yourself in one of the world's fastest Iron Man
If you have ever dreamt about doing an Ironman, Florianopolis hosts one of the fastest in the world. In May 2017 Tim Don broke the World Record with the surreal 7:40:23 finishing time. Many other participants did also break their personal records in the same race.
Whether you are here for a challenge like that, or just to unwind, you won't run out of things to do in Florianopolis. 40 beaches, gorgeous lakeside views, lovely gastronomy, and hikes surrounded by pure natural beauty, are other reasons why you will feel like staying in Floripa, or on the magic island, as the locals call it. Once you are here, you will understand why.
Foz de Iguaçu – get amazed by one of nature's 7 wonders
The Iguacu falls, located on the border of Argentina and Brazil, make up the largest waterfall system in the world. The Brazilian side is the country's second most visited attraction and deserves all the attention. 150 to 300 falls of up to 82 meters flow into the Paraná River, with a speed of 1.5 million liters of water per second. During flood periods, the amount of water can increase up to 6.5 million liters per second.
Take a boardwalk into the highlight, the Devil's Throat, an 90 m wide and 80 m deep canyon, to get reminded of how powerful nature is. You can also take a helicopter ride, and cross the border to Argentina to admire the falls from a different perspective. Powerful, unique, and amazingly beautiful. You are up for a treat you won't forget.
Gramado – get into Christmas spirit with fondue, chocolate, and pretty views
While it can be discussed whether the local nickname "the biggest Christmas event in the world' is true, Gramado definitely hosts one of the world's largest Christmas happenings. With light shows, attractions, performances, chocolate, traditional food, and an extensive amount of decorations, Natal Luz attracts approximately 1.5 million people every year.
If you would like to get into that Christmas spirit earlier, Snowland, a winter-themed park with an alpine-style village and ski slopes, is open throughout the year. Brazil's Christmas capital is also known for delicious gastronomy (such as incredible fondue), charming architecture, culture, and pretty views, making it a great destination for enjoying the finer things in life.