Gourmet experiences in New Zealand's boutique wine town
Gone are the days when holidays were for just kicking back. Yes, we all love to wind down on a beach for a day or two with a good novel, but recent trends such as volunteer-tourism and educational-tourism have grown in popularity, showing that hands-on experiences are now a vacation must. And It's not only millennials who are wanting to get their hands and mind busy learning new skills. All ages are keen to get in on the action and learn something new on holiday. On a recent holiday to New Zealand, I made a swing by Martinbough, the country's beloved boutique wine town, for a handful of rather immersive experiences. Not only did I leave afterwards in love with the quaint town, but already planning what I wanted to do on my next visit. Life Enriched Holidays are a local company who offer guests a variety of ed-tourism options, I was lucky enough to have four tasters.
Wine tastings
Possibly the best thing about Martinborough is that the town's 20-plus wineries are almost all within walking or
cycling
distance of the town centre. A unique feature indeed, particularly for those like me who wish to enjoy their tastings without having to worry about driving. It was only in the 1980's that is was discovered that the area's microclimate and terroir were perfect for producing fine cool-climate wines, and in the past three decades a number of boutique wineries have now emerged. My top two winery visits were Devotus for their unreserved and devoted love for Pinot Noir, and Palliser for their exceptional Chardonnay and Sauvignon Blanc. My visits were part of the
Walk Your Wine Talk
tour and so not only did I taste, but also learn more about what I was drinking, how to drink it, and how it was made.
A Michelin food experience
Martinborough is home to one of New Zealand's Michelin-awarded chefs – the talented Adam Newell and you can enjoy his personal tutelage to bumper up your kitchen skills. Sadly, my time was too short to enrol in one of the cooking classes, but I was able to appreciate his craftsmanship at his Union Square Bistro at the Martinborough Hotel.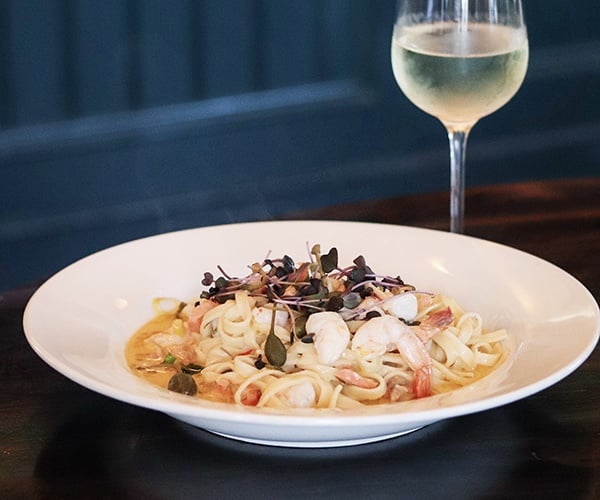 Stargazing
Time to put away the fear of the dark and embrace one of the world's dark-sky areas. I soon discovered that Astro-tourism is growing in popularity, with travellers heading to dark-sky areas in order to take advantage of these Astro-hotspots. You'll be expertly guided through the southern-hemisphere night skies and beyond, with the unique inclusion of Maori astronomy, Polynesian navigation and their deep cultural links.
Gin tasting
When you're ready to take a short break from all the wine tasting, why not try some gin. Two local producers are ensuring that visitors can enjoy their favourite G&T, infused with local botanicals. Lighthouse Gin is smooth and fresh with magnificent herbal & citrus notes, and Reid + Reid's Native Gin contains three native plants: Kawakawa, Manuka and Horopito.
Where to stay
Look no further than the Martinborough Hotel. As New Zealand's longest-running hotel, she's a grand old dame, but still homely and authentic. From her central location in the town square in the town square, everything is accessible by foot or bicycle. Be prepared to step back in time as you're charmed by this Victorian building -a recent refurbishment means the rooms offer comfort and class while you're resting in between explorations.
Did you enjoy this article?
Receive similar content direct to your inbox.