Teeming with wildlife and landscapes found nowhere else on earth, the remote Galapagos Islands are located almost 600 hundred miles off the coast of Ecuador. For most travelers, it's a destination we dream of experiencing in person, though we rarely imagine the reality of what a visit to this iconic location entails.
So, before you dive in to begin swimming with playful sea lions, or have a chance to look eye-to-eye with a 500-pound tortoise, or marvel at the dramatic evidence of this area's volcanic origins, you've got some planning to do.
Here are a few things to consider to get the very most out of your visit to one of the world's most unique and secluded UNESCO World Heritage sites.
1. Select a tour that suits your ability
The rewards of visiting the Galapagos Islands are countless. From Giant Galapagos tortoises to Blue-footed boobies, from curious sea lions to marine iguanas, land iguanas and more — it's an adventure that will remain etched in your mind forever. To experience all this, it's important to be at least moderately in shape if choosing a cruise.
Simply getting off the boat and into a "panga" dinghy, then climbing out of the dinghy on shore can be a challenge. Most of the time, it will be a "wet landing" that requires passengers to swivel over the side of the small boat into calve-deep water. Once in a while, it will be a "dry" landing, but even those involved climbing up slippery stairs.
Then too, there are the walks over rough volcanic fields and hikes that climb to the top of an island for gorgeous views. Given all that, this is a vacation that presents special challenges for people with mobility challenges.
Notwithstanding, a large proportion of Galapagos visitors are seniors. So, even if you think you can't handle a certain activity, you always have the option of enjoying the ships Jacuzzi or bar, or whale-watch, dolphin watching, or simply catching some rays out on the sundeck. While you might not be able to see the wildlife of Isabela Island or the iguanas on Fernandina Island, you can still watch Frigatebirds hovering overhead, spot sea turtles and rays swimming off the side of the boat, or witness Galapagos Petrels miraculously walking on water.
As an alternative, consider a less physically demanding land-based tour, where you will enjoy your tour while staying at a charming island hotel.
2. Dress for success
If you're headed to the Galapagos Islands, you'll most likely be spending long days hiking, boating or kayaking, so it's important to dress appropriately.
Therefore, we suggest you pack or arrange for the following items:
• Hiking shoes: While land excursions in the Galapagos Islands are generally short and the trails typically easy, some walks are over uneven and unforgiving terrain, like fragmented boulders and lava fields with jagged volcanic rock. To deal with this, sturdy closed-toe walking shoes with thick soles and ankle support are critical.
• Walking sticks: These supports are helpful, particularly for travelers with any balance issues. On up- and downhill climbs, walking sticks take some pressure off your knees, and help prevent falls on slippery rocks when it rains.
• Sandals or flip-flops: These are great for wearing on "wet landings," in town, and on board some boats when allowed (some boats provide onboard slippers).
• A hat with a brim: Pack this for sun protection during land excursions and kayaking.
• Rain gear: Pack even an inexpensive plastic Dollar Store poncho. As you'll often be exploring remote uninhabited islands, there will be few places for shelter when wet weather rolls in. Also, as you'll often be traveling on boats and in dinghies, rain showers can occur at any time and the wind can whip up ocean spray into your panga.
3. Take seasickness precautions
Rocking and rolling might be fine when it comes to Chuck Berry or Elvis, but it's not something you'll want to deal with on a Galapagos cruise.
Here are a few precautions you can consider following to ensure you're at your best when vacationing in the islands.
• Bring seasickness medications: The waters of the Galapagos are generally calm, and crews are careful to select protected spots for anchoring. Nonetheless, those who are prone to motion sickness are advised to bring along some Dramamine. What also works well are Scopolamine patches, which are generally unavailable for purchase in South America. These medications can help ward off the dizziness and nausea sometimes experienced on cruise ships and the small passenger ferries that shuttle travelers between islands.
• Choose a season with calmer waters: Note too that the ocean is calmest between January and July, thanks to a shift in the ocean currents around the islands. While you may want to consider taking your vacation during this time, keep in mind that the waves can catch up with you any time of year.
• Select a more stable type of boat (a larger vessel or a catamaran): If you're susceptible to seasickness, also consider the type of boat to choose if you're planning on a cruise. Boats in the Galapagos Islands are limited to a maximum of 100 passengers, with larger vessels being more stable and keeping your ride as smooth as possible. Among the smaller, more typical boats that sail the Galapagos, dual-hull catamaran yachts are more stable than the single hull yachts, thereby reducing — but by no means eliminating — the rocking that passengers experience.
4. Pack plenty of sunscreen
The equatorial sun can be brutal, and the Ecuadorian mainland and its Galapagos islands lie exactly on the equator. This location magnifies the strength of the rays, and most Galapagos tours are completely exposed to the sun. So, it's imperative to bring plenty of high-caliber, water-resistant, SPF 30+ sunscreen and reapply it every two hours. Equally important, bring a sunhat, light-weight long pants and a long-sleeved shirt with an SPF rating of 15 or more to protect your skin.
5. Be prepared for a photographer's dream world
One of the highlights of any Galapagos vacation is the chance for close up photographs of the weird and wonderful wildlife that is unafraid of people. Even the most inexperienced photographer will get some remarkable shots of these exotic creatures and the unusual landscapes all around.
In any case, here are a couple helpful photography tips for optimizing your Galapagos experience:
• Bring an underwater camera: To capture memories of swimming with sea lion pups, floating above sea turtles, and diving with hammerhead sharks, pack your GoPro or bring along an underwater camera. You'll need one. Remember that flash photography is not permitted anywhere on the island.
• Pack plenty of memory cards: Make sure you take lots of memory cards for your camera; few situations are worse than having to decide on which amazing videos to delete to make room for even better ones.
• But also: Take time to experience the islands (without the camera) – Be sure to put your camera away at some point during each activity to make sure you're present in the moment, and creating real memories on your once-in-a-lifetime trip. For example, by trying to get a good shot of a rapidly passing school of dolphins, you might easily miss out on the moment.
6. Book your tour well in advance
If you have time to spend a few days in the islands looking around for a discounted tour, you might be lucky enough to dig up a last-minute deal. However, as the Galapagos Islands is a major tourist destination, it's best to book well in advance, particularly for luxury-class tours, which go fast. Similarly, dive boats tend to fill up quickly since there are so few of them.
7. Bring some cash
While Santa Cruz and San Cristobal islands have ATMs, these can sometimes run out of cash; and while credit cards are also often accepted at shops and restaurants, on occasions they're not. For these reasons, it's always good to bring some cash – if for nothing else then to cover the tips for your naturalist guide and crew, which can easily amount to a couple hundred dollars (NOTE: The official currency of Ecuador is the U.S. dollar)
8. Decide on a cruise or a land-based tour
There are basically two options for visiting the Galapagos Islands land-based island hopping tours or a cruise.
Land-based tours: A land-based Galapagos tour entails basing yourself on one of the four major islands (Santa Cruz, San Cristobal, Isabela or Floreana) and heading out on day trips. If you choose this type of vacation, you'll spend a lot of your time in the Galapagos getting from your hotel, onto a day-trip boat, out to the day's destination, then back to your hotel.
Galapagos cruises: Travelers on yachts sleep in cabins on the boat, which does most of its sailing from place to place during the night. This means passengers wake up in a new destination ready for a full day of exploration. On a cruise, a naturalist guide leads all of your tours and an experienced crew attends to your needs onboard including the provision of great international cuisine for breakfast, lunch, and dinner. As well as providing a place to relax on deck and enjoy the sunset with a cocktail, most cruises also offer evening presentations by the naturalist guides concerning island conservation, cultural history or Galapagos wildlife. Though generally more expensive, cruises allow passengers to get the most of the islands by exploring further afield, visiting sites outside the range of land-based day trips.
Note: Most cruises can accommodate for some minor physical disabilities.
Generally, we recommend a cruise on board an intimate, full-service yacht. However, if you're averse to boats, are prone to seasickness, or dislike the notion of being on a boat for a week, or have a more limiting physical limitation, land-based hotels offer viable options. Consider ones like the unparalleled Pikaia Lodge in the highlands of Santa Cruz Island, or the Finch Bay Eco Hotel on Santa Cruz Island. These hotels have their own boats and guides, which means you'll maximize the time you have to explore the living laboratory that is the Galapagos.
9. Choose between a larger cruise ship or a smaller yacht
If choosing to take a cruise through the Galapagos Islands National Marine Park, travelers should know that ships sailing these waters are limited to a maximum of 100 passengers, though most boats carry substantially fewer passengers. To select a ship and a tour that maximizes your enjoyment, it's worth knowing the advantages of the varying sized ships:
Larger cruise ships: If you are prone to seasickness, larger cruises tend to be the most stable, followed by catamarans. For those who want such stability, as well as extra safety, spaciousness and onboard services (like onboard spas and medical facilities), these larger vessels may be the ideal way to visit the Galapagos.
Yachts: A benefit of traveling on a smaller-capacity vessel is a more intimate onboard experience. With fewer people, you are more likely to get to know your shipmates, develop a relationship with your guide, and be able to ask him or her more detailed questions. Another advantage to small yachts is the fact that often, large ships cannot anchor or disembark at some visitor sites due to their size or a high number of passengers. Likewise, they'll be faster transfer times between your main vessel and the rubber dinghies. In addition to smaller boats tending to have more character and history, their smaller groups generally have less impact on the fragile Galapagos environment.
10. Decide when to go to the Galapagos
There's no "wrong" time to visit Galapagos. Whenever you visit, exotic birds, lumbering tortoises and dazzling marine life will be there – each waiting for you to take their photo. And given that the islands are located exactly on the equator, the temperature varies little throughout the year, averaging between 70°F and 80°F. While it rains a bit more between the warmer December-to-June period, it's rarely enough to limit any particular excursion.
However, the different times of the year offer different things to see and do, as the diving conditions vary (as mentioned, the waters are calmer and warmer between December and July) and the animal behavior varies from month to month – with different mating and reproduction cycles, migration habits, and hatching periods.
11. Plan for early mornings and long days
To get the very most out of each day in the Galapagos Islands, cruises are packed with activities.
Expect early morning starts, with breakfast in the ship's dining room at 7:00 a.m. (or earlier). From there, you'll likely gear up for a hike through volcanic terrain before returning to the ship to suit up for a snorkeling excursion in search of sea lions, manta rays and sea turtles.
In the middle of the day, the equatorial sun can be scorching, therefore you'll have an on-board lunch before relaxing in the Jacuzzi, the observation deck's outdoor lounge, the bar or the entertainment center.
The afternoon will then see you venturing out on yet another land or water excursion, before you return to the ship for a gourmet dinner, followed by naturalist presentation outlining the following day's activities.
Finally, under the beauty of a Galapagos night filled with hundreds of stars or perhaps a full moon, and wafted by the gentle breeze of the rainforest, the multi-talented staff will entertain you with a little live music, while you enjoy an after-dinner drink and the tropical Galapagos breeze …just be sure not to stay up too late – you'll need a good night's sleep for the next day full of activities.
12. Expect to make new friends
Most Galapagos yachts carry 16 passengers or less, which means communal dinners and group land excursions – a great chance to meet fellow travelers from around the world.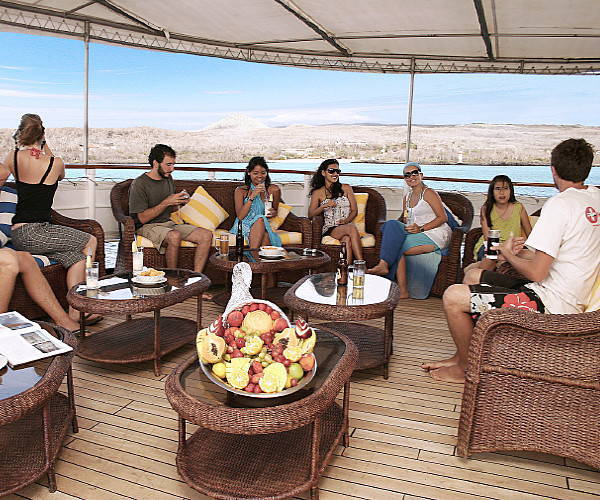 If you're uncomfortable around strangers, travel as a couple or recruit friends and family to join you on the trip.
13. Internet-addict? Prepare to go cold turkey and experience the world
For most of your trip, you'll have no WiFi or internet service. However, this screen-free situation also means more time for observing the wonders around you, a chance to actually to sit and chat with others, and even more time to kick back and relax between outings. (For those who typically get loads of emails, don't forget to put a vacation response on your account; this way, people won't think you're ignoring their messages.)
14. Make the very most of being in Ecuador
As there are no direct flights to the Galapagos Islands, you'll have to take a connecting flight to the islands from the Ecuadorian mainland. This means that you'll have a chance to visit more of this quintessential South American country both before and after your Galapagos cruise. While here, you'll discover it's an all-around fascinating destination — filled with jungles, volcanoes and color-filled indigenous culture!
Definitely plan on spending at least one night on the mainland prior to your cruise; you'll need it to rest up from your international flight and be ready for the adventure to come.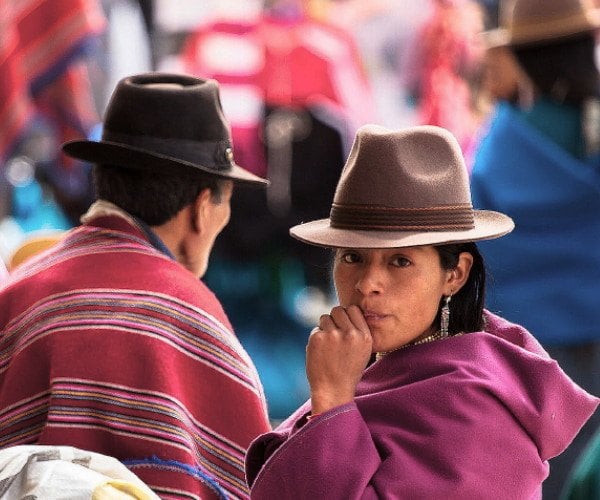 Arriving in Quito late and exhausted, get a good night's sleep, wake up for a half-day guided tour of South America's most well-preserved historic district, leaving you the rest of the day to rest and relax.
15. Prepare to be amazed
The Galapagos Islands are teeming with wildlife and filled with amazing landscapes. A real treasure, words are hard to find to describe the awe-inspiring experience here.
Just be prepared with your hiking shoes, a swimsuit and well-founded expectations of discovering a world like none other.
Alfonso Tandazo is President and CEO at Surtrek Tour Operator. Surtrek Tour Operator is a well-established firm, specializing in custom-designed luxury tours in Ecuador, the Galapagos and throughout the rest of South America.
If you would like to be a guest blogger on A Luxury Travel Blog in order to raise your profile, please contact us.