Whether it's the modern skyscrapers of Tokyo or the old geisha traditions of Kyoto that draw you, or something else altogether, Japan is sure to offer you one of the richest and most rewarding travel experiences. The country is enjoying the global spotlight currently, what with the Rugby World Cup and the Tokyo Olympics, but there are many cultural highlights to also enjoy. If you're inspired to visit this fascinating nation for yourself, then the first thing you'll need to know is whether you need a visa. Courtesy of a collaboration with Visas Japan, this post is designed to tell you in the ins and outs of Japan's visa requirements.
Who needs a visa?
Whether you need a visa to visit Japan depends on your nationality. At the time of writing, there are 68 countries that do not require visas for stays of up to 90 days if visiting for tourism, commerce, conferences, visiting family or friends, etc.
The 68 countries that are visa exempt are as follows: All European Union citizens, Australia, Argentina, Bahamas, Barbados, Brunei, Canada, Chile, Costa Rica, Dominican Republic, El Salvador, Guatemala, Honduras, Hong Kong, Iceland, Israel, Lesotho, Liechtenstein, Macau, Macedonia, Malaysia, Mauritius, Mexico, Monaco, New Zealand, Norway, San Marino, Serbia, Singapore, South Korea, Suriname, Switzerland, Taiwan, Thailand, Tunisia, Turkey, United States and Uruguay.
If you are a national of a country that is not listed above, you will need a visa to visit Japan.
What are the visa entry requirements?
In order to obtain a visa, you must have a valid passport with at least 6 months validity and 2 blank pages. You will also need to submit a completed and signed visa application form, along with a recent colour photograph that is 4.5 x 4.5 cm and with a white background. An official birth certificate or a certified copy is also required and, if the traveller is married, he or she will need to submit a marriage certificate issued within the past year. The visitor will also need to provide a schedule and travel plans for his or her time in Japan.
What kind of visa can I apply for?
There are multiple different kinds of visa that can be applied for when visiting Japan. For short term stays, travellers can choose from a tourist visa, a business visa or a transit visa. Please note that by April 2020, the government of Japan is planning to introduce an electronic visa system to simplify the process of obtaining a visa to visit the country.
For longer stays, visitors have working visas, highly skilled professional visas, general visas, specified visas, diplomatic visas and official visas to choose from.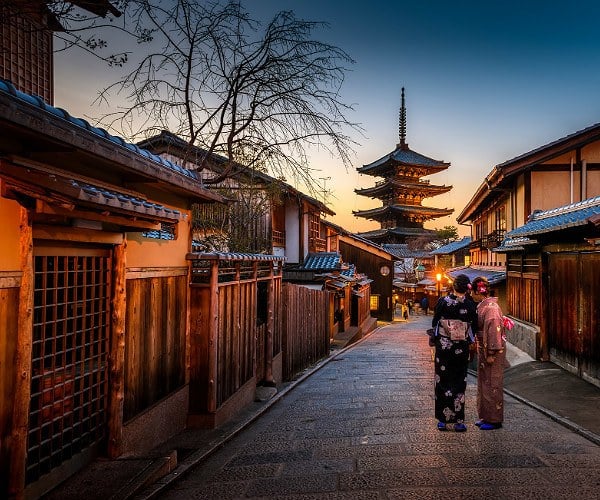 When it comes into effect, the Visa Online System will be the preferred application method. It will only take a few minutes to complete and will negate the need to visit an embassy or consulate in order to obtain a visa. It will also come into effect in time for the 2020 Tokyo Olympics in an effort to boost foreign visitor numbers which are expected to reach 60 million by the year 2030.
Disclosure: This post is sponsored by Visas Japan.