Compelling Hawaiian-inspired dining in Oahu
Oahu, the gathering spot of the Hawaiian Islands, has become the center point of exceptional dining experiences. While most people who visit Hawaii might want the cultural experience of a Luau, the fusion of cooking styles and cuisines make this a one of a kind destination. Expect dishes where Hawaiian culture meets international influence. And with the number of visitors, restaurants are incredibly competitive with you being the dinning winner.
Life's A Beach Wine Festival
Hawaii has roving wine and food festivals that span almost six months on the various islands. With a sunset view, the Life's A Beach combines a variety of wines and dishes (dense on the meat and fish ingredients), into an evening, which is a total event with on the water entertainment and fireworks. Get a ticket, and you get unlimited drinks for this October event at the Ko'Olina cove.
Mina's Fish House
Mina's Fish House on the Ko'Olina side is the only restaurant on the island with a fish sommelier. They are actual fishermen who catch the fish, then present the story complete with suggested preparations. Definitely, a new spin on fresh with each fish being a different twist on flavor and texture, and the whole fish is de-boned before cooking. Other dishes round out the Asian influenced theme in a beach setting. If fresh fish is not your option, try the lobster pot pie for a totally unique preparation and taste.
Morimoto Asia Waikiki
Morimoto Asia Waikiki, at one end of the Alohilani Resort presents his unique Asian-fusion menu. Combined with stunning ocean and sunset views, the food spans Asian tastes from
China
to Thailand. Dishes such as Morimoto Peking duck, lobster chow fun, sweet, and sour crispy whole fish pair well with the unique Iced Kirin beer.
Chef Chai's
Chef Chai's blends classic dishes with an Asian/Hawaiian twist. The fried prawn in a bird's nest with pineapple is an example of his creative approach with regional ingredients. The beef fillet on potato with crisp vegetables, and a foie gras filled mushroom pastry is a fantastic combination. Deserts get the same culinary layering with the Fried Caramelized Banana Cream Cheese composed of banana, caramel, and cream cheese topped with chocolate Grand Marnier sauce and fresh berries.
Orchids
Orchids in the Halekulani Hotel presents a combination of Hawaiian flair with coastal Italian dishes. The setting is beachside, and with the tables well placed is ideal for a romantic dinner, an up-scale business meeting, or any special occasion. The Onaga Cartoccio with tomato guazzetto, scallops, and shrimp gives you seaside Italian flavors in the middle of paradise. Endings get the same creativity with the lemon coconut cake with macadamia nuts.
Alan Wong's
Alan Wong's in Honolulu is a testament to an independent chef who can produce world-class cuisine away from Waikiki. Exceptional dishes meet exceptional service with three sets of eyes guiding the gastronomic pacing through your whole experience. Start with the sashimi poke' with avocado on crispy wonton strips. Expect a good deal of Hawaii meets the ocean with dishes like the twice-cooked short rib with gingered shrimp and Kochu Jang sauce. Expect the same creative approach with deserts like the sorbet plus berries prepared then placed into a frozen coconut shell.
Tommy Bahama
Tommy Bahama in Waikiki gives the perfect rest stop after a day of shopping right on the boulevard. Add a little more shopping in their clothing store downstairs, and then head up a flight for sunset cocktails followed by always-consistent cuisine. One can't go wrong with the mushroom flatbread or the vermouth salmon.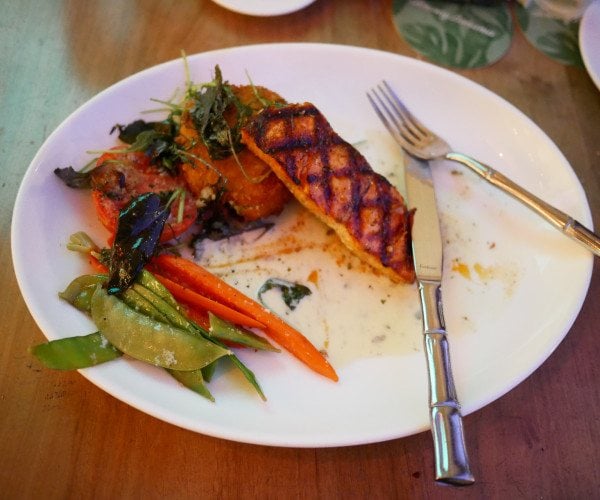 Wai'olu Ocean Cuisine
Wai'olu Ocean Cuisine in the Trump Hotel is placed on an idyllic overlook to Waikiki beach and the adjacent Fort Henry Park. Up-scale Hawaiian ocean cuisine starts with their signature cocktails, like the Ilikea's Mai Tai, (awarded World's Best Mai Tai) with caramelized pineapple and pineapple-Bacardi sorbet. If that doesn't float your aperitif boat, step up with the sake and whiskey flights. Unique dishes include Kona Abalone or Moi fish combined with an exceptional sushi bar. Further testament you can't go wrong is a late-night happy hour and weekly entertainment Thursday to Saturday nights.
Did you enjoy this article?
Receive similar content direct to your inbox.