By
Marc Harris
on Feb 13, 2020 in
Adventure Travel
,
Africa
,
Botswana
,
Kenya
,
Leisure Travel
,
Regions
,
South Africa
,
Speciality Travel
,
Tanzania
,
Zimbabwe
The big five are arguably the most renowned animals across the continent of Africa. Named because they were the hardest to hunt on foot, the buffalo, lion, leopard, rhino and elephant are probably the most photographed and sought-after animals for first time safari goers or seasoned professionals.
There is certainly one animal that stands out from the other five though: the elephant.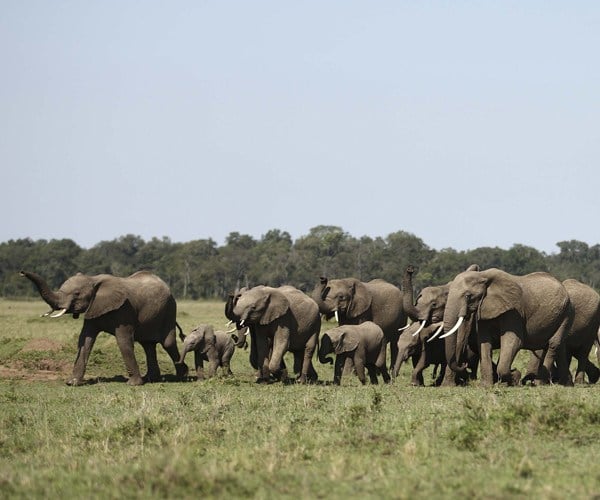 With human-like emotions, the elephant combines raw strength and power with emotion and delicacy that isn't often witnessed in the animal kingdom. And there is nothing more spectacular than coming across a huge elephant bull with tusks that reach the floor. Due to poaching and hunting, such creatures are a rarity in today's animal kingdom as their gene pool has slowly been eroded over time.
Last week saw the death of the iconic elephant Tim. With his huge tusks and imposing figure, this beautiful pachyderm spent his life in Amboseli National Park, Kenya and was the subject of many visitor's photographs. Thankfully he died of natural causes, however with one less elephant of this stature left on the planet, I thought it would be apt to delve into the best places to see elephants on safari.
Kenya
With the backdrop of Mount Kilimanjaro, Amboseli National Park, Kenya remains one of the best places to see elephants, in particular some large tuskers, however with its exceptionally dry conditions and its lack of a large predator population, only the safari purists head here. For an alternative in Kenya, the Masai Mara remains a stronghold for the elephant. With a great population, as well as a plethora of big cats and other members of the big five, the Masai Mara is one of the hottest destinations in Africa.
In the Mara, there are some beautiful options for accommodation. &Beyond's Bateleur Camp based on the rim of the Great Rift Valley allows guests to explore the wilderness by vehicle or on foot. Comprising of two camps, each made of nine tented suites and a family unit, it is one of the most luxurious tented camps in Kenya. Each tent has its own butler and housekeeper and inside the tents is every amenity one could wish for. Located within a private concession, night drives are also possible and game drives are often abundant with animals and some of the seasonal wildebeest migration also passes through the area in July and August.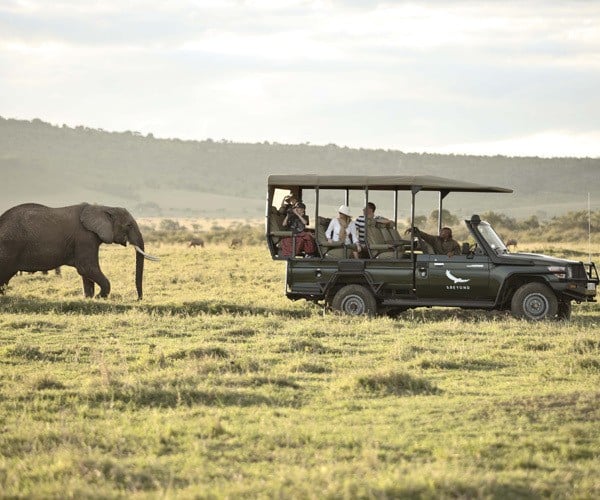 If you have a day or two to spare in Nairobi then the Sheldrick Wildlife Trust is a must visit destination. Whilst most people flock to Giraffe Manor for the Instagramable pictures of giraffes eating from breakfast bowls, across town is an orphanage for young elephants and rhinos that is vital in conservation of the two species. A visit here will not only demonstrate the plight faced by two of the earth's largest mammals, but it will also give you a deep insight into the individual characteristics that each animal has. It is a truly humbling and unique experience not to be missed.
Elsewhere in East Africa a pocket of wilderness exists that is often left unmentioned. Whilst the attention is normally on the Ngorongoro Crater or the Serengeti, Tarangire National Park is often missed or forgotten about. The Serengeti and the Crater do both have a good elephant population, however if you are wanting a real elephant experience, Tarangire is the place to visit and just South of Lake Manyara, it certainly isn't too far out of the way. With lots of riverine thickets and dense woodland, elephants love Tarangire for its plentiful vegetation, however during April and May, most of the camps are shut as the roads flood and the park's wetlands become saturated with the high rainfall. Two great camps in Tarangire are Nomad's Kuro and Asilia's Oliver's.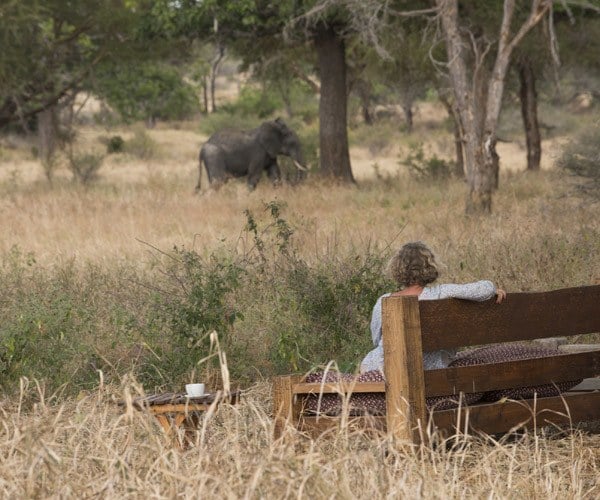 Kuro Camp is located in a secluded riverside grove that blends perfectly in with its surroundings. Elephants often walk straight through camp as do many other browsers and grazers – you may not even need to go out on game drive! With six light and airy safari rooms under a thatched roof, Kuro's rooms are stunning. Similarly, Oliver's is a small and personal camp that excels in service and hospitality. Again, rooms are thatched, open and offer beautiful views into the bush. There really isn't much difference between these camps so it will be tough to choose between the two.
Whilst South Africa is packed with different game reserves, there is one stronghold for elephants that includes the chance to come across some of Africa's biggest tuskers. With an elephant population that makes it almost hard to miss seeing these giants, a stay in some of the lodges in the Greater Kruger is a must for elephant lovers.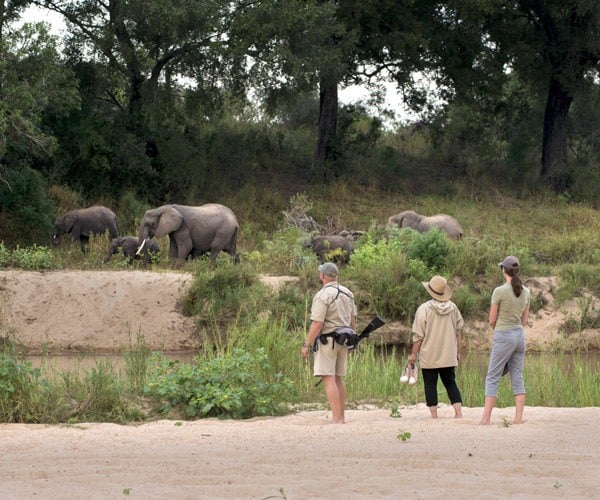 Lodges such as Lion Sand's Tinga and Narina are ideally situated between both the Sand and the Sabie River which provides an ideal habitat for elephants. Located in a private concession within the Kruger National Park, guests here get access to the Park that normal visitors could only dream of. With plenty of water for most of the year and dense foliage, the Sabie River draws in a plethora of elephants, as well as other big game such as buffalo, lion and leopard. That said, both Tinga and Narina are very luxurious and offer fantastic service. Elephants are often seen from the lodge's main deck and the private plunge pools outside of your room, what more could you wish for?
Zimbabwe
Apart from the Great Tuskers of Amboseli, some of the other most-photographed elephants must be in Mana Pools, Zimbabwe. As the dry season grips the land, water and food sources become ever scarcer. As the land dries and the vegetation thins out, elephants (who must eat hundreds of kilos of food every day) struggle to fulfil that diet. The result is a number of bull elephants rising up on their hind legs and reaching with their trunks to the highest branches of the tallest trees. What makes this experience even more enthralling is that Mana Pools is the best place for walking safaris, so not only will you be witnessing one of the most incredible natural spectacles, it is most likely to be witnessed on foot, without the distraction of a vehicle.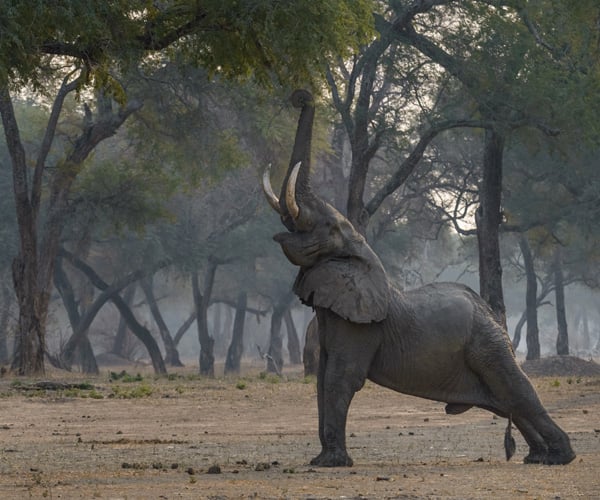 Nyamatusi Camp is one of the most luxurious camps in Mana Pools and gives you a wonderful chance of seeing the elephants on their hind feet.  Made up of only six luxury tented suites, the camp is small and intimate. Each suite has its own private plunge pool, overlooks the mighty Zambezi River and has air conditioning, something of which can be very hard to come by in Mana Pools. The guiding in Zimbabwe is some of the best in Southern Africa and when you combine excellent service, guiding and some of the best food on safari, you really cannot go wrong.
Whilst the dry conditions of Mana Pools are the reason for amazing game viewing in Zimbabwe, it is the abundance of water in Botswana that makes Chobe National Park a must-visit place for elephants.  Whether you're cruising down one of the many vein-like waterways or riding on the back of a game viewing vehicle, Chobe can offer some up close and personal elephant sightings on land or in water. With one of Africa's largest elephant populations and not having to fly from Victoria Falls to get there, you can understand the draw of coming to Chobe, especially if you're on a tighter budget.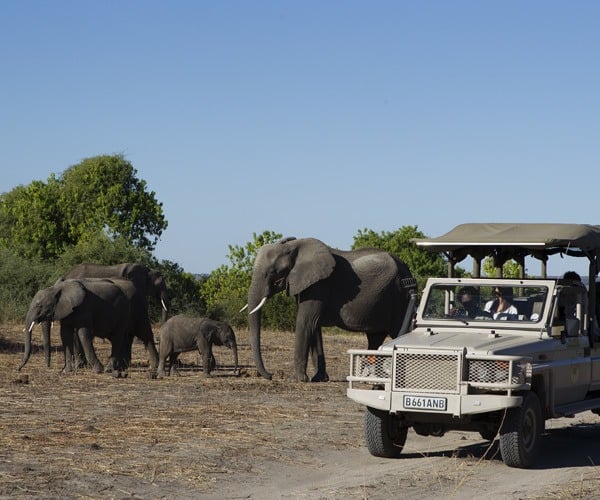 In Chobe, the boat trips that are undertaken are in slightly larger vessels than the Mokoro's in the Okavango Delta. The boats are still a great way to explore the Chobe River and see some of the resident game, especially at sunset with a drink in hand! Chobe Game Lodge offers a brilliant accommodation option should you wish to visit. Although large in size, the lodge is great value for money and offers stunning views over the river and the surrounding wilderness.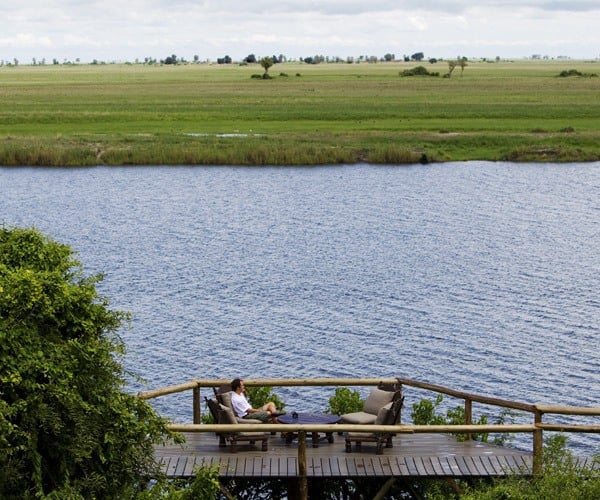 At the opposite end of the country, in the South of Botswana you will find Mashatu Game Reserve. Although the landscape here is vastly different from Chobe in the North, the game viewing here is exceptional. Their photographic hide is one of the best places to photograph elephants from a unique vantage point. With a permanent water source located in front of the hide, animals congregate here and offer brilliant photographic opportunities. Their accommodation ranges from their stunning lodge, a slightly more rustic tented camp and private villas, Mashatu has something for everyone.
Marc Harris is Managing Director of Africa Odyssey. Africa Oydssey is run by a team of award-winning experts offering tailor-made African safari holidays.
If you would like to be a guest blogger on A Luxury Travel Blog in order to raise your profile, please contact us.