By
Thomas Ryves
on Feb 13, 2020 in
Africa
,
Antarctic
,
Asia
,
Cruises & Boat Travel
,
Egypt
,
Europe
,
Greece
,
Indonesia
,
Myanmar
,
Peru
,
Polar Regions
,
Regions
,
South America
,
Speciality Travel
,
Western Europe
For a luxury holiday with a difference, not much beats setting sail around remote islands, hidden coves, pristine beaches and scenic waterways. As Mark Twain said, 'Twenty years from now you will be more disappointed by the things that you didn't do than by the ones you did. So throw off the bowlines. Sail away from the safe harbour. Catch the trade winds in your sails. Explore. Dream. Discover'.
Here are our top five sailing adventures around the world for 2020, which are perfect for pushing the boat out (sorry…) on a trip of a lifetime.
Alexa, Indonesia
Hop aboard the stylish Alexa to cruise around some of the hundreds of islands in the vast Indonesian archipelago, many of which are remote and uninhabited. Built just for two, with one double-bed cabin, the Alexa is a perfect option for couples looking to get away from it all in blissful seclusion and enjoy their very own Robinson Crusoe adventure.
During your sailing trip, eat tasty seafood barbecues round the fire on secluded beaches that you'll have all to yourself (in fact you'll have entire islands to yourself!) and romantic dinners on deck under the stars. Itineraries can be tailor-made to suit you, and from swimming and snorkelling in aquamarine waters and diving in lagoons to unwinding on the beach and enjoying a massage on the sands, they can be as active or relaxed as you like. From an onboard chef to a masseuse, you'll have a crew to tend to your every need.
Alexa J, Greece
Discover Greece's beautiful Ionian Islands, the lands of age-old legends and myths, and tailor your trip how you wish on your own fairytale adventure aboard Alexa's new sister yacht, the Alexa J. This sleek yacht is beautifully designed, and also has just one master cabin for the ultimate romantic cruise. Indulge in supreme luxury, privacy and seclusion, alongside bespoke service: your crew includes a chef, a dive instructor and a spa therapist.
Spend lazy days in the balmy waters of secluded bays, explore the treasures beneath the sea with the expert help of your dive instructor, and feast like a Grecian god, courtesy of your chef. In between, explore sleepy villages and ancient temples, visit olive oil producers and wineries, and sip a glass or two of local wine.
Belmond Road to Mandalay, Burma
Sailing along the Irrawaddy and Chindwin rivers, passing temples and villages along the riverbanks, with pagodas peeking through the trees, is a lovely and leisurely way to discover Burma. Travel the serene waterways in luxury on a river cruise aboard the Belmond Road to Mandalay. Indulge in stylish accommodation and gourmet cuisine, and enjoy exceptional excursions from riverside walks and visits to temples to browsing local markets. This is a chance to experience daily local life by the river rather than just passing by – take tea with local villagers, see saffron-robed monks going about their daily rituals and have the chance to watch craftspeople at work, using age-old skills handed down through the generations.
Back onboard, be entertained with traditional performances, learn local culinary secrets with expert chefs as you dine under the stars, and unwind with yoga and meditation, or take a dip in the pool on deck. Finish a memorable day with a signature cocktail, the Mandalay Rum Sour, made with locally-distilled rum.
Delfin II, Peru
In Peru, most travellers make a beeline for Machu Picchu and the treasures of the Incas (and who can blame them), but discover another side of Peru on a luxury cruise on the mighty Amazon. The Delfin II offers comfortable, spacious cabins with panoramic windows, delicious Amazonian food and intrepid adventures for those keen to get off the beaten track without stinting on modern comforts.
During your cruise, take in the dramatic scenery of the Pacaya Samiria National Reserve, and go on guided wildlife and nature-spotting treks in the rainforest by day and night, spotting wildlife such as red howler monkeys. Kayak around lagoons and creeks, keeping an eye out for pink river dolphins, and soak up the area's rich indigenous culture with visits to local villages – around 100,000 people live along these riverbanks, relying on the Amazon's ecosystem for their daily food and livelihoods. After the day's adventures, have a sunset cocktail on deck before tucking into fresh fish by candlelight.
Oberoi Philae, Egypt
See the unrivalled historic gems of Egypt aboard the Oberoi Philae, which travels down the Nile and is the ultimate way to experience this unique part of the world and its hundreds of years of fascinating history. The ancient Egyptians believed the Nile would carry them into the afterlife, which is the reason why many historic and religious landmarks have been built along its riverbanks. During your cruise, see treasures from centuries-old temples to the tomb of the legendary boy-king Tutankhamun.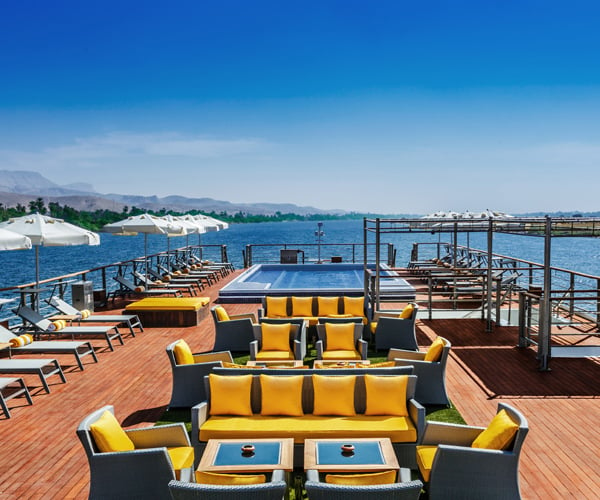 The Oberoi brand is synonymous with luxury and opulence, and this ship is no exception: guests are certainly treated to an exclusive cruise. The Oberoi Philae has just a handful of luxurious cabins and suites with private decks (some suites have their own terraces with Jacuzzis), and there's also a movie theatre, a pool and a spa onboard. You can also benefit from small-group tours with expert guides, and the Oberoi ships have private docks in key areas of interest, further avoiding the crowds.
The Magellan Explorer, Antarctica
Antarctica really is a once-in-a-lifetime bucket list destination, and epitomises the true spirit of adventure – and if you travel to these remote lands of jagged icebergs, penguins and whales, you should do it in style. The Magellan Explorer is a brand new ship which has been custom-built to sail these icy waters, and the air-cruise itinerary gives you the memorable experience of flying from Punta Arenas to King George Island in the South Shetland Islands, before boarding the ship to continue your journey.
Each itinerary is different, with knowledgeable guides taking advantage of the best experiences available at the time, according to the whims of Mother Nature. As well as exploring these stunning surroundings each day by Zodiac boat, back onboard you can learn more about Antarctica thanks to expert lectures about the areas you are travelling through, tuck into delicious meals, unwind with a drink from the bar, and make the most of the sauna and the gym. In between, relax in the glass-enclosed observation lounge, soaking up the views and doing some wildlife spotting from the comfort of the ship, before retiring to your cabin for the night. Most of the cabins have private balconies (the Grand Suites even have two) – ideal for taking in the ever-changing Antarctic scenery.
Thomas Ryves is Marketing Director at Exsus Travel. Exsus Travel specialises in creating the very best luxury tailor-made holidays, honeymoons and family adventures in over 80 destinations worldwide.
If you would like to be a guest blogger on A Luxury Travel Blog in order to raise your profile, please contact us.