Vietnam is a remarkable country offering intrepid travellers nature, history, countryside, beaches and some wonderful vegan food if you know where to look. There is a very good understanding of vegetarian and vegan food in Vietnam due to many of the Buddhist population choosing to eat plant based food on auspicious days in line with the lunar calender. This makes vegan travel in Vietnam an absolute pleasure with everything from street food to fine dining available. Whether you travel independently, with a tour company or book your own luxury hotels you can enjoy an amazing plant based adventure in Vietnam.
Grasshoppper Adventures
Our recent trip to Vietnam commenced in Hoi An where we joined a countryside tour with Grasshopper Adventures who are the leading mountain bike tour company in the region. We set off from their Hoi An HQ with our Refill not Landfill water botttles (no single use plastic bottles on this tour) excited for our latest 2 wheeled adventure. Their website said we would "discover family farms, artisans, hidden sights and tasty treats" on our tour and we can say that we discovered all of this and more. Tranquil riverside views? Check. Picturesque rice paddy views? Check. Village life? Check. When you join a tour with Grasshopper Adventures be prepared to take 100's of photos as you meander your way through your chosen location. Also expect an excellent and knowledgeable guide who will answer all of your questions and make sure you don't go hungry. You will pick up snacks and tasty treats along the way and don't worry, your guide will ensure that anything you eat will be 100% vegan and delicious!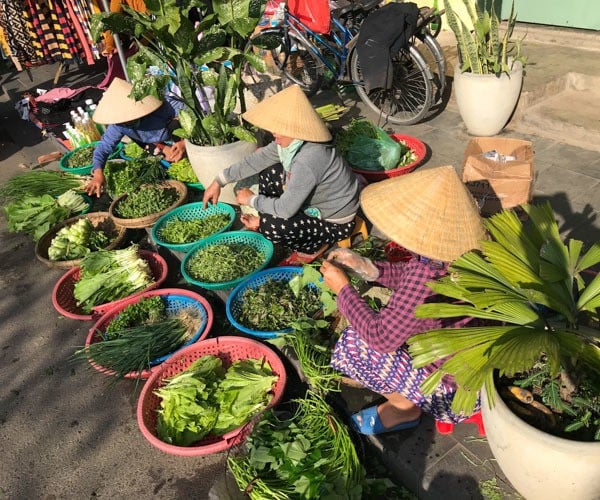 We made rice milk and rice paper with a family who had been doing so for generations; suffice to say that they were uber proficient at this labour intensive task and we were rather substandard. None the less we got to eat the rice paper both steamed and toasted with a soy sauce and chilli dip and they were not bad indeed. However, it was the banh beo which stole the show, delicious steamed rice cakes topped with a turmeric rice custard and deep fried shallots that we could have eaten all day long.
Art Space at Anantara Resort Hoi An
Hoi An has an incredible amount of vegan options available but there was one that stood out for us. As pizza lovers we didn't expect to find vegan pizza with vegan cheese in Hoi An so were excited to discover Art Space, the creative gallery and restaurant at Anantara Resort Hoi An that features vegan pizza on their menu! We ordered 2 pizzas, one from the menu with creamy cashew cheese, white beans and vegetables and the other 'off menu' with the addition of tomato sauce. They were both superb, some of the tastiest vegan pizzas we've ever had.
Anantara Hoi An Resort offers multiple vegan and plant based dishes throughout the resort. These include vegan wines on the wine list, a dedicated vegan section on the 'Riverside' menu and even plant based burgers, a mushroom wellington and vegan 'chicken' leg at their monthly pizza, BBQ and wine events. They certainly go above and beyond to ensure their vegan guests are very well catered for and we can't wait to return!
Meliá Ho Tram Beach Resort
Next stop on our vegan tour of Vietnam saw us heading to the beach. The recently opened Meliá Ho Tram Beach Resort invites guests to "experience the essence of Mediterranean luxury" and is located just a 2 hour taxi from the hustle and bustle of Saigon presenting the perfect weekend escape. We checked into one of the super stylish The Level villas complete with private pool, concierge and access to The Level Lounge which offers all day refreshments and evening cocktails. The hardest thing during our stay was deciding where to spend our time. The beach? The stunning main pool? Our own private pool? Or head off and search for some delicious vegan food…
We went searching for vegan food of course and we are happy say there was plenty available at Meliá Ho Tram. During breakfast at SASA there were vegan options on the extensive buffet and helpful staff who were happy to create 'off menu' vegan dishes including these healthy and nutritious smoothie bowls. In fact, we were served different smoothie bowls every day and they were all excellent.
We loved the selection of fresh juices available all day from Elyxr where there were also baguettes, wraps and salads on offer which could be easily veganised. Our 'Sunny Morning' and 'Immune Booster' were packed with goodness and as with all outlets at Meliá Ho Tram, were served with a bamboo straw which made us smile.
As 'The Level' guests we could also choose to have breakfast at Breeza Beach Club which boasted an enviable beachside location. It was not just the location that impressed us, our vegan 'full English' breakfast which was created by Chef Mehdi and his team was outstanding. Preceeded by one of the superb smoothie bowls and accompanied by an almond milk cappuccino we were in vegan breakfast heaven.
Lunch at Breeza Beach Club was a veritable vegan extravaganza which included this mezze platter from the main menu. We were also served an equally vibrant bruschetta platter, a vegan burger and a vegan tofu wrap for us to savour which were all created by the chef and his team to ensure our vegan lunch was memorable.
MUÔI is the signature restaurant at Meliá Ho Tram Beach Resort and offers guests a Vietnamese dining experience during their stay. We enjoyed a plant based meal that featured items from the main menu including this stir fried rice noodles with vegetables and tofu and ended with a classic dessert with roots firmly in Thailand. Mango sticky rice is a sure fire crowd pleaser and this refined version of a street food classic presented the perfect finale.
Le Méridien Saigon
Le Méridien Saigon is a luxury hotel in the heart of Saigon boasting contemporary interiors, exclusive artwork and a location that is perfect for exploring everything that this vibrant city has to offer. Enjoy Saigon River views from your room or suite then head to the 'Explore Spa' for some pampering or the 24 hour fitness centre for a workout safe in the knowledge that when it comes to dining, Le Méridien Saigon offers a number of vegan and plant based options.
We enjoyed vegan options in the Club Lounge and also at breakfast which is served in Latest Recipe, the all day dining restaurant on the ground floor. Dishes included specially prepared vegan dim sum in the Club Lounge and a selection of fried noodles and vegetables from the breakfast buffet at Latest Recipe. Staff in both locations were super helpful explaining which items were suitable for vegans and arranging 'off menu' dishes also. These included a delcious chia seed and fresh coconut water drink at breakfast and vegan sushi in the Club Lounge.
Bamboo Chic
Bamboo Chic serves modern Vietnamese cuisine and we were lucky enough to enjoy a vegan dining experience that was truly memorable. This open plan restaurant with far reaching views of the Saigon River was the perfect spot for a lazy lunch after a busy morning exploring. Each day they offer a 'Discovery' vegetarian set menu which was 100% vegan on the day that we dined. In addition to this there area variety of vegetarian side dishes which are also vegan. The food was fresh, flavourful and combined with the excellent service provided us with one of the most enjoyable meals we enjoyed during our trip.
We have visited Vietnam multiple times over the years and it never fails to amaze us. Our never ending vegan travel adventure will see us return to this Southeast Asian country very soon. Watch this space to read all about it!
Paul Eyers is Founder of Vegan Food Quest. Vegan Food Quest have become luxury vegan travel specialists as they continue to find, eat and write about the best vegan food in the world.
If you would like to be a guest blogger on A Luxury Travel Blog in order to raise your profile, please contact us.