If you have a serious passion for skiing, you may decide the odd holiday is not enough to quell your adrenaline urge.  Investing in any property is a huge emotional and often financial upheaval, however the returns can be tempting and if you're happy to let your property it can in some cases even pay for itself.  Thus, freeing you up financially to enjoy some serious time on the slopes!  Saas Fee in Switzerland could be a good long-term hold in terms of both return on investment and sheer pleasure and luxury.  We have highlighted below a few of the reasons why you should look to this Swiss beauty if you're considering a purchase in the Alps (or indeed a holiday!).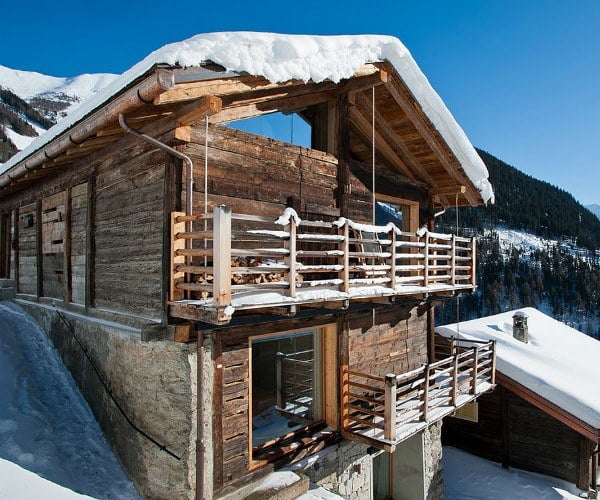 Swiss Alpine charm
Saas Fee is a traditional chocolate box, Swiss village which sits at 1,800 m but offers fabulous skiing up to the heady heights of 3,600 m.  If you're looking for a snow sure resort this is a good place to start.  The village itself is car free and very pretty with traditional chalet style architecture.  It is surrounded by 16 snowy peaks and attractively nicknamed 'The Pearl of the Alps'; it offers Alpine charm by the bucket load coupled with Swiss efficiency and service.  Saas Fee's farming heritage is evident, with traditional alpine huts filled with livestock over the winter, set alongside a bustling tourism industry.  There is a modern lift system and gastronomic delights to enjoy ranging from traditional rustic fayre to Michelin star dining.
Snow security
At 1,800m Saas Fee boasts an enviable altitude for the increasingly warm winters we are facing.  Ski seasons are getting shorter and less snow sure in many of the lower resorts across the Alps.  Several studies have shown a gradual decrease in snow depth and cover duration since the 1980's and low to middle altitude resorts are suffering the most.  Resorts that once enjoyed guaranteed snow cover are now struggling through the first and last few weeks of the season with snow cannons and careful piste management but sadly it appears to be only moving in one direction.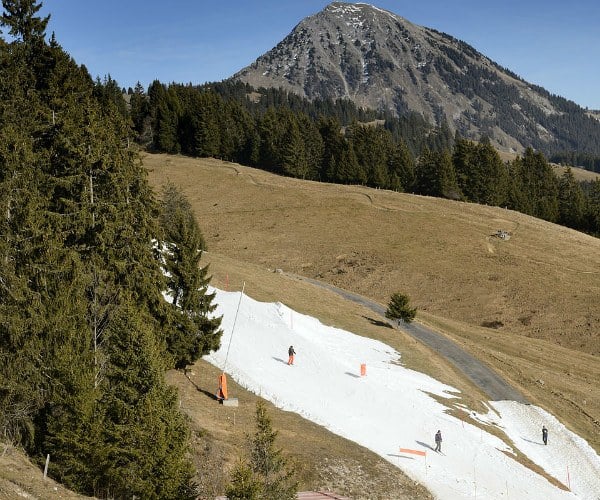 Switzerland benefits from many high alpine resorts.  Property experts Savills have created a Ski Resilience Index which looks at a combination of factors including altitude, temperature, snowfall, reliability and season length and have ranked fifty-six ski resorts from all over the world.  Saas Fee comes in at an impressive second place after another Swiss gem, Zermatt – both resorts have been at the top of this list for the past three years.  Zermatt is no longer available to foreign buyers and even if it were, unless you are an oligarch it is fairly astronomical in price terms!
As a comparison to Saas Fee, the popular resorts of Courchevel and Meribel in the French Alps are found only at positions 44 and 46 respectively in the resilience index.  Worldwide the investment in the infrastructure and lift systems is by far the most impressive in the European Alps (compared to the US/Japan etc) with almost one hundred new lifts for the current 2019/2020 season.
Saas Fee has primarily north facing slopes and the majority are above 2,500 m in height which ensures the snow is maintained throughout the season. There is even the possibility of skiing in the summer months on the glacier.
Activities
There is so much to offer both off and on the slopes.  The Mittelallallin glacier provides summer skiing and in winter there are over 100 km of piste to explore.  Expert skiers may find the (relatively) small ski area limited and Saas Fee is best suited to beginner and intermediate levels. There are a good selection of ski schools (including Oxygene and New Generation) providing English speaking instructors and guides.
A visit to the Allalin Ice Pavilion is a must; the ride there alone will be an adventure – travel up the highest underground funicular railway in the world the 'Metro Alpin' which whisks you up to 3,500 m and an ice grotto with amazing ice sculptures and even an avalanche simulator.  You can follow this up with a meal at the highest revolving restaurant in the world, Allalin, which takes one hour to complete a rotation and provides you with stunning mountain vistas while you enjoy some Savoyard cuisine!
If you need a further adrenaline rush after a day on the slopes, give the Feeblitz a go – one of the highest toboggan/roller coaster runs in the Alps, you start with the fairly relaxing ascent, a 55 degree incline up through pretty forests before reaching the top and then hurtling back down at speeds up to 40 km/h!  If you prefer more control over the speed of your toboggan, try the Hannig sledging run for a five-kilometre descent at (more or less!) your own pace.  Unusually for a ski resort, Hannig is an entire mountain area set aside for varying activities on the mountain aside from skiing and snowboarding and includes the sledging run, snow shoeing and cross-country skiing.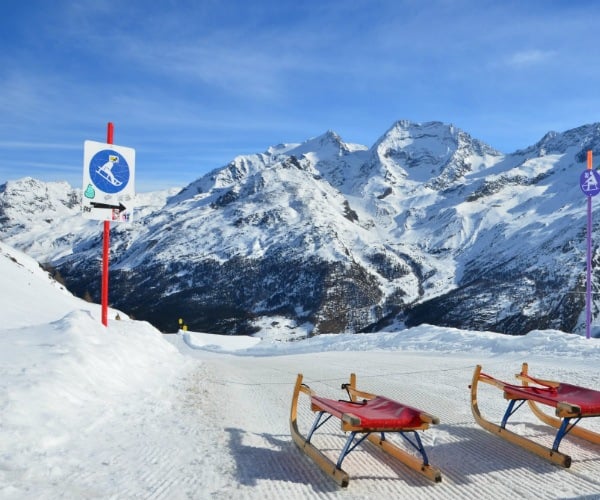 For some time to unwind, try the Aqua Allalin leisure centre which provides indoor and outdoor pools and a children's pool complete with tunnel water slide, sauna and spa facilities.  There is also the Saas Museum, a small house/museum showing what life was like in the Saas Valley one hundred years ago and gives an interesting insight into historic mountain village life through clothing and artefacts on display.
Luxury accommodation and restaurants
Whether you choose to invest in or simple holiday in Saas Fee there is a wonderful choice of restaurants and hotels to choose from. For luxurious, chalet chic style opt for The Capra as your base – it is a beautiful, five-star boutique hotel with all the trimmings. Enjoy a relaxing massage after a day carving up the slopes or swim in the indoor pool. The restaurants focus is on local, sustainably sourced food with a Swiss alpine feel and the twenty-four bedrooms and suites are beautifully appointed in an alpine style. Whilst located in the village, the Capra does have a ski in ski out cabin on the slopes where you can deposit your ski gear until the next day.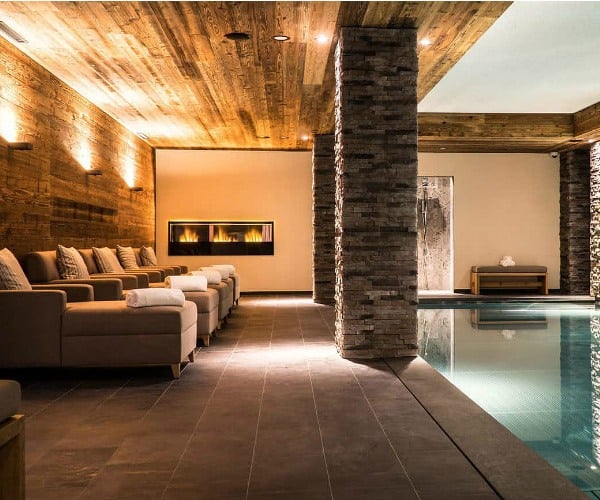 For grander style luxury the centrally located Relais and Chateaux Walliserhof Grand-Hotel & Spa has undergone an eight-month refurbishment in 2019. It provides eighty rooms with a large spa and three different restaurants offering a range from pizza to swiss dishes to more varied international cuisine. The rooms have been carefully designed and can accommodate single travellers through to families. The style is modern alpine and there is plenty of wood, stone and wool fabrics and some have their own balconies complete with a view of the glacier.
For dining on and off the mountain there are over forty restaurants to choose from, you will not go hungry! There are swiss Stubli style offerings if you feel like indulging in a fondue or raclette, or more international cuisine available in many of the hotels in the town. Up the mountain there is everything from a simple mountain refuge like Brittaniahutte to luxury Spielboden offering anything from lobster and salmon to a Valais meat and cheese platter to enjoy under sheepskin rugs!
Value
In terms of price, whilst Switzerland is never going to be considered a bargain destination there is some value to be unlocked in the right resorts.  There are constraints on foreign buyers and the property market is highly regulated and can be confusing to the uninitiated.  There are 26 different cantons (regions) and all have their own legislation regarding foreign purchase of property.  Generally, foreign buyers may purchase property in tourist areas and therefore most ski resorts fall into this category.  However, there are restrictions on the construction of second homes and thus buying new build property in Switzerland is very difficult.  In resorts such as Zermatt, foreign buyers are completely off limits.  However, Saas Fee (in the Valais canton) is welcoming foreign investment and there are no local restrictions.  Aside from the fact foreigners may not resell their property for 5 years from purchase (unless in financial difficulty or illness in which case an exemption may be made but no profit will be permitted on the sale).  UK buyers are taking advantage of the competitive borrowing rates and lending from Swiss Banks of up to 70% of the purchase price coupled with some of the cheapest purchaser buying costs (around 3 – 3.8% average) in Europe.  Buyers should also be aware that there are annual property taxes to be paid.
Saas Fee profits from an attractive gap between its high 'resilience' rating and the price per square meter for residential property.  The average price is 8,400 euros per square meter (compared to Verbier at 20,000 Euros) and properties let well with an average occupancy of 19 weeks per season with the remainder taken up by owners, their families and friends.