Soaring 123 floors into the Seoul sky, the Lotte World Tower in South Korea may not be the tallest building in the world (it comes in as the world's fifth tallest for the record), but it can boast three other, possibly even more impressive, 'world records'.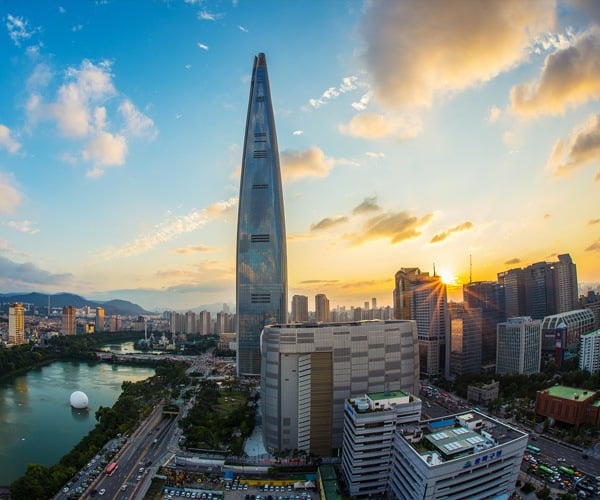 One: it is home to the world's highest glass-bottomed observation deck, at a vertigo-inducing 478-metres (1,568 feet) above a busy Seoul intersection. Situated on the 118th floor, if you find yourself with the courage (and trust in its engineers) to stroll onto this glass-floored treat for thrill seekers, you'll be viewing the world from half a kilometre above ground.
Two: it boasts the world's highest swimming pool, located on the 85th floor.
Three, and perhaps most thrilling of all, it is home to the world's fastest elevator, which can zoom visitors from bottom to top – 555 metres up – in just one minute.
A sleekly tapered swathe of steel and glass, it is just as impressive for its sheer artistry as its remarkable feats of engineering (and imagination). That said, is it ever a feat of engineering, though!
Not only does the Lotte World Tower dwarf the Korean capital's next highest building, Three IFC Office Tower, by nearly 300 metres, but that speedy elevator (aptly named 'Sky Shuttle' by the way) previously mentioned? As well as being lightning fast, shooting its occupants into the blue at 10 metres per second, it also happens to be a double-decker, boasting twice the capacity of a conventional elevator.
Consisting of two attached cabins stacked on top of each other, with each cabin holding 52 passengers, the Sky Shuttle connects visitors directly from the basement to the observation deck, skipping all floors in between – which just happen to be full of high end shopping complexes, offices, residential apartments, and a 7-star hotel. Plus, to add to the amusement park ride effect, inside the lift cabins passengers are treated to 15 OLED displays, offering a virtual tour of Seoul during the 60-second ride.
Back on solid ground, it's safe to say that even those of us who prefer our travel slow (or even just from the safety of our armchairs) can marvel at the beauty of the Lotte World Tower. Thanks in no small part to a design by Kohn Pedersen Fox Associates (KPF) who drew inspiration for the building's design from the traditional Korean art forms of ceramics, porcelain and calligraphy. Gently tapered and featuring an uninterrupted curvature, its undeniable grace and artistry is further highlighted by silver insulated glass and filigrees of white lacquered metal. It is little wonder that the Lotte World Tower received the 2016 Excellence in Structural Engineering awards from the Structural Engineering Association of New York and the National Council of Structural Engineers Associations.
Whether you're a fan of heights or no; enjoy gravity-defying, speed-record-setting rides or no; or have the guts to walk out onto a glass-floored bottom 500 metres above the earth or no, there can be no denying that everything about the Lotte World Tower is quite extraordinary.
If you have a really special photograph you would like to share with A Luxury Travel Blog's readers, please contact us.