Exploring a national park by 4×4 is exhilarating, but doing it on horseback brings with it a whole new level of excitement. Without the growling of an engine you can approach much closer before starting to disturb the game. Horses are not noisy, or invasive. Wild animals are aware of the horses' presence but completely unconcerned: their smell is familiar and unthreatening. As a rider you have an elevated view of the landscape, and can spot wildlife more easily.  Horse riding also has health benefits which include exercise, core strength, better mental health, and better posture. You're not putting yourself in danger, you can cover miles of territory per day without getting tired, and your mode of transport is completely eco-friendly! What's not to enjoy?
If you're a beginner in the saddle, you don't have to worry. Here are some lodges and camps which offer riding experiences for guests of all levels, from complete novices to confident horsemen. The number of hours in the saddle, distance you ride, type of horse, and the level of input from your guide/instructor can all be adjusted depending on your level of skill and confidence.
Curious about where to ride on safari in Africa? Here are three suggestions.
Ant's Nest, South Africa
Horse riding at Ant's Nest and its sister property Ant's Hill is a completely family-friendly affair. There are horses and ponies for riders of every age and ability, all of which are fit, reliable and well-trained. The herd is almost 90 horses strong, so you have plenty of options to choose from! RIding amongst the rhino, zebra, and antelope is unforgettable.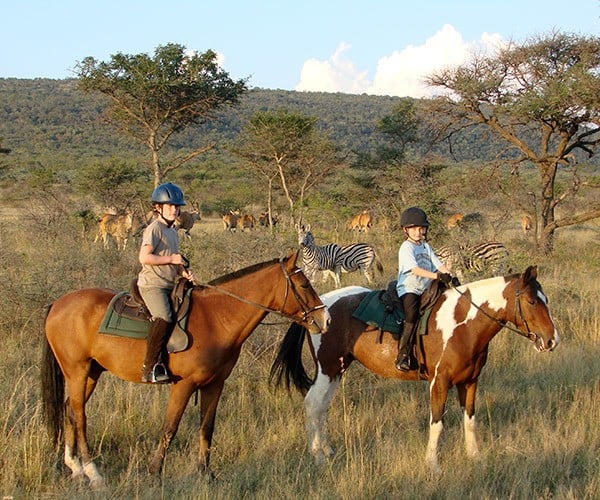 If you're a new rider you can have a taste of a riding safari with a half-day session, led by an experienced instructor and guide. Those with more confidence can hack morning and afternoon, and even take multi-day riding safaris. The pace of classes and hacks is adjusted to meet the needs of each individual, and you'll be encouraged to improve your technique. You can choose between Western and European saddles, and helmets are provided for safety reasons.
Borana Lodge, Kenya
Borana is perched above the forested hills and valleys of a large private game reserve in northern Kenya and shares an unfenced border with the Lewa Wildlife Conservancy. This is a stronghold for endangered species such as rhino, elephant and Grevy's zebra, all of which you can encounter on horseback. Throughout your stay you can set off with highly experienced riding guides, taking each hour as it comes. The wide-open spaces are perfect for cantering and galloping across the hills, rivers, escarpments, pausing for scenic bush stops whenever you please. If you wish to explore out of the saddle, you can also choose to mountain bike, hike and of course, take expertly guided game drives, day and night.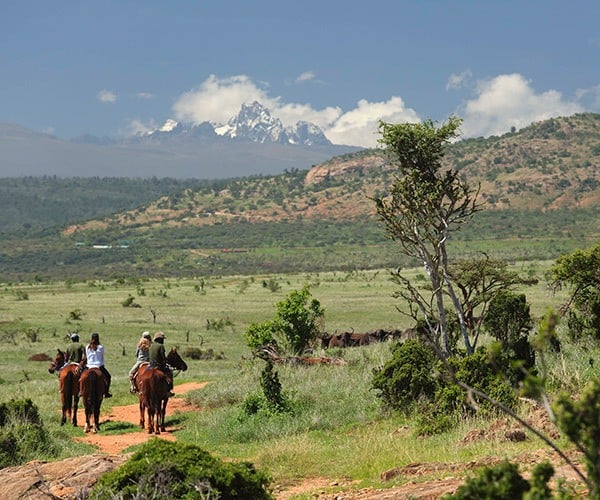 If you are interested in a longer horseback expedition, you can take one of Borana's Riding Wild safaris. These nine-day journeys are perfect for the more intrepid equestrian, as each night will be spent in a private fly camp beneath a canopy of stars. Each day is a new adventure as you explore the hills in detail – you will visit hyena dens, hidden rock pools, and discover ancient rock art, all in the company of Borana's expert horseback guides.
Kujwana Camp, Botswana
The best way to discover Botswana's Okavango Delta is on horseback: from the saddle you can see over the tops of the grasses and the trees. You'll spot giraffe, herds of wildebeest and lechwe, and even rhino as you canter through the shallow waters between the delta's numerous islands.
Botswana's watery wilderness is almost impossible to traverse by vehicle as there simply are no roads. Horses are unconcerned about the marshes, confidently striding on. You'll have a choice of some 60 horses, so there is a mount for every type of rider, and you can gain confidence in the lunging ring before heading out on a bush ride.
A riding safari is an active way to explore Africa, but one which is completely flexible depending on your level of skill, fitness, and interest. If you dream of riding across plains through herds of zebra, or of hacking to the top of the ridge at sunrise, then its time to start planning!
Laura Burdett-Munns is Managing Director at Africa Exclusive. Africa Exclusive has been creating the finest tailor-made safaris since 1990, specialising in luxurious accommodation in beautiful remote places.
If you would like to be a guest blogger on A Luxury Travel Blog in order to raise your profile, please contact us.