There can be few things in life more spellbinding than gazing at the Milky Way stretch endlessly out into the inky black of the African night sky. In the northern hemisphere we seldom get to experience anything like it. Away from the omnipresent light pollution of the north, Africa offers glittering night skies that will literally take your breath away.
While you might say this is about as good as it gets, we believe a good dose of excellent food can always add to the pleasure. Forget Michelin's amateurish 3 stars, we are talking about several thousand star meals! Join us as we look for the best tables from the beaches of Mozambique to the world's oldest desert and little bit of everything in between.
&Beyond Benguerra Island Lodge
Languishing on the shores of the Indian Ocean is &Beyond's sumptuous Benguerra Island Lodge, a true tropical island paradise. Mozambique has remained under the radar in comparison to its more famous Indian Ocean counterparts like Mauritius and the Seychelles, and consequently tends to be a little more laidback and intimate, perfect then for a romantic meal under the stars.
Before the main event though, why not enjoy a sundowner drink from the gorgeous Dhow Bar, celebrating the end of another trying day lying in the sun and swimming in the azure waters. Thirst suitably quenched it is time to take your seats at your table, shoes strictly unnecessary. Background music is courtesy of the gentle waters slumping onto the beach beside you and the occasional whisper of palm fronds. Dine on Mozambique's famous seafood washed down with a crisp South African white wine as the skies above sparkle, this couldn't possibly be any more romantic if it were scripted by Hollywood.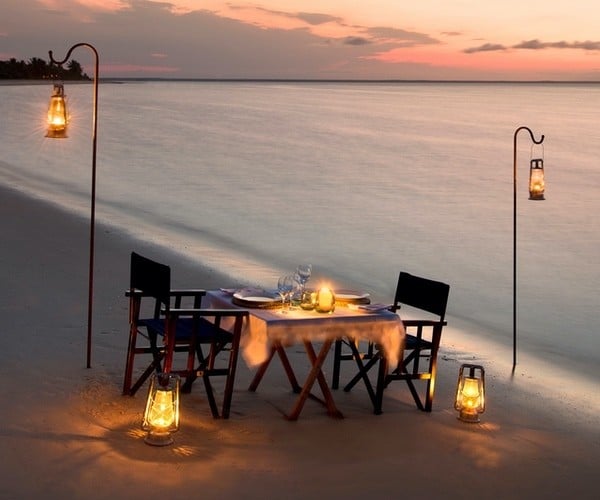 Tongabezi Lodge
If you would rather dine on the water than next to it, that is easily arranged as well. Heading to the great Zambezi, a short distance upriver from the cascading Victoria Falls, you'll find the exquisite Tongabezi Lodge. Strung out along the banks of the river Tongabezi's charm lies in its quirkiness, but that doesn't mean any compromise on luxury. Here being in the "Dog House" is something you aspire to and being in the Nut House is a source of pride. This wonderful sense of fun extends into everything they do at Tongabezi, and for a lucky few can mean dinner on a raft in the middle of the Zambezi River.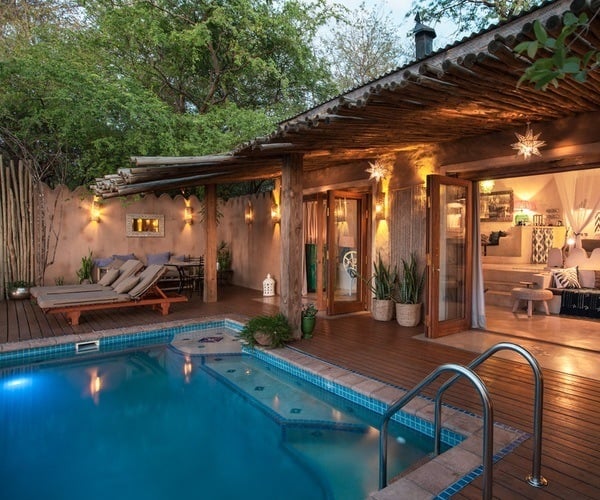 For years now guests from around the world have been celebrating significant moments in this most unique of settings. The "sampan" is a wooden raft moored out in the river. While this might not sound appealing in the harsh flight of a Zambian day, everything changes with the setting of the sun (and anyone who has experienced a Zambezi sunset will know they are spectacular).  You are boated out to the raft to take your seat at a candlelit table for two as the sun sinks and the sky shifts from bright blue to pink to orange to indigo and finally pitch-black speckled with the light of a thousand stars. Each course is rowed out to you by canoe as you are ever more enveloped into the magic of the African night filled with the sounds of grunting hippos and the gentle gurgling of the river.
Lion Sands
If the idea of being on the water is not your cup of tea (or more likely your G&T) how about floating above the African savannah in a dream tree house? The superb Lion Sands portfolio of luxury lodges straddling South Africa's Sabi Sands and Kruger National Park offer guests a selection of drool worth lofty perches for a truly unique dining experience. What's more, this dining experience comes with a bed, so it lasts the whole night.
3 unique treehouses are scattered amongst the pristine wilderness of some of the finest big game territory in Africa, each one holding the promise of an adventure never to be forgotten.  Your guide will drive you to your treetop hideaway at sunset where a candlelit picnic awaits, replete with china plates and crystal glasses of course. Wine and dine up high as the stars make their first appearance in the night sky and the bird song gradually fades. As the moon and the stars begin to dominate the heavens, revel in the distant sounds of whooping hyenas and roaring lions as you settle into your four-poster bed for an unforgettable night.
Jamala Madikwe Royal Safari Lodge
For those who prefer their feet on terra firma, replete with a meal fit for any high-end London restaurant, head a little west to the exquisite Jamala Madikwe Royal Safari Lodge. Life at Jamala is all about opulence; whether it is besides your villa's private plunge pool, enjoying a sofa safari or celebrating the end of another glorious day in Africa with sundowners in the glow of a crystal candelabra in the middle of the bush!
Nowhere though is Jamala's attention to detail and penchant for indulgence more evident than dinner. Take your seat in the open-air boma at a table decked with starched white linens, fine china tableware and more crystal than you could shake a stick at! You know you are in for a special meal, and the lodge's renowned chef Nico Verster will not disappoint. Well, you don't win the award for best safari cuisine in South Africa by accident. This is dining at its finest, in a gorgeous setting with that incredible African night sky weaving its magic above.
&Beyond Sossusvlei Desert Lodge
Heading still further west, venture into the Namib, the world's oldest desert. Your destination is the impossibly cool &Beyond Sossusvlei Desert Lodge. Recently reopened after an extensive rebuild, Sossuvlei Desert Lodge has redefined the meaning of sophistication in Namibia. This is the perfect place for those seeking to explore the towering dunes and beguiling beauty of Sossusvlei in the lap of contemporary luxury.
As with most things in life though, less can definitely be more. Strip away all the bells and whistles and let the beauty of nature and space be the ultimate in luxury, as you take your seat at a table in a desert fairy circle. Dine in enchanting sandy circles that dot this achingly beautiful landscape, simply lit with flickering candles that mirror the sparkling lights above. There are few places anywhere that can compete with Namibia when it comes to viewing the night sky in all its glory, and there can be few places better in which to do so than at a table in the middle of the nature.
If the experience of a fairy circle dinner whet your appetite for a more in-depth heavenly body experience, never fear, the lodge has it's very own on site observatory with in house astronomer!
Once you have dined out in Africa, no ordinary table will quite be the same again.
Warwick Blow is owner of Safari In Style. Safari In Style uses more than 50 years of personal experience to create tailor-made unique journeys through Africa's finest safari destinations.
If you would like to be a guest blogger on A Luxury Travel Blog in order to raise your profile, please contact us.