The travel industry has been devastated by COVID-19 with both international and local travel having come to a standstill in many places around the world as people deal with the direct and indirect problems caused by this pandemic. Most people have now accepted that the path to recovery will be long and testing and the future seems uncertain and bleak for many.
We have closely followed the situation in Siem Reap, Cambodia, our home for more than 5 years and somewhere that we hold close to our hearts. With the borders effectively closed, tourism has ground to a halt. The magnificent Angkor Wat and the surrounding complex of temples attracted 2.2 million foreign visitors in 2019 but these numbers have dropped by a staggering 95%. The only visitors now are the handful of tourists who are 'stranded' in Cambodia, and expats who have remained present during the crisis. Communities like this, that rely on tourism for survival, will be some of the hardest hit by the sudden evaporation of tourist numbers; tourism is quite literally 'the hand that feeds them'.
It's often during difficult and challenging times like this that we look to those around us for inspiration and positivity to help navigate through uncertainty. It is heart warming to hear about a trio of hotels who have teamed up with The Cambodian Landmine Museum to create a community-based partnership called Hotels Holding Hands with the sole goal of making a simple difference by providing basic nutrition. As of the 11th May 2020 they have already prepared and donated 7800+ meals to those most at need. Jaya House River Park, Treeline Urban Resort and Mulberry Boutique Hotel have always worked hard to empower their staff and support the local community and this initiative has highlighted their fantastic and continuing commitment.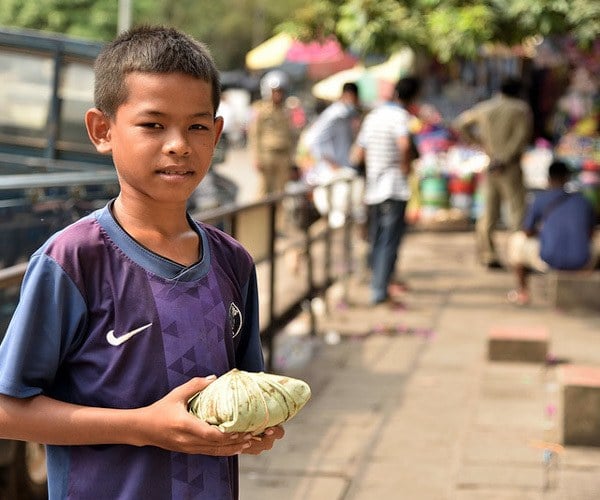 In addition to the difficulties the tourism sector is facing, the rice harvesting season still a long way off and the monsoon rains are fast approaching; the threat of malnutrition and water borne disease is all too real in Siem Reap. It's for this reason that these 3 luxury hotels, normally used to looking after their visiting guests, have decided to go above and beyond to help. Currently, more than 450 meals daily are being provided to the local community, along with tons of rice also donated to various locations. People are coming out in droves; calmly, gently, gracefully lining up for their food parcel. All meals are ordered with local suppliers which is creating much needed employment along the way, and in line with their commitment to sustainability, the food is distributed in natural, biodegradable parcels that are plastic and Styrofoam free.
But more is needed, their next goal is to double the current capacity to 1000 meals a day, and then hopefully more, to help see local people through these difficult times, and that's where we can all help. Join us to make a donation through  the Hotels Joining Hands website. Share this article with your friends, family and colleagues if you think they may be able to help. We may be far away from our friends in other parts of the world right now, but they will feel our concern and support from afar and when we are able to visit these magical locations once again, we will all be able to start rebuilding the future together.
Thank you for your support, and thank you to these wonderful hotels for their efforts to care for the local communities of Siem Reap in their time of need. If you're planning a trip to Cambodia in the future, be sure to check them out.
This hidden gem can be found peacefully located alongside the Siem Reap River, in a verdant garden setting and surrounded by fully grown trees. Just a short tuk tuk ride from town and perfectly located to explore the magnificent temples of Angkor Wat, guests can expect to enjoy a heartfelt welcome, award winning service and charming Khmer art-deco inspired design throughout the hotel.
Treeline Urban Resort offers a unique home to guests visiting the gateway city for the temples of Angkor. Masterfully crafted with leading Cambodian artists and designers, the curated experience includes dedicated spaces for a growing private collection of contemporary art. During your stay, enjoy their creative cuisine that sustains your body and soul whilst connecting you to Khmer culture.
Situated in the heart of Siem Reap, this environmentally conscious hotel is a luxurious fusion of Khmer and modern design. In keeping with Khmer tradition, you can expect them to welcome you and your family into their home with open arms. They take pride in following this tradition and believe that good hospitality and personal service comes from the heart.
Paul Eyers is Founder of Vegan Food Quest. Vegan Food Quest have become luxury vegan travel specialists as they continue to find, eat and write about the best vegan food in the world.
If you would like to be a guest blogger on A Luxury Travel Blog in order to raise your profile, please contact us.