Short stay: Rookery Hall Hotel and Spa, Nantwich, Cheshire, UK
Two centuries on from its naming as
Rookery Hall
, the rooks still fly over 38 acres of grounds, waddle across the terrace and perch on the handsome Georgian mansion built back in 1816.
Yet, there is an air of the Loire valley to this grand sandstone and grey slate property. When Baron Von Schroeder purchased the estate in 1867, he grandly decided to give a French flavour to the property adding a tower that would have looked at home on a French chateau. Though the grounds are those of the quintessential English country house, a classic retreat. Wisteria and white roses grow on the terrace trellis. A fountain plays by the side of the croquet lawn, green pasture leads down to the banks of the River Weaver. Beyond the river this is a rural land of black-and-white timbered farmhouses and peaceful canals.
The welcome
Warm hospitality begins long before arrival, with a phone call to liaise over timings: checking-in, bookings for breakfast and dinner. On arrival temperatures are taken, the one-way system explained. Help with luggage is provided and guests are guided to their rooms.
The room
After Hand Picked Hotels had added Rookery Hall to their collection of hotels, they realised that there was significant additional demand for accommodation.
The extension to the original mansion features spacious rooms that take up the classical themes of the Georgian House. Curtains and soft furnishings select from a soothing green palette that match the rural setting. Full-length mirrors are topped with Grecian-styled carvings and mini-spotlights highlight the hints of Athenian decoration. Beds are huge, a large flat-screen unobtrusive and air-conditioning discretely effective.
The bathroom
A remote-controlled television at the end of the bath, signals that this is a brightly lit state-of-the art bathroom that is very definitely contemporary luxurious rather than classical spartan. There is a separate rain-fall shower and an ample supply of Hand Picked Hotels' own range of toiletries.
Facilities
The restaurant and bar in the main house have been refurbished to make the most of their Georgian origins. Picture windows are so tall that it is rumoured that the ghost of a Grey Lady, a domestic servant who fell to her death whilst hanging curtains, occasionally visits.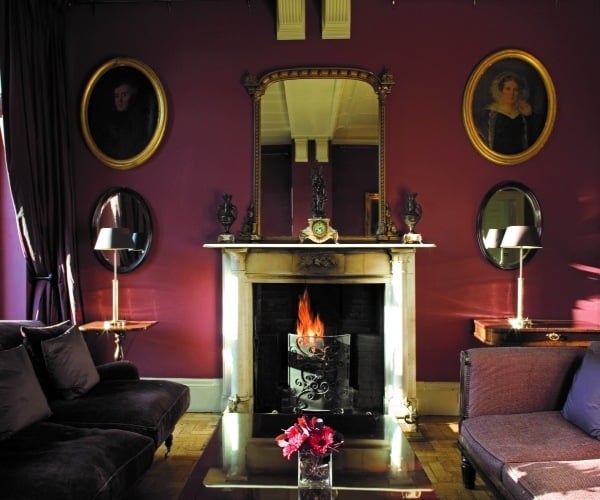 Similarly, it is said that a ghost of a young boy, searching for his lost dog, also frequents the Salon. It's well-stocked bar with over 50 gins, including a spicy Apple Crumble gin from nearby Three Wrens distillers. Awarded two AA Rosettes, the two wood-panelled dining rooms are decorated with stylish black-and-white photography of architecture from Nantwich and other local towns.
Menus focus on innovative Modern British food. For instance, a starter of a smooth veloute of locally sourced peas is given a creative flourish with whipped mascarpone and the intensity of chorizo.
A main course of Malpas Whitchurch lamb is not only a work of art, there is also a clever contrast of textures between a succulent loin and a ragout of shoulder, served with cauliflower and red leaves.
Location
South of Liverpool and Manchester, Nantwich is in a quiet, almost forgotten corner of
England
, where road signs frequently point towards North
Wales
.
There is plenty to explore within a short drive: Chester, the grandeur of National Trust's Tatton Park, the history of the railways at Crewe and Nantwich even has an underground nuclear shelter available for viewing.
Other nice touches
Undoubtedly the Spa is key to Rookery Hall's attraction with many guests either arriving for a day of treatments or for a spa break. The stables have been converted into a luxurious quadrangle of seven treatment rooms, hydrotherapy pool, sauna and steam room.
At the heart of the spa, which features Elemis products, sits a tempting 17 metre indoor swimming pool.
Cost
Rooms, including breakfast, start at £250.
The best bit
There's an elegant grandeur and a romance to this peaceful country estate, you can even take a serene 20 minute stroll around its perimeters.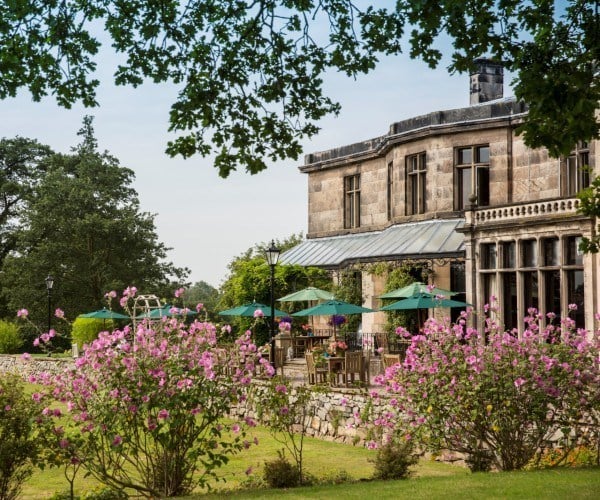 David Beckham and Victoria Adams chose Rookery Hall to announce their engagement before they became globally known as Posh and Becks. Margaret Thatcher visited too.
The final verdict
Rookery Hall and Spa blends the grandeur of Georgian living, dining whilst looking out over the grounds is something of a Downtown Abbey moment, with the luxurious comfort that we come to expect from Hand Picked Hotels. These are exciting times for Rookery Hall with the ten spacious rooms in the mansion about to be refurbished.
Disclosure: Our stay was sponsored by Rookery Hall.
Did you enjoy this article?
Receive similar content direct to your inbox.